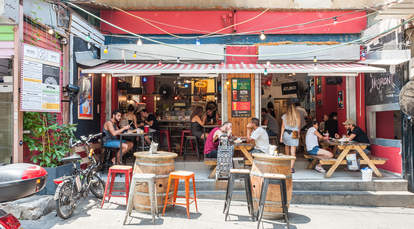 How to Eat Your Way Through Tel Aviv's Outstanding Food Markets
If you like to travel and you like to eat, you've gotta come to Tel Aviv. One of our favorite places to visit in 2019, this cosmopolitan city is exploding with new hotels, buzzy cocktail bars, and sublime restaurants. Still, by and large, the best food in the city requires no reservations or waiting lists. 
If you want to experience the real Tel Aviv, you need to visit its food markets. They are the beating heart of the city, where a diverse mix of locals and tourists come to eat, drink, and shop. You've never tasted tomatoes like the plump, sweet cherry variety at the Carmel Market; spices like those ground and mixed right before your eyes at the Levinsky Market; or the full array of traditional Jewish dishes from around the globe until you've visited HaTikvah Market. 
For the first-time visitor, the markets' warren-like side streets, shouting vendors, and pushy clientele (people will literally push you out of the way, so don't be afraid to use your elbows) can be overwhelming. But it's so, so worth it. Allow us to direct you to the best spots, introduce you to the colorful characters behind the stalls, and fill you in on the history. Grab your granny cart, we're going to market.
Carmel Market is the busiest on Fridays.

| JACK GUEZ/AFP/Getty Images
Carmel Market
When Tel Avivians refer to the shuk (market), they mean Carmel. It's usually swarming with people, particularly on Fridays, the first day of the Israeli weekend. Skip the central thoroughfare and explore the backstreets, where some of the best bargains and eats hide out. The timid can also opt for a walking tour of the market, like this excellent one from Delicious Israel.
The market was founded by Yemenite Jews in 1920; before long, the city's mayor caught wind of its popularity, named it "HaCarmel", which simply means "The Carmel", and invested in increasing trade and maintaining the space. Supermarkets arrived in 1958 and severely reduced market trade, but the past 15 years have seen a revival, probably because the market ticks so many current foodie trends -- it's heavy on the veggies, which are seasonal and local, and there's an abundance of traditional Jewish and Middle Eastern dishes, as well as creative, contemporary takes.
Eat at buzzy holes-in-the-wall like M25, an offshoot of one of Israel's best butchers just a stone's throw away, with a menu that changes daily. Don't miss the arias -- a deep fried pita stuffed with lamb. Or, at a classic street food spot like Shlomo and Doron, an 80-year-old family-owned hummusia (hummus-only eatery).
Drink at grubby-cool bars that open after the market closes, crammed with insufferably beautiful tanned locals, like Salon Berlin. As with most of the city's nightlife, the setting is more flip-flops than heels. 
Talk to Uzi Eli, a Yemenite medicine man who sells generation-old cures utilizing the etrog (citron). Highlights include a citron-heavy spray for acne and citron-gat (a natural, Yemenite stimulant that's illegal in the U.S.) juice that claims to boost virility. Uzi is a fuzzy-chested, self-proclaimed mystic, and brazen oversharer. You don't have to be eccentric to be a shuk vendor, but it helps.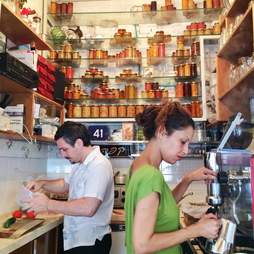 Grab coffee, sandwiches, and sweets at Cafe Levinsky 41.

| Café Levinsky • 41
Levinsky Market
Levinsky Market is locally known as the Spice Market, and is a great spot to shop for dried fruit, nuts, and spices. Unlike Carmel's market stalls, Levinsky is a series of shop fronts. It's a little rough around the edges for some people's liking, thus it's a magnet for edgy youths, who mingle with older folks who've lived in the area for decades. 
Jewish immigrants from Saloniki, Greece, were the first to settle here, soon joined by others from North Africa, Bulgaria, and later, Iran. A culinarily diverse market formed over time. Today, the market reflects the neighborhood -- a jumble of hipster modernity and old traditions.
Eat old-school grub from all walks of the Jewish diaspora, like spinach tzfatit (Israel's answer to feta) boreks with house-made filo at Bureka's Penso, or tender halva at Kesem HaHalva (Halva Magic), where flavours range from classic pistachio to contemporary lotus cookie. 
DrinkCafe Levinsky 41's modern, botanical take on gazoz, or arak-spiked lemonade, in the sun with a mix of bohemian, freelancing millennials and old men in wife beaters. 
Talk to Rahamim, aka the cheekiest, sweetest, mustachioed man in Tel Aviv. He sells malabi -- a cold milk custard topped with rose water syrup and nuts -- and freshly-squeezed juice from a wooden shop front that strongly resembles the interior of a sauna. The malabi's good, but his stories are excellent -- this one time, he came to Israel from Iran as a teenager, half on donkey and half on foot.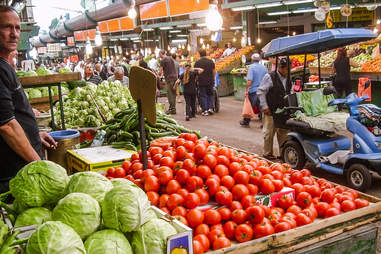 A vegetable stand at HaTikva Market.

| Wikimedia Commons (Edited)
HaTikva Market
HaTikva Market is a diamond in the rough. Because of its location, south of the city center, and somewhat rough reputation, HaTikva is relatively undiscovered even by locals. Translation: prices are cheaper. Like the Carmel Market, it's a rabbit-warren of stalls and shacks, though infinitely more spacious and less crowded. Shop for everything you'd buy at the Carmel, for cheap, as well as superior, house-made amba -- a mango pickle -- at Amiga Deli.
Since the Yemenite community arrived in 1949, HaTikva neighborhood has been home to working class immigrant and refugee communities, including Iraqis, Persians, Bukharans, and Sudanese. The market is a culinary reflection of the neighborhood's diversity and, aside from a welcome spruce-up in 2005, has so far escaped the gentrification creeping into South Tel Aviv.
Eat Yemenite food at HaSaulf bakery's counter, which gets particularly raucous at Friday lunch, or graze on the many ready-made dishes like Iraqi kube and Georgian lepyoshka at stalls throughout the market.
Drink the Iranian version of faluda, a rose water slushy with vermicelli noodles, which is both refreshing and… chewy at the same time. Recommended for boba enthusiasts.  
Seek out a nameless storefront in a corner of the market, empty but for a few chairs and double-burner stove, run by a father and son. They sell pomegranate molasses, made from the market's fruit, bubbled until thick in tarnished, enormous pots. They know their product is good and will only hand it over if you specifically request it. Unlike most vendors, they aren't natural chatters, though I've found that both flattery and rabbinical discussions get them going. Pick your poison.
Rachel Myerson is British-born, New York-based freelance journalist. Prior to New York, she spent five years in Tel Aviv, which sparked a fascination with Israel's developing cuisine. Rachel writes about food, culture and lifestyle, and has been published in Bon Appetit, Vice and Oprah Magazine, among others.