Travel Hungry: Where your fave meals got famous
Since actually eating the first pizza ever made isn't possible, thanks to some Italian serf who selfishly wolfed the whole thing in the early 18th century, do the next best thing and travel to the restaurant that made it the staple it is today. Journey around the world to discover the humble beginnings of your weekly diet's highlights, as we take you to the birthplace of the slice, the hamburger, the wing, and more on this tasty trek through culinary history.
6. The Hamburger: Louis' Lunch, New Haven, Connecticut
Legend has it that Louis Lassen was dishing up hot lunches for local factory workers for five years before the fateful day in 1900, when a businessman in a hurry asked for something he could eat on the run, inspiring Louis to broil up a special blend of ground steak trimmings and serve it between toasted slices of white. Just like that, the world's first hamburger was born.
When you go: Jeff, the grandson of the original Louis, is still broiling burgers on the same 1898 cast iron grills. While you can order a "double cheeseburger and potato salad", you'll be ten times cooler if you order it in their lingo: "two cheeseworks and a salad".
5. The Pizzeria: Antica Pizzeria Port'Alba, Naples, Italy
Although the term "pizza" has been around since like 997AD, and it's believed some form of pizza dates back to the freaking neolithic age, it wasn't until Antica opened a Neopolitan-pizza-slinging brick-and-mortar in 1830 that the world had an official pizzeria. For nearly a century prior, Antica was selling the stuff street vendor-style.
When you go: Order the mozzarella di buffala, and when you're eating it make sure to dwell on the fact it was cooked in a pizza oven lined with lava rocks from MOUNT F-ING VESUVIUS.
4. The Buffalo Wing: Anchor Bar, Buffalo, New York
The Anchor Bar'd been a Buffalo dive since 1935, but it wasn't until late on the night of March 4, 1964, when some friends of the bartender came in ravenous, that the place became a legend. As the story goes, the 'tenders mom, Teresa (the owner of the Anchor), dropped the pieces of a chicken typically reserved for the stock pot into the deep fryer, then flavored them with a secret recipe. Her original spicy sauce was destined to launch a thousand orange copycats.
When you go: Get a double order (20 wings) to your spicy-liking (mild, medium, hot, or "suicidal"), then buy a couple bottles of sauce to go.
3. The Hot Dog: Nathan's Famous, Coney Island, New York
When it comes to the hot dog, the origins get a bit dicey -- the reason they're called "frankfurters" in the first place is that hot dog-esque pork sausages were originally created in Frankfurt, Germany in the 13th century. That said, they weren't served on rolls until 1870, when Charles Feltman began selling them as such from his Coney Island stand. Once Feltman's stand was long gone, his former employee, Nathan Handwerker, opened up shop and launched an empire.
When you go: See if you can beat Joey "Jaws" Chestnut's 2013 world record mark by eating 70 dogs in ten minutes or less (that weenie stopped at 69).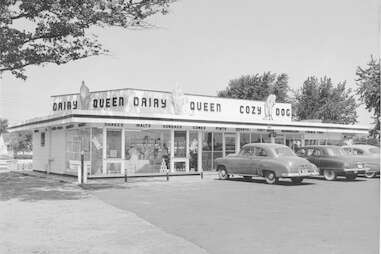 2. The Corn Dog: Cozy Dog, Springfield, Illinois
Although by some accounts it looks like versions of the corn dog existed as early at the 1920s, it's Ed Waldmire Sr. who claims to have first dipped a hotdog in corn batter and deep fried it, while he was in the Air Force in the mid-'40s. When he was honorably discharged in '46, he opened the first iteration of Cozy Dog in Springfield, and the rest is history.
When you go: Make it a Tuesday and get the daily special of two Cozy Dogs and a medium fry for $4.95.
1. The Philly Steak: Pat's King of Steaks, Philadelphia, Pennsylvania
Pat and Harry Olivieri ran a run-of-the-mill hotdog stand until one day in 1933, when they were in the mood for something different for lunch. Digestive inspiration took over, and they thinly sliced and grilled some cheap steak and onions, put it in a roll, and sold it for 10 cents to a nearby cabbie who smelled the goodness cooking. The Philly Steak was born. Before long they'd stopped with the hot dogs altogether, started using rib eye-only, added cheese, and opened a brick-and-mortar.
When you go: Although Pat's offers a variety of cheeses, if you want yours served in the most iconic way possible, order it "Whiz wit" -- topped with Cheese Whiz and onions.