This Haunted Hotel Is the Gathering Place of Florida's Psychic Community
And a seance hot-spot.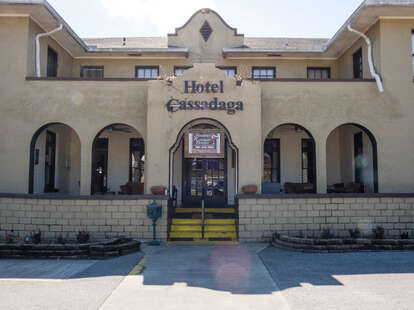 Photo by Joleen Zubek for Thrillist
Photo by Joleen Zubek for Thrillist
On a warm and sunny Florida winter day, I find myself stepping into a dark, frozen-in-time, haunted hotel where many a seance has taken place. Just northeast of Orlando, the town of Cassadaga is allegedly full of spirits—but the so-called Psychic Capital of the World has more than your usual booing and chain-clanking specters. Hotel Cassadaga is haunted, sure, but it's also a place to get a tarot card reading, meet with psychics, grab lunch, and maybe have a seance of your own.
In her early 70s, hotel owner Diana Morn greets me—impeccably dressed, lips slicked in glistening pink gloss, and neck and fingers adorned with crystals and jewels. The lobby at Hotel Cassadaga is decorated with vintage furnishings and antiques Morn has collected over the years, including a circular courting sofa that dates to 1883, Tiffany-style lamps, and tapestries. It's bustling with gaggles of friends waiting for appointments with the resident mediums, people streaming into the hotel's on-site Sinatra's Ristorante for lunch, and others quietly perusing crystals, moonstone jewelry, and new age books in the reception area that doubles as a gift shop. Morn and I find a quiet corner to chat.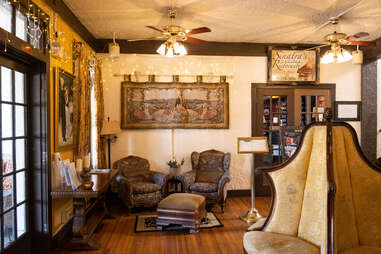 The hotel was originally built in 1901, she tells me, as a boarding house and hotel for the town's Spiritualist camp—the largests of the community in this country. It burned down along with several other buildings in 1925 and was rebuilt in 1927. Morn bought the hotel in 1979 on a whim after coming down from Wisconsin to nearby Deltona to visit friends who had a winter home in the area. She's been here pretty much ever since, hosting guests, spirits, and anyone else who passes through.
"I was a little Catholic girl, I had no idea about Spiritualism," Morn, who is not a Spiritualist, tells me. But on her very first night in the hotel after buying it, she says, she saw a spirit.
Conjure a soul from the other side
"It was like seeing your husband right there," she says of her own encounter, pointing to the lobby's main stairway, where a man in a black suit appeared, staring back at her. "He was looking at me. I could see him, but he was kind of like, not transparent, but close to it—so that you definitely know he's not human."
Apparently, she's not the only one to have such a sighting.
"Because many guests come here and meditate at night or just need a quiet retreat, I don't allow children to stay overnight at the hotel, since they can be disruptive," Morn says. "But guests will come up to me and say, 'I thought you said there were no kids allowed here?' It happens all the time."
Without fail, guests report the late night sounds of a little boy and girl playing together in the hallway and the tinkling of tricycle bells.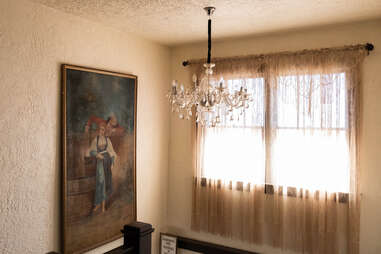 People also regularly photograph orbs in the guest rooms and hallways, Morn says, and she encourages others to give it a try.
"Just invite them to come through as you're walking around," she suggests. "Tell them, 'I would love to catch you on film and we will honor you when we put these photographs out.' Always bless them and tell them what you're doing."
Guests needn't worry about any evil spirits appearing at Hotel Cassadaga, though.
"They protect me and they protect this building," Morn says. "It's their home so they're loving—but I'm not going to say there aren't any pranksters here."
Look into your future with a psychic session
While the Southern Cassadaga Spiritualist Camp's officially certified mediums operate out of their own homes in Cassadaga and other spots around town, Hotel Cassadaga has its own range of un-certified psychics and mediums with many of their own talents—and with whom you can book sessions with at the hotel's reception.
Browse the wall of brochures in the lobby to decide if you want to hear from Misty, who does palmistry and can read your aura, or you'd prefer to give Gypsy Eris Phoenix a try—a psychic who uses tarot and oracle cards to "deliver messages from the Divine."
If past life regression is up your alley, then certified hypnotist Dawn Medley is the one you want; you'll usually find her working at the hotel's reception desk. She's also a pro at finding and photographing orbs around town during regular Encounter the Spirits Night Tours through the Cassadaga Spiritualist Camp. The tour starts with a slideshow before heading out to two "definite hot spots" for orbs, says Medley, during which she'll lead you through energy exercises that draw attention to subtle changes in energy in these places.
All sorts of other sessions are on offer at Hotel Cassadaga, too, from past life regressions and Akashic record readings to Reiki sessions and even a crystal chakra healing bed you can lay atop to get swept up in the healing energy.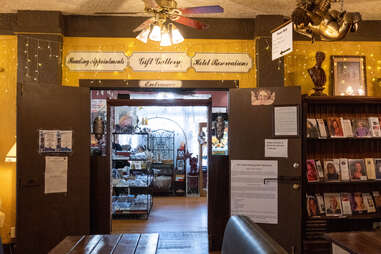 On the day I'm visiting, I opt for a 30-minute tarot session with Nora, who recently brought her talents to Cassadaga from Pennsylvania. She begins my session by doing a numerology reading using my birth date to uncanny effect before continuing on to the Tarot cards.
It feels a bit like a whimsical therapy session, as she delivers messages from the cards I selected and channels her "spiritual board of directors" during the reading, encouraging a bit of back and forth with me. I'm most surprised when I picked the most fitting crystal card for me out of a stack of more than 50: the aventurine crystal, with writing on the back that assures me my life will be full of "safe, adventurous travel full of cosmic coincidence," which is pretty spot-on for a travel writer.
If you've always wanted to sit in on a seance, Hotel Cassadaga can make that happen, too. Kathy Cartagena leads seances in the hotel's conference room, where you can sit down, settle in, and see who comes through.
Dare yourself to stay the night
The first thing to know about Hotel Cassadaga's 22 rooms and "suites" (and its three kitchenette apartments) is that you're not staying at the Ritz here. Rooms on the ground floor open to the hotel's shared wraparound balcony, while the second-story quarters, down some narrow hallways lined with mirrors (a bit like The Shining), have no balconies at all. The rooms are comfortable but basic, with thin bedspreads and tiled bathrooms that probably could have used an update years ago, but it's all part of the feel—Morn is woe to change things too much here, as the spirits are happy with the hotel as it is.
People come for the atmosphere anyway, of course: to stay up all night, listening for giggling, childish spirits, or to set up a camera on a tripod in the hallway to see if you can capture an orb doing its thing.
And even if you don't believe in any of what Hotel Cassadaga is selling, Friday and Saturday nights at Sinatra's draw lively characters of the very human variety to croon classics alongside a piano player (Journey ballad, anyone?) or pick up the microphone for what's easily one of Florida's most spirited karaoke sessions.
Terry Ward is a freelance travel writer in Tampa, Florida, who has lived in France, New Zealand, and Australia. Follow her on Instagram and find more of her work on terry-ward.com.