The composer Gustav Mahler once said that "tradition is laziness", but Mahler never had to preserve the beating heart of a tequila distillery for 144 years. Welcome to Hacienda San José del Refugio, where Tequila Herradura's been turning agave into something far less prickly since 1870.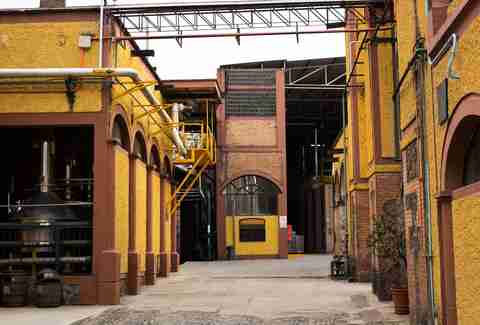 "Hacienda" isn't just a more fun way to say "house". To qualify for the designation, a compound must come complete with land and resources enough to be fully self-sufficient, protective perimeter walls, a Roman Catholic chapel, and housing for its workers. This hybrid of business and community might seem like an anachronism, but it's an anachronism that still manages to produce gold medal-winning spirits (the most of any tequila maker from 2009-20014) while also serving as a mecca for some 50,000 annual tequila-seeking tourists, so… cheers to anachronisms.
For workers to live in the Hacienda's on-site "casitas", they must be descendants of the operation's original employees. A surprising (for job-hopping Americans, anyway) percentage of their 600-strong staff does meet that requirement, some of them having worked for Herradura themselves going on 40 years.
That kind of consistency is crucial for the harvesting end of the operation, where Herradura's jimadors still employ centuries-old tools and techniques. They've grown so skilled, they can determine an agave plant's at its peak just by eyeballing it; then, using a coa (a long-handled cutting tool that should be considered for Machete III, just to vary things up), they can chop the massive plant down in under a minute before negotiating its razor-sharp, mildly poisonous leaves to reveal its 80-250lb piña, or heart.
The Hacienda's greenhouses are a testament that, around here, getting to that peak requires tremendous patience. Whereas some distilleries harvest their agave early, Herradura still employs an old school, impressively inefficient three-stage process. First, a "hijuelo" or baby agave, is removed from its mother (herself the progeny of the original plants grown on the Hacienda in 1870) and moved to a greenhouse, where it grows sturdier before being moved again to fresh soil for seven years of maturation.
The most daunting traditional structures still in operation here are the hornos: venerable, massive ovens the jimadors hand-stack with 45 tons of piñas at a time, to be roasted barbecue-style, low and slow, to avoid caramelization. To be honest, the scene surrounding the hornos is a bit terrifying -- if you didn't know what was happening, you'd think the jimadors were calmly destroying thousands of giant alien eggs before they could hatch and wreak havoc on the countryside -- but the results are so sweet, chunks of the piñas can be sold in town as candy.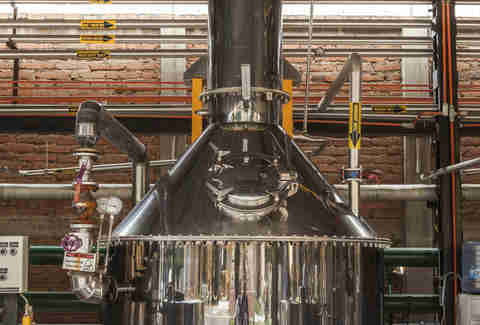 The truest conduit between past and present, though, is the water. In the early 1900s, Maria de Jesús López Rosales, sister to Aurelio López, the man who ran the distillery and gave it its name, gifted five wells to the town of Amatitán, where the Hacienda resides. Those wells also provide the water the distillery draws from to this day, ensuring that the sugars of the agave ferment in the same way they have for generations. In the end, there are certainly easier ways to make tequila, but you wouldn't want to drink them.