Morocco's Best National Park Boasts Waterfalls and the Highest Peak in North Africa
Plus green valleys, Berber villages, and lots of mint tea, all close to Marrakech.
Welcome to
(Inter)National Parks: Adventures in the Global Outdoors
, where we transport you to the world's most incredible protected lands, nature reserves, and marine sanctuaries, from the slopes of Western Canada to the vast grasslands of Botswana to the fjords of New Zealand. For more on these far-flung natural wonders—plus travel tips and expert interviews—check out the rest of our coverage
here
.
Morocco might bring to mind gorgeous buildings influenced by Arab, African, and European cultures. Or you might think of expertly spiced tagine and mint tea poured from ornate antique silver teapots, which are at the center of human connection here. And if you're lucky enough to have experienced them, you'll probably imagine the stellar landscapes, like those found at Toubkal National Park.
Just 1.5 hours from bustling Marrakech lies complete polarity to the city's chaotic, pulsing vibe of the night markets and opulently tiled riads. Only 43 miles south of the urban metropolis is some of the most visually stunning hiking on the African continent, thanks to North Africa's highest mountain, Toubkal. Rising to 13,671 feet and surrounded by quaint traditional Berber villages, the majestic views welcome you into the tranquil valleys of the High Atlas Mountains.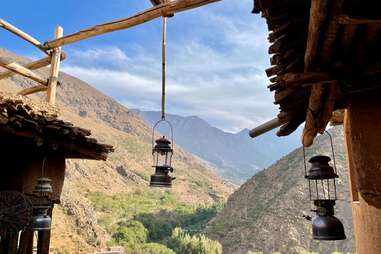 Toubkal is Morocco's first national park. It was established in 1942 to protect not only the rich forests of holm oaks, cedars, and junipers, but also the many vulnerable and endangered species that call it home, like the Bearded Vulture, the Barbary Sheep, and the Magot Monkey. Toubkal may be the tallest summit within the national park boundaries, but there are several other summits with heights towering over 12,000 feet, offering options from the simplest cruisy hike to a picnic at a waterfall to rigorous multi-day hikes to summit peaks.
While Morocco is statistically a safe country to travel in and is filled with welcoming locals, that doesn't mean it's always the easiest country to navigate as a foreigner—especially if you don't speak any Arabic, Berber, French, or Spanish. But that shouldn't deter you from exploring Toubkal. Here's all the basic info you need to fully enjoy the crisp mountain air, hilly plateaus, and deep valleys carved by translucent waters.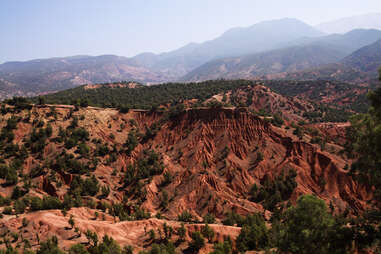 Best time of year to visit Morocco's Toubkal National Park
While Toubkal National Park is open year round, if you want warmer temps and the green foliage of the forests, the best time to visit is from May to October. The cold season lasts from January to late April and make no mistake, it can get frigidly cold. That means snow and sometimes a lot of it. Also to note when planning any trip to Morocco is Ramadan, which is practiced by almost all locals. During the month of fasting, which starts towards the end of March, Muslims are prohibited from drinking, eating, and smoking from sunrise to sunset. During this time, travelers are also encouraged to avoid eating and drinking in public out of respect for the local culture.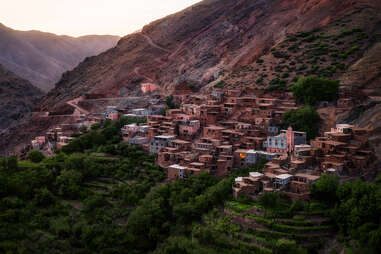 How to get to Toubkal
Toubkal Park is accessible from the Ourika Valley. If you aren't traveling with a rental car, you can take a shared taxi from Marrakech to Imlil (a charming and lively rural village located at the end of the Mizane Valley that's the main base for Toubkal visits). These rides take around an hour and a half. The shared taxis leave from a small market just a few blocks south of the Bab-er-Rob. (Note: Bus 35 from the Medina goes there, but it's probably easier to get a direct ride from a metered taxi in town.) Some online guides say that you have to change transport at Asni, but that's no longer true. If you have a rental car and want to make a stop, Asni is a good option to fuel up on roadside tagine, and it has a busy Saturday souk. Once you are inside the park, you can only get around on foot or on the back of a mule.
Hike a couple hours or two days to the top
In the town of Imlil, there is a mountain guide agency right next to the parking lot where the taxis park. Here, a bunch of locals will most likely approach you, eagerly wanting to guide you to the refuges or to sell you a map. You don't need a map—they are expensive and the info is not always the most accurate. General advice is to not go with the first person who approaches you; instead, take your time to find a qualified guide you like (you can even hire a porter if you want someone to carry equipment and food supplies higher into the mountains). All official guides have a professional card issued by the Ministry of Tourism, so you can ask to see that.
While Toubkal is a mountain peak, it is much more of a moderate hike than a technical climb. To ascend to the summit requires two days, although you can choose to not summit and make it a day hike.
From Imlil, visitors first hike about five or six hours to basecamp, which is at around 10,000 feet, and then spend the night resting at one of the refuges there. Early the next day is when most start the real climb of the journey, about three hours uphill, ending in sweeping views of the Atlas Mountains, if the weather allows. To get back down to basecamp takes about two or three hours, but most climbers prefer to keep walking and get a well-deserved sleep at a guesthouse in Imlil (which adds an extra four or five hour walk from basecamp).
The North Circuit is a more challenging route and only recommended for more experienced climbers. It takes about 4.5 hours longer, but comes with the quirky bonus of getting to see the remains of a crashed airplane.
If none of this sounds like your type of adventure, the Tamadote Green Circuit is a shorter option (less than four miles, so around two hours). This one will take you through shaded forest and you can picnic under the trees with incredible views.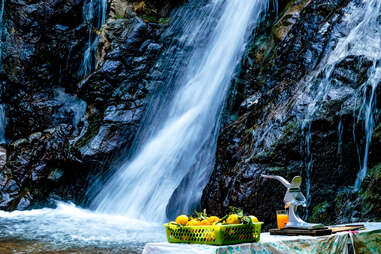 Make time for petroglyphs and waterfalls
There's an open-air petroglyph site just at the entrance to Oukaimede, with 5,000-year-old images depicting wild animals, domestic animals, weapons, warriors, and scenes from hunting expeditions and battles. Locals will probably wander over to you when you arrive, offering to show you around for a small tip. Though a guide isn't necessary (you can look for the small stakes that mark the location of the most important carvings), for the few dirham it would cost you, the locals would really appreciate your support and you can get insights on the history of the region that you wouldn't get on your own.
There are also two notable waterfalls to visit, Cascades d'Irhoulidene and Imlil Cascades. Cascades d'Irhoulidene tumbles down a cliff for more than 65 feet above the Azib Tamsoult refuge. It's a full-day hike from Imlil and is often used as an acclimation day en route to climbing Toubkal.
The hike to Imlil Cascades is a shorter one that takes just a couple of hours. The path is rough and uphill to the falls, but meanders through walnut groves along the irrigation channels that keep this valley so lush. The falls themselves are gorgeous with numerous drops, and you can work your way up and down the multiple plunge pools. Nearby there are vendors selling refreshing orange juice or, of course, the ever-present Moroccan mint tea.
Where to stay and other important logistics
There are many huts at the Toubkal National Park to rest or spend the night, but to avoid any last minute surprises, you should book ahead. You can find more information about the available accommodations on the Toubkal National Park official site. Like a lot of information in Morocco, it's in French, so unless you're fluent, you'll have to use Google Translate.
In 2018, there was an accident on the mountain. Since then, the local authorities at the Toubkal Park established many more rigid security measures to make sure all climbers are safe. No one can begin their ascent of Mount Toubkal after 3 pm. Tents are not allowed, as you have to spend the night at an authorized place and be accompanied by a qualified local guide.
Ready to hit the park? Check out our tool kit to get started:
Cathy Brown splits her time between traveling the globe writing for
Lonely Planet
and
CNN,
working with Indigenous rights in the Brazilian Amazon, and hanging out at home in her garden and hosting permaculture and medicinal plant retreats.