The Center of the Universe Is in Idaho—and It's a Surprisingly Good Time
Bordello museums, booze, and bike rides in Wallace, Idaho.
A nondescript manhole cover in the middle of a small Northern Idaho mountain town might not seem like a site of exceptional cosmic importance. But according to the locals of Wallace, Idaho, it just so happens to be the Center of the Universe. They even have official-looking signage and fancy proclamations to back the claim up.
The entire downtown core of Wallace is listed on the National Register of Historic Places, making it one of the most visually stunning of America's historic mining towns. To stroll through its immaculately preserved streets is to revel in an Old West film set teeming with beautiful brick and stone masonry buildings such as saloons and brothels, but not in an overtly cheesy or touristy way. Wallace feels legit—because it is. The federal government even had to build Interstate 90 outside of town so as not to mess with its historic character.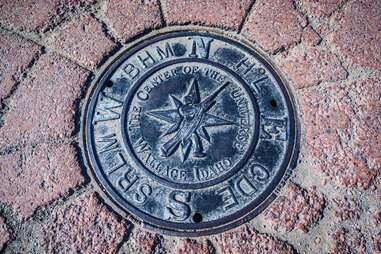 So how did this random town of less than 1,000 people in the middle of nowhere—roughly halfway between Spokane, Washington and Missousla, Montana—become known as the Center of the Universe? According to the town's Prime Minister Rick Shaffer (self-appointed in 1993 and designated with the official title in 2006), six locals were in a bar in town in the late '90s "solving the world's problems" when they decided to invoke the "Rule of Probability," which states that "if something can not not be proven to exist, it might as well exist."
In other words, no one can prove it's not the center of the universe—including a few photo-snapping tourists and the occasional local couple getting married at this most unusual site on the corner of Bank and Sixth Streets. The town even hosts a Center of the Universe Re-Dedication every September. "Just another excuse to have a party in Wallace," says Shaffer.
But Wallace isn't all just manhole covers and oddball signage. It also happens to be one of the coolest small towns in America, infused with a charming local history of ill repute surrounded by gorgeous Mountain West scenery. From bordello museums and huckleberry milkshakes to popcorn throwing and mountain biking, here's how to do Wallace like a champ.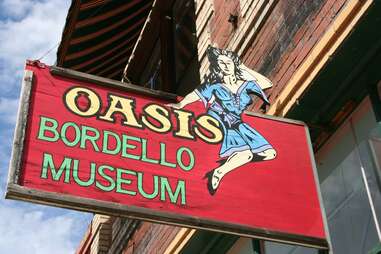 Experience Wallace's rowdy past (and present)
Known as the "Silver Capital of the World," and with several mines still operating in the area today (tours are available), Wallace has been well documented as a center of vice throughout its colorful mining history—a truism perhaps no better evidenced than the fact that it once was home to five (count 'em, five!) working bordellos. The last one, the Oasis Rooms, continued to operate as late as 1988. Today, it's Idaho's best roadside attraction and an iconic Wallace institution: a fun museum in which all the rooms were left just as they were back when the bordello was still operational in the late '80s. A delightfully weird mix of Reagan-era nostalgia (such as Nintendo games, rotary phones, and vintage magazines) is on display as artifacts, meshing perfectly with a retro hotel aesthetic in which colorful floor carpeting and skimpy women's lingerie help paint a vivid mental picture. There's even an antique "menu" of services containing the mysterious "Half & Half."
While the bordellos may no longer be operational, Wallace's taverns most certainly are. With 17 venues today serving alcohol, along with two breweries in a community of just 784 people, there is little doubt that Wallace is quite a thirsty town. But instead of sipping martinis with ascot-wearing tourists a la Aspen or Telluride, Wallace pubs are frequented chiefly by local blue-collar workers playing darts, sharing stories, and offering a true taste of small town mountain life. Some downtown favorites include Metals Bar, 1313 Club, and Wallace Brewing, all housed in cool historic structures with a similarly laid-back flair. Basically, this town was tailor-made for a good old-fashioned afternoon bar crawl.
Following suit for Wallace, even the local theater is also a rowdy good time. You don't just see a play at 6th Street Melodrama—You're part of it. Housed in the oldest wood structure in Wallace, there's booing, hissing, and popcorn throwing during one-hour performances featuring good and bad guys along with sing-a-longs and other fun ways to get involved in the production. While it might seem odd for a town of this size to have its own theatrical company, does anything really surprise you about Wallace at this point?
Feast on huckleberries, bison, and Idaho nachos
Wallace goes all out in its love for the huckleberry, a wild berry that grows best at 4,000 feet in the mountains of northern Idaho and Montana during the summer months. This "independent berry" (according to Shaffer) and Idaho state fruit has never been grown commercially, and can be found in several small independent shops across Wallace. From huckleberry shakes and ice cream at Red Light Garage to huckleberry beer and wine, no visit to Wallace is complete without a taste of this delicious little berry. Wallace also throws its own Huckleberry Festival every summer, naturally.
No visit to Wallace is complete without ingesting a classic "miner's meal" of chicken fried steak (a.k.a. "chick fry") with Idaho nachos (which substitute the chips for potatoes.) Get that done at City Limits or Trailside Cafe at the Wallace Inn, or head over to Blackboard Cafe for more upscale chef-focused cuisine such as filet mignon and steak alfredo. Surprisingly, the town is also home to a wine bar—a pretty damn good one, actually—called the Fainting Goat, where the bison sliders are no joke.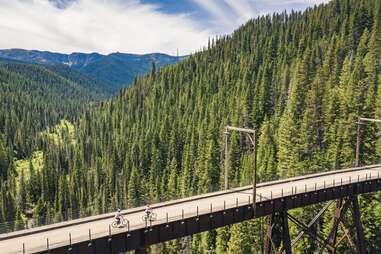 Explore Idaho's truly great outdoors
Mountain biking is big business in Wallace, with two of the world's top-ranked rail trails running right through the area. Erected on former railway tracks, the 15-mile Route of the Hiawatha passes through 10 tunnels and seven impossibly scenic trestle bridges, while the 73-mile Trail of the Coeur d'Alenes remains one of America's top rails-to-trail routes. Riders can also shred trails and bike down the mountain at high speeds at nearby ski resorts Silver Mountain and Lookout Pass, or just ride the gondola and take in the views.
Surrounded by towering pine forests with gentle sloping mountains enticing visitors to get out into nature, Wallace is a one-hour drive from the gorgeous lakeside town of Coeur d'Alene which, while significantly more touristy than Wallace, is certainly worthy of a visit. Old Mission State Park is another hidden gem near Wallace located on the road back to Coeur d'Alene.
Wallace is a great stopping—or starting—point during a larger-scale western adventure, too. The town is located less than two hours from Idaho's most underrated lake town of Sandpoint and only a 3.5-hour drive from Montana's show stopping Glacier National Park. Before you move on, though, stop by nearby roadhouse the Snake Pit. It's the oldest continually run bar/restaurant in Idaho and a perfect stopover for a post-cycle lunch of barbecue served with a side of Rocky Mountain Oysters (a.k.a. bull testicles).
Obviously, it was once a brothel.