The Best National Park You've Never Heard of Is Almost Entirely Underwater
And it's got shipwrecks, mangroves, and mermaids, probably.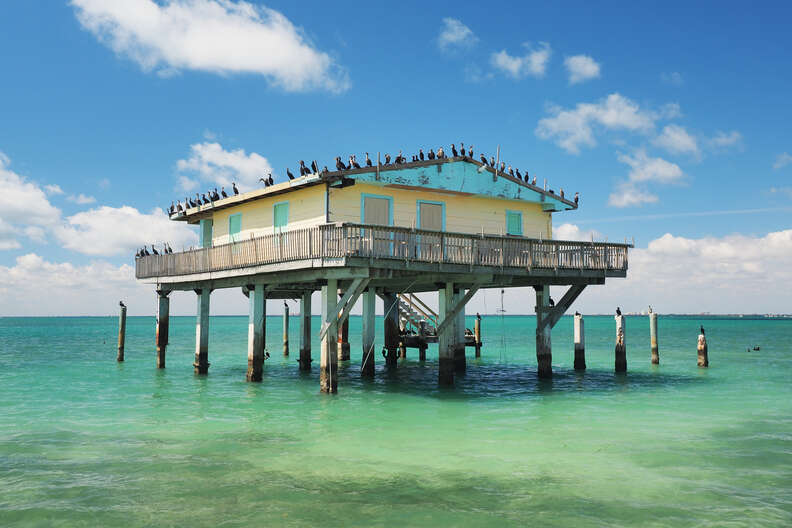 Biscayne's Stiltsville isn't exactly Atlantis, but we say close enough.

| Francisco Blanco/Shutterstock
Biscayne's Stiltsville isn't exactly Atlantis, but we say close enough.

| Francisco Blanco/Shutterstock
Welcome to National Parks Uncovered, where we'll help you discover the beauty of America's most underrated—and least-crowded—national parks—from sweeping landscapes where you can get up close and personal with mountains, glaciers, and volcanoes to sunny paradises hiding out near major cities like Chicago and LA. To find out what natural wonders you've been missing out on, check out the rest of our underrated national parks coverage.
Some people believe the lost city of Atlantis sank somewhere near the Strait of Gibraltar. Others think it's hidden beneath the waters of the Mediterranean Sea. We say they're all dead wrong, and that the actual location is in Florida somewhere at Biscayne National Park. Considering Florida's reputation for being real fucking weird, this shouldn't sound too out-there.
For starters, 95% of this national park actually sits underwater, where you'll find all the stuff that made Florida magical long before the Magic Kingdom. Biscayne's got shipwrecks and lighthouses, mangroves channels and pristine coral reefs, abandoned ocean villages, and vibrant wildlife (and, who knows, maybe even some mermaids). For those with strong sea legs and an eye keen for mystery, visiting this oft-overlooked, 270-square-mile ocean paradise is the ideal way to experience the aquatic beauty of South Florida.
How to get to Biscayne National Park
About an hour south of Miami, Biscayne National Park is best accessed by car. The lone visitors center is off a nondescript country road near Homestead, so keep an eye out. If you've got your own boat—or a buddy who does—you can sail through the park at no cost.
Otherwise, you'll need to book an excursion through the Biscayne National Park Institute, a nonprofit that runs eco-friendly, educational trips out to the wrecks, reefs, and mangroves. Park entrance is free, but tours are not—they run anywhere from $40 for a two-hour paddle tour to $475 for a two-day sailing/camping/kayaking extravaganza.
The best time to visit Biscayne National Park
The cool ocean breezes keep things Florida-pleasant most of the year. That said, from mid-May to early October you run the risk of days-long thunderstorms or a hurricane blowing through. For your best shot at good weather, visit from November to April. The tradeoff is the water will be colder and trips will be a bit more crowded.
Scuba dive and snorkel near coral reefs and spooky shipwrecks
South Florida's gorgeous turquoise waters are a sight to behold—but you haven't seen anything until you've gone beneath the surface. Your first stop should be the Maritime Heritage Trail, a collection of six shipwrecks that ran aground between 1878 and the mid-'60s. Because they wrecked in shallow water, snorkelers can easily view them from the surface—along with bright coral, tropical fish, sharks, and eels.
Unlike reefs further down in the Keys, the ones near Biscayne are relatively undisturbed since scuba diving in the park has been severely limited up to this point. The Institute only recently started running two-tank dives for certified divers—a rare opportunity to see the park from deep underwater. It'll run you about $225 a person, or $1,075 for a private trip of up to six.
Paddleboard with baby sharks
One of the coolest excursions is a paddleboarding trip through the dark, calm channels of the mangrove islands. As you glide along the black water past the creeping mangrove arms, you may well see baby blacktip and nurse sharks swimming alongside you. These smaller sharks hang out in the channels and lagoons because there's less competition and danger from predators.
The paddle-and-snorkel excursion will also include a trip under mangroves, often in the waters off Elliot Key. You can flipper your way through the monster-like roots of these amazing plants and see the underwater labyrinth they create for fish and sharks. It's a vantage point few people ever get of natural Florida, and one you'd be hard pressed to find—without constant threat of alligators—outside Biscayne.
Explore historic lighthouses and islands
On the island of Boca Chita, a 65-foot-tall historic lighthouse offers stunning panoramic views from the observation deck on top. Park rangers hold the key, so if none are around, you'll have to accept the still-pretty-great views from ground level.
A short boat ride from Boca Chita takes you to Stiltsville, the remains of a community that once held 27 homes standing on stilts above the water. Hurricanes, fires, and vandalism have taken their toll on the now-abandoned site, and people are not allowed inside the structures anymore. But they're still a strange sight and fantastic photo-op if you're nearby. While the Institute does run excursions up this way, they're not nearly as common as the other tours, so you may find more opportunities getting your own boat or joining a charter out of Miami.
The Institute's overnight camping excursion to Adams Key lets you do it all—sailing, paddling, camping out under the stars, and getting a feel for the area's history. These islands were once the property of the Jones family, one of the first Black families to settle in South Florida, who farmed pineapples and key limes here through much of the late 19th century. The successful family lived on Porgy Key, commuting to the mainland by rowboat for decades; on the tour, you'll paddle out their family homesite. Adams Key was also home to an old-school Florida fishing club, which drew movie stars, athletes, and even a couple of presidents in its heyday. The old building is still there.
Things to eat, drink, and check out near Biscayne National Park
Toward the mainland, the city of Homestead offers the chance to explore South Florida's agricultural side. Robert is Here is a destination fruit stand not far from Everglades National Park, with tropical fruit milkshakes Miamians drive hours for. You can also stop at Knaus Berry Farm during winter and spring to try, we swear, the absolute greatest cinnamon rolls you will ever have.
If you've never tried avocado wine, well, we don't blame you. But it's worth a shot once, and Schnebly Redland's Winery has plenty of it. This unusual winemaker makes wines from tropical fruit, and some of their stuff might surprise you. Just across a courtyard, you'll find the Miami Brewing Company, if you feel safer drinking beer.
Dade County is also the only county in America with two national parks within its borders, and if you want an NPS Twofer while you're in Miami, you can reach the front entrance of Everglades National Park in about half an hour. Though you may need to make a second stop for bug spray.