This Overlooked Corner of the Dominican Republic is a Jungle-Meets-Ocean Paradise
I am a travel snob. I admit this without shame or reservation. When it comes to destinations, I'm basically a pain in the ass. I don't do Cancun. I don't do Nassau Paradise Island. Basically, I don't do any place outside America where I might bump into large groups of Americans. I'd say I don't judge those who do, but I do. So let's call a snob a snob.
But the thing about prejudices is that eventually you find out they're misplaced. And recently my judgments on travel were rolled up into a tight little ball, put into a pipe, and handed to me so I could smoke away my own arrogance. This was my first foray into the Dominican Republic, and I quickly learned to eat my words, happily, with a side of rice, fried plantains and a cold Presidente.
Before I actually set foot on the island, here's what I knew about it: Punta Cana. Yep, that's it. As far as I knew, every reason to go to the Dominican Republic could be found on the sugary shores of the all-inclusive resorts. All-you-can-eat, umbrella'd bevvies, glitzy casinos, and cheesy nightlife. So I wrote it off as another sandbar destination with American hotel chains and lobster-backed tourists who don't give a damn about visiting anything beyond the borders of the pool deck.
How wrong I was. My first trip to the island took me to its rugged southwest coast, where I realized I don't despise the DR after all… and actually I could become borderline obsessed with it instead.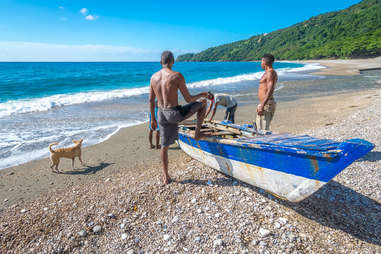 How to get to the best coast in the DR?
Let's start with some hard truths. Public transport is a shambles and there are no major highways, so even on this small island, getting around is difficult. But that's part of its charm. The easiest way to reach the southwest coast is to fly into Santo Domingo and rent a car. From there, it's anything between two and six hours to all the places below.
The best glamping and camping in the DR
Glamping is a silly word. But for anyone who likes the idea of getting back to nature, but isn't so keen on smelling like the inside of a hamper, it's a good option. And once you feast your eyes on Eco del Mar in Pedernales province, even the camping purists will consider parting with their GSI set for a night or two. There you'll find a vast stretch of sand with brilliant blue-green water, and a barefoot bar scene cut from an influencer's wet dream: twinkle lights, driftwood, and a hammock. The campsite borders Jaragua National Park, as well as Bahia de las Aguilas, best known for its mind-blowing sunsets. The tents are just tents, but inside there are actual beds, so leave your REI gear at home. There are also showers and flushing toilets -- it's basically everything Robinson Crusoe ever dreamed of, for as little as $60 a night.
Ridiculously pretty beaches, (almost) all to yourself
Speaking of Bahia de las Aguilas (and really, we should speak of it), the DR's southwest coast is dotted with beaches that are very much off the tourist trail. Proceed only if you enjoy sun-drenched vistas of jungly mountains and white sand. For a hit of #beachporn go to crescent-shaped Playa San Rafael, or head to Playa Paraiso, a local favorite with strip of simple restaurants. Behind the pebbly shore, you'll find a network of rivers and waterfalls -- a freshwater alternative to all that swimming in the ocean.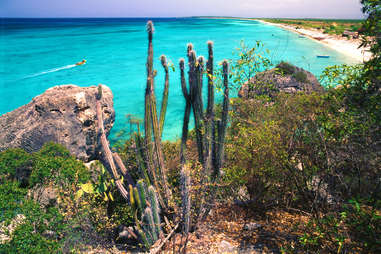 Boutique hotels that plop you straight into nature
You aren't going to find the 4,000-room all-inclusive mega-resorts along this coast (um, phew). Instead what you'll discover are small, locally owned, often family-run hotels that are far more intimate and exotic.
First, there's Rancho Platon, a cluster of lodges tucked high up in the Barahona mountain rainforest. The anxiety attacks on the 4x4 ride up the cliff-hugging road are totally worth it once you arrive. Luxe log cabins and treehouses pop out of the jungle, the winding pathways are peppered with waterfalls, and -- get this -- there's a waterslide running 250ft down the hillside. If that's not enough to keep you entertained, try the four swimming pools, horseback riding and river tubing. Rates start at $191/night.
And then there's the 'go big or go home' approach. Enter, Casa Bonita Tropical Lodge, perched above the coast and backed by thick jungle in Barahona. Once the private summer home of the owner, it's now a verdant luxury retreat open for all to enjoy (for a price -- $280 in low season). Any time away from the ocean-facing infinity pool is best spent on the river trail, which traverses boulders and criss-crosses in and out of the water before eventually reaching a secret swimming hole surrounded by caves. And (at least) one day, wake up early to catch dawn, when the sun rises up over the sea, and the sky explodes in an all-encompassing blaze of purples and oranges.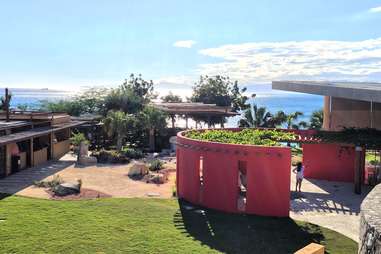 The best (and only) wine in the Caribbean
The Caribbean is known for many beverages (rum, beer, rum again…), but not -- usually -- wine. That's probably because there is only one winery in the entire region, and it happens to be on the Dominican Republic's southwest coast. In Azua province, near Santo Domingo, is Ocoa Bay. This sustainable, agro-tourism project is the brainchild of two very, very wealthy doctors who thought it would be cool to grow wine. It makes sense, right? Saving lives is stressful and sometimes it's hard to stop by the wine store after work, so just make your own home into the wine store. Life goals.
Ocoa Bay is not just about the vineyards -- there's also a boutique hotel, restaurant, and an infinity pool overlooking the sea. Before returning to the frenetic pace of Santo Domingo, it's worth a stop here to decompress.
The bottom line
I was an asshole about the Dominican Republic. An entire country cannot be defined by its one tourist hotspot, as any good travel writer should know. I'm just glad this job gives me a kick now and again, and reminds me that I don't know everything. In fact, the more I learn, the more I realize I know nothing, and that's exactly what travel is about.
Sign up here for our daily Thrillist email and subscribe here for our YouTube channel to get your fix of the best in food/drink/fun.
Meagan Drillinger is a freelance travel writer, and the youngest geriatric in the world, splitting her time between New York City and Mexico, when NYC is less than 75 degrees. Follow her on Instagram at @drillinjourneys or @vaerajourneys.