This Secret Gem on the Coast Is Actually Getting Cool Again
Jacksonville doesn't smell like a pulp mill anymore. That's not exactly the banner slogan gracing tourism brochures in northeast Florida, but it's true. And shows how much Jacksonville has changed since America really discovered this city in 2005.
Yes, Jacksonville was founded in 1791, but few people in geographically apathetic America knew much about it until it hosted Super Bowl XXXIX. To put it lightly, the city wasn't ready then for its close-up. Bill Simmons dubbed the two-week runup to the game as "the Super Bowl disaster by which all other Super Bowls will be compared." Guests complained of poor infrastructure, lack of hotel rooms, terrible restaurants, poorly planned traffic patterns, and, oh yes, that wonderful aroma of pulp mill. In 2005, Jacksonville became a punchline, and then America forgot about Florida's fourth-largest city.
But in the 13 years since, Jacksonville has become a different place. The pulp mill is gone, first of all. But more importantly, the young people who grew up under the stigma of stench and sprawl have come back and are transforming Jacksonville into something special. It's a lush, green city dotted with restored historic homes and neighborhoods full of character. It has clean, calming waterways winding through its 800+ square miles, where anglers, boaters, and paddleboarders relax in the most temperate weather in Florida.
Those waterways lead out to 22 miles of relatively unspoiled shoreline, with all the white sand and blue water of your Florida beach fantasies, with none of the hideous highrises. Jax has become a place where creative people -- be they artists, chefs, or musicians -- can come and have an immediate impact on the culture. So where it once might have been a disastrous place to visit, it's now one where you can experience city life, nature, and the beach all within a half-hour's drive.
You just have to get past the fact that we're talking about Jacksonville, here.
Jax is the most misunderstood city in America
In the long list of unfairly maligned American cities, Jacksonville might be at the top. Critics of other oft-mocked places like Buffalo, Cleveland, and Detroit will still point out those cities' unmistakable character and unwavering civic pride. Jacksonville? Sprawl doesn't lend itself to character. Snowbirds and retirees don't exactly galvanize civic pride. Nobody ever gives it much credit for anything other than Lynyrd Skynyrd.
Jacksonville is physically huge, and deeply conservative. The largest city by land area in the lower 48 has just over 800,000 people sharing 874 square miles. This creates a mental image of one tall building downtown, a couple of bridges, and lots of pine forest filled with rednecks firing rifles at refrigerators.
Part of this deep-red perception might stem from the three military installations in greater Jacksonville, the third-largest military presence in America. Ostensibly, such a presence would lead to conservative culture, but the bases have also brought diversity; Jax's huge Filipino population springs in large part from sailors moving to the area. Jacksonville isn't exploding with growth like other Sun Belt cities, but the majority of its estimated 70,000 new residents from 2010-2017 came from other countries. So while the city is still nearer in proximity and culture to South Carolina than it is to South Florida, the cultural gap is narrowing.
"I like that Jacksonville is a hidden gem. So I'm not mad people think it sucks. Let them."
Over the past decade Jacksonville's developed walkable neighborhoods, a thriving arts scene, and a few standout restaurants to rival those of Miami and Atlanta. It's just that, somewhat strategically, locals don't want anyone else in on it.
"If I played up Jacksonville to outsiders, it'd be like Austin," artist Karen Kurycki says from her massive studio at Jacksonville's CoRK Arts District. "It would be this mass move and five years later rent has skyrocketed and traffic is unbearable. I like that Jacksonville is a hidden gem. So I'm not mad people think it sucks. Let them."
Kurycki is among the leaders of an art scene that's brought a creative vibe to a city many write off as backwoods and stagnant. CoRK -- where her studio resides -- is a series of onetime industrial buildings where photographers, sculptors, musicians, and other artists rent oversized spaces at prices they can actually afford. It sits in the hipster enclave of Riverside, maybe 15 minutes from downtown, where tall pines and palmettos fill the streets, making for a lush residential area filled with historic homes and small business in old brick storefronts.
CoRK's walls are painted in a free-flowing rotation of murals and graffiti, with a slightly overgrown central courtyard complete with barbecues. It feels like the sort of communal bohemian space you'd have seen in Oakland 10 years ago, and it demonstrates that Jacksonville is not the cultural wasteland some would assume.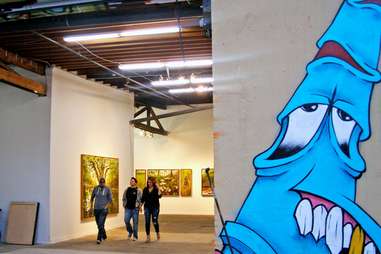 A progressive, creative culture crawls its way back
This scene would've felt less surprising a century ago. In the 1920s Jacksonville was a relatively progressive Southern city, a hotbed of artists and jazz complete with one of the first middle-class black neighborhoods in the state, in LaVilla. Ray Charles lived here. "Lift Every Voice and Sing" -- the black national anthem -- was written by a middle school principal in Jacksonville.
"What's unique is that blacks and women here could own businesses when they didn't even have basic rights in the rest of the country," says Jessica Santiago, the CEO of the WALL Street Fine Art program, who commissions artists to spruce up big downtown facades with provocative murals. "Women running jazz clubs were paying performers four times what they paid in other cities, so this became a big hub for artists. It was a place biracial couples came for refuge from the rest of the country. The progressive roots stayed even though it's become conservative politically."
In the 1930s the conservative and fabulously wealthy DuPonts became the city's most powerful political family, slamming the door on those roaring '20s. The First Baptist Church held a ton of the land in downtown, effectively keeping nightlife or anything resembling "fun" from entering the urban core. Through the civil rights era of the 1960s and into the latter part of the 20th century, Jacksonville evolved at a slower, more southerly pace than the rest of Florida. The city focused on attracting big companies -- let the creative small businesses and tourists go to Miami six hours down to the coast.
Jacksonville earned its conservative rep over years, so no matter how many murals go up, it's going to be hard to shake.
"Up to last year you could still deny someone housing or fire them for being gay," says Kurycki. "But we're bringing back that culture from the '20s and making people aware of our rich cultural history. There's a lot more progressive-minded people now."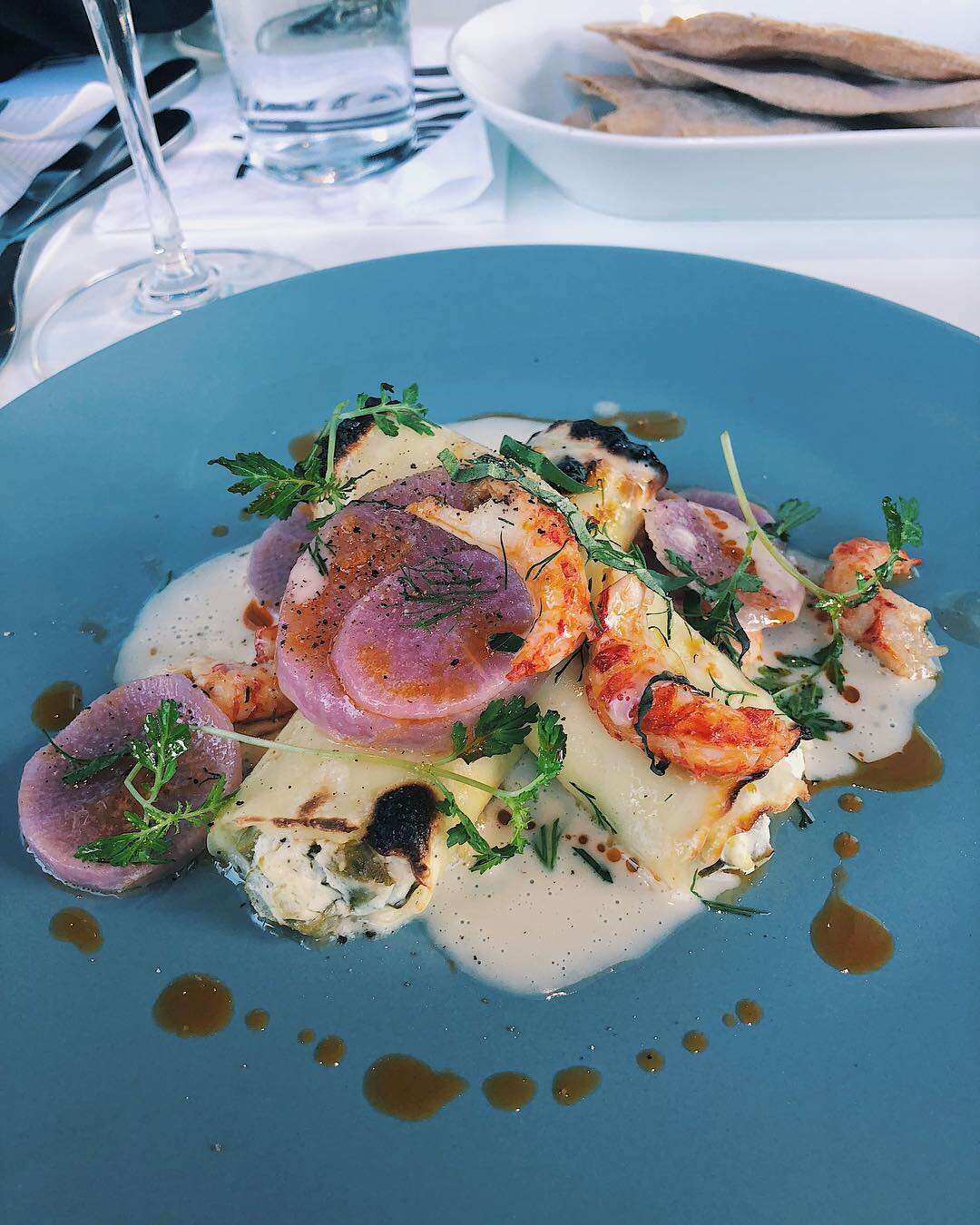 Many of those folks are natives who, like so many young people, got tired of their hometown and left, only to return when they realized how much that city had to offer. They are determined to bring Jacksonville back to its creative heyday of 100 years ago. Among them is Jonathan Insetta, who now helms some of the city's premiere restaurants, like Black Sheep and Orsay.
"I call this place Cleveland Jr.," he says over chicken and tarragon biscuit dumplings at Bellwether, his fast-casual restaurant downtown. "Growing up here, all you wanna do is get out of the city. But the farther I went away the more I missed home. The bones of this city are amazing. We have this river running through downtown, the intracoastal. We all grew up here and saw what it could become, and now we're getting a glimpse of that."
That glimpse is apparent in the Insetta's restaurants, among others. Like every overlooked city, Jacksonville will tout its "burgeoning food scene." But they've actually gotten some recognition with James Beard Award nominations for Orsay and for Town Hall, run by Beard nominee Tom Gray.
Even locals are bound to stumble across new stuff on the regular.
"Ten years ago we put pork belly on the menu and nobody would touch it. So we literally just changed the name to fresh bacon and we sold out the next day. That was Jacksonville ten years ago," Insetta says. "Now we have diners asking for sweet breads and foie gras. It's changed."
"People who say Jacksonville sucks, they're not looking hard enough," says local food blogger Nate Mayo, author of Nate Does Food. "But people who come here tell me all the time 'thank you for telling me about this restaurant, I had no idea that kind of place existed in Jacksonville.' We really have something in every category."
More space means more to do, and more outdoors
Driving anywhere here takes half an hour, but unlike in LA or Miami that's not half an hour sitting in traffic. That's half an hour going 70 on the highway. That's why visiting a city this big is fascinating, with different parts of town boasting little nooks and weird natural features.
"My favorite thing is when someone who's never been here comes to town and they say 'Jacksonville has such a cool vibe! I never knew any of that!,'" says Kurycki. "I had two friends from Paris come out here and we took them to the West Side Flea Market, and people were wasted singing karaoke before 11am and there's a sign that says 'All Snakes Must be Covered.' It was just so unabashedly Florida, they loved it."
It's not just visitors who turn up surprises in Jacksonville. The city covers an area two-thirds the size of Rhode Island. Even locals are bound to stumble across new stuff on the regular.
"I took a friend out to Springfield a few weeks ago, lived here his whole life," says Jay Dodson, owner of Jax Beach's Hoptinger Bier Garden. "They built all these Victorian homes out there. It fell off in the '80s, and they've been opening craft breweries and having a resurgence lately. It blew his mind, said he felt like he was on a vacation in his own town."
"People have no idea what Jacksonville is," he continues. "It's beautiful beaches, we have a ton of amazing waterways between the St. Johns River and the intracoastal. If you like being on the water, there's not a better place to be."
That doesn't just mean flopping at the beach. It means surfing, or floating down one of the many natural springs that run just west of the city. It means fishing out on the Intracoastal Waterway or running along the boardwalk. And, of course, playing golf.
Dodson was speaking to me at his bar's pop-up at The Players Championship in Ponte Vedra, the PGA Tour's "fifth grand slam" most famous for the 17th hole island green. It's like the Kentucky Derby on a golf course, an 18-hole party filled with beer tents, food trucks, local restaurants, and more beer tents.
"We are like the North Shore of Golf," says Dodson, who hadn't touched a club until a lesson five years ago and now golfs as his main form of recreation. "I can play a different course every day for 60 or 70 straight days if I wanted to. My goal is to play every course in Jacksonville, but I'm not sure that's even possible."
A cheap night out by the beach, perfect for weekends
On a Saturday night during the Players Championship -- the biggest weekend of the year, according to most locals -- lines stretched out from Surfer [The Bar] on Jacksonville Beach like the velvet rope queues I know in South Beach. I told my friend, a younger local, to forget it. I'm not dealing with lines.
"This?" she said. "This is nothing. We'll be in in like ten minutes."
I scoffed, figuring she wouldn't get in so quickly with me in tow instead of her regular crew of girlfriends. But she was spot-on. The line actually moved and just as the humidity of the late-spring night was starting to make me sweat, we reached the door. I immediately ordered two drinks and was told to pay $8.
"I'm paying for both of them," I told the bartender.
"Yeah," he said. "Eight dollars."
The low prices bring a young crowd, with students from University of North Florida and Jacksonville University mixing with young professionals. And, my friend told me on the dance floor, during a Chainsmokers remix, you're also likely to bump into Jaguars players in their civvies.
The scene wasn't exactly South Beach, but it still invited an attractive crowd that seemed more concerned with having a good time than with being seen. Living here it might get repetitive -- my friend ran into at least a dozen people she knew in the hour we were out -- but for a weekend trip, it's ideal. And much more accessible than Miami.
In Jacksonville I found access to first-class everything, without the crowds, prices, or pretention. Though the rest of the state, and even the country, might see Jacksonville as Florida's chew-spittin', truck-drivin' redneck little brother, one need spend only a few days here to realize its a poorly hidden gem among Florida's great beach destinations. It might still have a few kinks to work out to get out from under the blanket of boring that's covered it for nearly a century. But at least now it smells like the ocean.
Sign up here for our daily Thrillist email and subscribe here for our YouTube channel to get your fix of the best in food/drink/fun.
Matt Meltzer is a contributing writer to Thrillist who never thought Jacksonville sucked. Follow him on Instagram @meltrez1.