25 Things You Need to Know Before Your First Trip to Mexico
So you're gearing up for your first trip south of the border.Felicidades! Forget beaches and all-inclusive resorts for a minute (or don't, because you'll find some of the world's best right here). Mexico is an incredibly diverse country with everything from towering mountains and steamy jungles to ancient ruins and succulent street snacks.
Of course, with so many incredible things to do and see, it's nigh on impossible to squeeze everything into a few short vacation days. That's why I've put together this guide for first-timers, covering all the essentials, answering all your burning questions, and offering some insider tips too.
Is it safe to travel to Mexico?
Let's just come out swinging, shall we? Of course this is the number one question on everyone's mind, what with cartel violence, Zika, and hurricanes splashed all over the media. So allow us to give you a resounding answer: YES, it is absolutely safe to travel to Mexico.
I now live in Mexico for six months of the year, after a long history of visits (I've been more than 100 times). Do you know how many times I've been robbed, held at gunpoint, witness to a crime, or gotten food poisoning? Zero. And I'm not even one of those "sensible" travelers. I jump off of things and use unmarked ATMs and seek the tacos not in the guidebooks.
Listen, are there problems in Mexico? Of course. There are serious cartel issues in many parts of the country -- especially the Central Northern border, and the states of Guerrero and Michoacan on the Pacific coast. But chances are, you're not going to go there. And even if you did, you'd probably be OK provided you didn't drive alone down deserted roadways at night, or try to score some meth. And frankly, it's just good life advice to avoid those things anyway.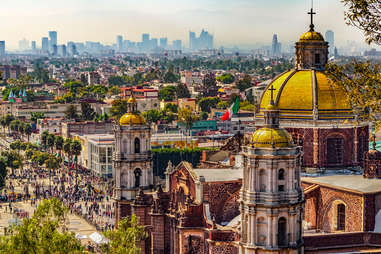 When is the best time to visit?
High season in Mexico runs from December through Easter, which makes sense -- it's cold AF north of the border. From May through September, most Mexican beach destinations are less busy because it gets ridiculously hot and humid. Along the Caribbean coast, hurricane season is from September to early November.
If you're visiting a big city (like Mexico City, San Miguel de Allende, Mérida, Oaxaca), any time of year works, but keep that summer heat in mind. In Mexico City, which is at an elevation of more than 7,000 feet, temperatures can get down to freezing in winter.
What are the best vacation spots in Mexico?
That depends on what you're looking for, since Mexico has something for pretty much everyone. The beaches with the best tourism infrastructure, facilities, hotels, and airport access are Cancun/Riviera Maya, Los Cabos, and Puerto Vallarta. For a city escape with culture, history, incredible food, and the colonial vibe, head to Mexico City, Oaxaca City, San Miguel de Allende, Mérida, and San Cristobal de las Casas.
But if you're looking for raw, natural beauty beyond the popular beaches, consider San Cristobal de Las Casas, a mountain town that sits in the highlands of Chiapas. It's home to tribes that still practice mysticism, as well as the Sumidero Canyon National Park. The iconic train ride through Copper Canyon is another excellent option -- it's even deeper and, some might say, more spectacular than our Grand Canyon.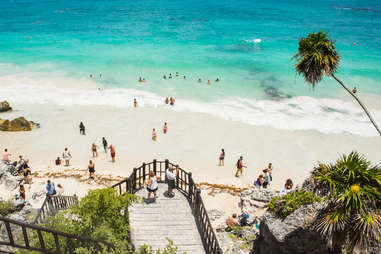 So you're in it for the beaches. Which ones are the best?
Mexico has more than 5,800 miles of coastline. With that comes a LOT of beaches. Of course, not all beaches are created equal. The coast of Quintana Roo is where you're going to go for the most luxurious beaches in all of Mexico. These powder-white, tourist-friendly stretches are at their best from Cancun all the way down past Tulum into Mahahual. Accommodations range from five-star resorts down to backpacker-budget hotels.
For ultimate luxury, head to Los Cabos. Though swimming isn't always safe on the beaches there, the resorts tend to make up for that with stunning infinity pools. For low-key surfer town vibes, head to the Oaxacan coast (Puerto Escondido, Mazunte, and Zipolite in particular). For hidden coves, Riviera Nayarit. For rustic, under-the-radar beaches (which are, in my humble opinion, some of the very best) check out these beaches the locals don't want you to know about.
Isn't Cancun a tourist trap?
Depends. The Hotel Zone is exactly that -- about 17 miles of all-inclusive hotels, as well as party clubs, restaurants, and bars where you'll find very few Mexicans. But Cancun, the city itself, as well as the surrounding areas of Quintana Roo still have wonderful off-the-beaten-path spots to discover. Consider Bacalar, a town about four hours to the south, which is home to the second largest lake in Mexico. The dazzling water changes colors throughout the day, giving it the nickname the Lake of Seven Colors. There is also Mahahual, a beach town on the border of Belize that oozes laid-back, bohemian charm. And in the jungles, travelers can find nature tours that take them into Mayan communities, where the Mayan language is still spoken and the locals still practice many of the same rituals that have been handed down for generations (but not the whole human sacrifice thing, don't worry).
What are the best cities to visit in Mexico?
Mexico City is, no doubt, one of the greatest cities in the world. It's also one of the largest, with a population that hovers around 20 million (this includes the surrounding areas, as well). Its history dates back to the Aztecs, who founded it on a lake in 1325, and then the Spanish conquered it in the early 16th century. Today, a vibrant, art-forward culture has plastered the city with modern architecture, murals, sleek cocktail bars, and some of the most delicious food you'll ever taste. Just take a walk through the streets and it's entirely possible to see an Aztec ruin next to a baroque townhouse next to a sleek five-star hotel.
Rising in the ranks as a destination in its own right is Merida, the capital of the state of Yucatan. It's a colonial gem just a few hours north of Cancun, much smaller than Mexico City but still packed with culture, art, and a sizzling restaurant and bar scene.
San Miguel de Allende is a favorite for Americans. Roughly 10,000 expats live there full-time now, and it has been voted Travel + Leisure's favorite city in the world for the last two years. The reason? It's visually stunning, with an iconic cathedral overlooking a valley of cobblestone streets and colonial architecture. The entire city is a UNESCO Heritage Site, but it's also one of the most modern Mexican cities in terms of fine dining, boutique hotels, and art galleries.
Oaxaca (the city, as well as the state) is a foodie heaven. Most of the dishes that we consider to be classic "Mexican" come from here. There are literally dozens of flavors of mole (and who can forget that sweet, sweet mezcal). Other cities in Mexico have their own specialties, like ceviche in Puerto Vallarta, slow-roasted pork in Quintana Roo, or rich chocolate in Chiapas.
Guadalajara is Mexico's second-most populated city, and the home of two Mexican classics: tequila and mariachi. Tequila comes from the eponymous city, which is just outside Guadalajara. And no, we're not talking about Cuervo (although the Cuervo headquarters are located there and if you get actual, quality Cuervo you would not have college PTSD) -- we're talking about some of the highest quality of tequila in the world, which you can sip like a fine whiskey. Guadalajara is also a prime destination for handicrafts, with the local suburb Tlaquepaque having one of the largest open-air markets in the country.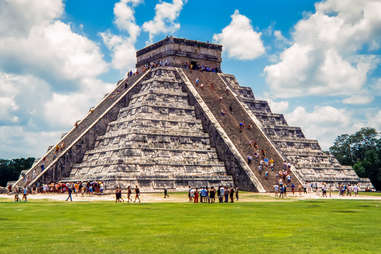 Where are the coolest ancient ruins?
Mexico has history that extends well beyond the scope of the Mayan and Aztec worlds. There are many, many pre-Hispanic, indigenous cultures that have lived on Mexican soil, such as the Zapotecs (who were ruled by women emperors), Olmecs, Toltecs and Huichols. The most famous archaeological sites in Mexico are the Mayan sites of Chichen Itza and Tulum in Quintana Roo, as well as the Aztec site Teotihuacan, just outside of Mexico City.
But there are so many other archaeological ruins that are just as impressive, minus all the crowds. Monte Alban, a Zapotec city home to spectacular pyramids, temples, and plazas, sits 1,300 feet above the Oaxaca Valley with a backdrop of towering mountains. The North Platform and the Great Plaza are the two best spots in the city, both with spectacular views. Other attractions include a ball court and ceremonial platform, as well as a series of rock carvings and 170 known tombs. (In one of the tombs they found literally hundreds of ancient sex toys.)
In the state of Chiapas, Palenque is one of the most important Mayan sites, and one of the best preserved. It sits at the base of the Tumbala mountains, on the Usumacinta River, deep in the jungle. The huge Mesoamerican step pyramid, the Temple of Inscriptions, is the centerpiece, with hieroglyphics that have helped archaeologists understand the ancient Mayan culture.
In the Campeche jungles, is Calakmul, which was discovered in 1931. Only a small bit of this impressive site has been uncovered, but it is said that the city thrived for more than 1,000 years and has over 6,000 buildings.
How many states are in Mexico?
Thirty-two. It used to be 31, with Mexico City as a federal district, but recently the State of Mexico was formed with Mexico City (CDMX) as the capital.
What's the best way to get around?
Mexico has really great low-cost air carriers, like Volaris and Viva Aerobus. But the bus system in Mexico is also top-notch, with five-star quality buses that are safe and comfortable. I've spent months backpacking around Mexico using the bus system -- it's a fantastic, cost-effective way to see the whole country.
Do you need a visa to visit?
Americans do not need a visa to visit Mexico. However, the maximum amount of time you can stay there without a visa is six months. When you arrive in Mexico you are handed an exit ticket. Do not lose this ticket -- if you do, you'll pay a hefty fine when you leave.
Do you need to know Spanish?
Need is a strong word. It's certainly helpful (and polite) to pick up a few words and phrases in the native language of the country you are visiting. In popular tourist areas, English is widely spoken and it's a strong bet that the locals' English is far stronger than your Spanish. That said, locals love when visitors try to practice Spanish and are more than willing to help. But the more remote a destination is, the greater the struggle to communicate without lots of pointing.
How much is the dollar worth in Mexico? Are things really as cheap as people say?
One dollar = 19.32 pesos (as of September 2018). Sure, the exchange rate is good, but if everything costs 500,000 pesos, what good does that do you? Fortunately, Mexico not only has a favorable exchange rate, but yes, things really are as cheap as they say.
Obviously, the touristy towns are going to be more expensive. A beer and a simple dinner in Puerto Vallarta will run you somewhere around $4-5, but in a fancier restaurant can be as expensive as $20 for seafood and a cocktail. A general rule of thumb: The restaurants on the beach charge more, while the more divey joints or street carts will run you less than $5 for a very filling meal. Mexico City will swing toward the $15-$20 price range -- unless it's a street food cart, in which case you'll spend less than $1 per taco.
Cash? Credit?
More and more places in Mexico are accepting credit cards. But cash is always better -- both for the exchange rate and for bank fees.
Do you tip in Mexico?
Wages work about the same as they do in the US -- so wait staff rely pretty much solely on tips. But unlike the US, 15% is considered very nice.
Is it safe to drink water in Mexico?
No. Not even the locals drink it. Stick to bottled water. Always. That said, it's totally fine to have your water glass filled at nicer restaurants -- these spots pay for filtered water. Ice in Mexico is also factory-made with filtered water, so you can cool your beverage down worry-free. Nice hotels and resorts have their own filtration systems, so don't worry about showering or brushing your teeth there.
Street food?
Do it! Still, there are some general best practices to keep in mind. The best street food trucks are the ones that use disposable plates, or that wrap their plates in plastic wrap. This ensures that if the plate is washed with tap water, it won't be touching your food. It's also a good idea to avoid produce from street carts -- so, no fruit smoothies if they are mixed with water, and try to limit the amount of vegetables you consume. Typically the street food carts will serve tacos, cemitas (sandwiches), quesadillas, and other regional specialties. The more cooked it is, the better off you'll be. And generally, it is fine to dip into the seductive selection of sauces and toppings. You'll be glad you did.
Can I drink on the street in Mexico?
Nope nope nope! Don't do it.
Is it true what they say about prescription meds?
Yes. You can buy them in almost any pharmacy. This includes things like antibiotics (AND Viagra). But the hardcore prescription drugs -- like the narcotics -- depend on where you're traveling. Big tourist destinations like Cancun and Mexico City won't release these medications without a prescription from a doctor. But other states like Jalisco and Sinaloa typically will sell them over the counter.
Are there tourist scams?
Truth? Yes. But it's no different to any other country. You're a tourist. You're going to be targeted, whether that's marking up the rate of a taxi, or a tour that claims to be authentic but actually isn't. The best thing you can do to avoid travel scams is research the activities, consult guidebooks you trust, or speak with a travel professional.
Many cities in Mexico now have Uber, so that's one great way to avoid taxi scams. In Mexico City, use Uber or ask the hotel or restaurant to call a taxi for you -- cabs that are not registered with the city can be scams.
Should I go to Señor Frog's?
Only if you want to smell like booze, sweat, and shame, along with 300 other Americans.
Well, unless you're Mexican, you're going to look like a tourist. That's just a fact. But you can blend in a little better by not wearing that brand new Señor Frog's T-shirt, and refraining from getting publicly intoxicated wearing college apparel.
You will be totally fine, as long as you stay savvy and alert. But hey, when is that not the case? Going to seedy neighborhoods, traveling alone at night, or drinking too much without someone you trust are bad ideas for female travelers, no matter where you go. Personally, I've taken night buses and backpacked across the majority of the country, and have never had an issue.
What if I'm gay?
You will have no problem! Mexico is one of the most tolerant countries -- in fact, Mexico has legalized adoption for gay couples, and in many Mexican states, gay marriage is legal too.
Do Mexicans dislike Americans because of… you know who?
Definitely not. Do they like Trump? Also definitely not. But they know that Trump, and those who support him, are not representatives of the entire United States. Tourism is about 10% of Mexico's GDP, and they are incredibly proud of that. Alienating American tourists is the last thing they want to do.
Is Cinco de Mayo a thing?
Yes, but not at all the way we celebrate it. It's basically a holiday that celebrates Mexico's victory against the French in the Battle of Puebla in the 19th century. It's not Mexico's Independence Day. That's September 16.
Sign up here for our daily Thrillist email and subscribe here for our YouTube channel to get your fix of the best in food/drink/fun.
Meagan is a travel writer living and breathing in NYC. But if you give her a plane ticket today, she will be somewhere else tomorrow. She like tacos, music and making lists. But travel is her life.