This Criminally Underrated National Park Is a Sonoran Desert Wonderland
Wile E. Coyote, is that you?!
Step into Saguaro National Park: nature's own Saturday morning cartoon.

| NatChittamai/Getty Images
Step into Saguaro National Park: nature's own Saturday morning cartoon.

| NatChittamai/Getty Images
Welcome to National Parks Uncovered, where we'll help you discover the beauty of America's most underrated—and least-crowded—national parks. From sweeping landscapes where you can get up close and personal with mountains, glaciers, and volcanoes to sunny paradises hiding out near major cities like Chicago and LA. To find out what natural wonders you've been missing out on, check out the rest of our underrated national parks coverage.
While it may be cliché to say the Sonoran Desert looks like the background of a Wile E. Coyote cartoon, it's certainly not untrue: Hiking through forests of towering saguaro cacti feels nothing short of cartoonish. Speckling the dry mountains of southern Arizona—the only place in the world, aside from northern Mexico, where you can find them—the rare, quirky green giants with arms pointed in all directions look like they're about to break into a musical number at any second.
Long overshadowed by Arizona's marquee national park, the Grand Canyon, Saguaro (pronounced sah-WHAH-ro, if you don't want to be corrected by locals) may well be one of the most underrated national parks in the country; in 2021, it received just over a million visitors compared to Yellowstone's nearly 5 million. But its relative obscurity is also its greatest strength: Here, you can still feel like you're lost in nature without delving into the wilds of some remote backcountry.
So long as you go anytime other than summer—when desert temperatures skyrocket far too high to promise attractive, sweat-free selfies—you'll find Saguaro hits that perfect national park trifecta of ideal weather, unusual landscape, and minimal crowds. And as a bonus, after just a few hours inside, you might just feel like you're strolling the set of a Saturday morning cartoon-fueled childhood memory. Here's what not to miss.
Where is Saguaro National Park?
Located in southern Arizona, Saguaro National Park sits less than half an hour from Tucson and under two hours from Phoenix, making it one of the easiest national parks in the entire system to visit.
The best time to visit Saguaro National Park
Primetime in southern Arizona is spring or fall, when daytime highs rarely exceed a dry 90 degrees and the mornings are pleasantly cool. Winter is also fantastic if you want to hike during the day; morning and night can be chilly, but it's nothing a good jacket can't fix (unless you plan to camp in the backcountry, which can get very cold post sundown).
Although hikers can head out either early in the morning or in the early evening to avoid soaring temperatures, try to stick around for sunset. The silhouettes of the Saguaros against the boundless, vibrant, orange desert sky—a sight that's sure to remind you of some old Western you watched on the Turner Classic channel in the middle of the night—is well worth photographing, extolling, and writing home about.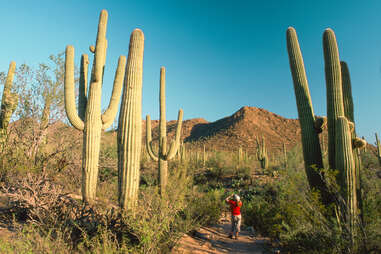 Hike past millions of 40-foot-tall saguaros (plus ancient petroglyphs!)
Though the mountainous desert topography might look intimidating, Saguaro National Park is actually one of the easier national parks to hike. (Just don't forget to bring sunscreen, a hat, and a big-ass water bottle.) It's separated into two sections, each of which can be easily tackled in a day: East (also called the Rincon Mountain District or RMD) and West (aka the Tucson Mountain District or TMD).
The crown jewel is the trek to Wasson Peak in the more-mountainous western section, a moderately-challenging hike covering about eight miles long and generally lasting between four to five hours. For pretty much the entirety, you'll be treated to panoramic views out over the park. It ends at the highest point on the western side, the 4,687-foot Wasson Peak. For something easier on the west side, take the .8-mile Valley View Overlook Trail, which, as the name suggests, also boasts phenomenal views of the valley but on a far shorter walk.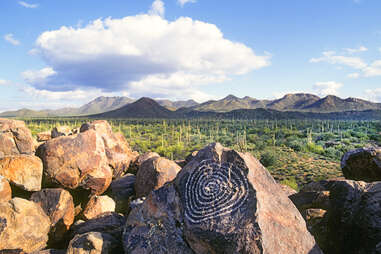 The eastern part of the park is flatter, a cinch to hike, and easily accessible from the Douglas Spring Trailhead at the end of Speedway Boulevard—plus it has the added bonus of no guard shack, and thus no admission fee. From here, you can delve headfirst into a magical saguaro forest along the Garwood Trail.
Follow this to Garwood Dam and then take the Carillo Trail along the mountain ridgeline and back to the trailhead. You'll be surrounded by saguaros as you hike up to the ridgeline, which boasts sweeping views of the park. The whole loop is just under seven miles, or three to four hours.
The best short hike on the east side is the Freeman Homestead Trail, which takes you through a desert wash to the foundation of an old homestead—it's not unusual to see some great horned owls along the way.
Bonus: Again, sunsets in this national park are an absolute must and are best viewed from the Tanque Verde Ridge Trail on the east side and Gates Pass Scenic Overlook on the west. Also worth mentioning: Along with its endemic, namesake cacti, Saguaro is home to a large number of ancient petroglyphs, best viewed along the Signal Hill Petroglyph Trail which runs about a quarter of a mile off the Bajada Loop Drive.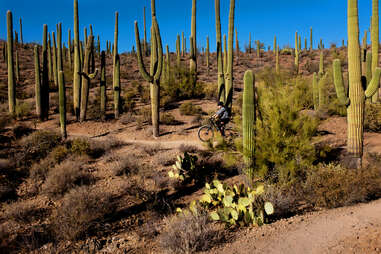 Drive and bike through the Sonoran Desert
If you prefer to see national parks from the air-conditioned comfort of your car, Saguaro makes that easy, too. The most popular scenic drive is the eight-mile, paved Cactus Forest Loop, which offers the best scenery of any route in the park, hiked or driven. You'll wind through desert mountains covered in saguaros, with plenty of pull-outs and photo ops along the way.
On the east side, take the Bajada Loop Road, which is only six miles and partially unpaved. Make sure to stop at the aforementioned Signal Hill Petroglyph Trail and take the short walk to the ancient etchings before hitting the Desert Discovery Nature Trail, a half-mile detour where you'll learn all about the flora and fauna of the area.
Both roads are popular with cyclists, too. Just make sure to watch out for errant ACME trucks.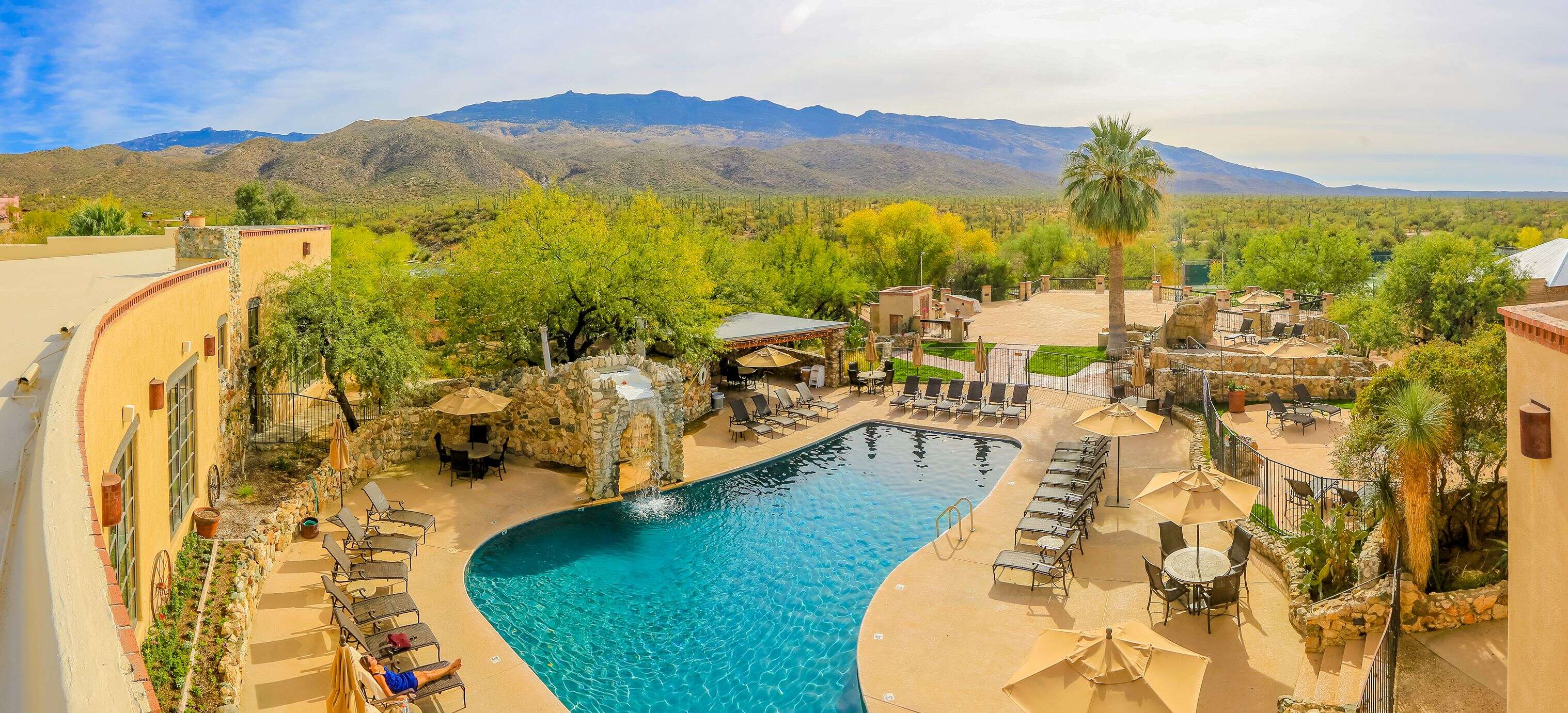 Camping and lodging near Saguaro National Park
One of the reasons Saguaro National Park is such a wonderful escape is the sheer lack of RVs, buses, and other large vehicles: the park is intended for hikers and backpackers, so you won't find any RV sites within its gates. Nor will you find many overnight options at all, for that matter: There's only about 20 campsites TOTAL, all of which are only accessible through backcountry hiking. So unless you're looking to rough it in the desert, you'll need to find a hotel.
Visible from the park's ridgeline, the luxe Tanque Verde Ranch borders the east side of the park and is about as close to staying in Saguaro National Park as you can get without gear; they even offer guided horseback rides through the saguaros, plus a bar where you can enjoy a local craft beer overlooking the sunset.
Or head to Tucson, just a half hour from the park, for an outstanding food and drink scene and a chilled-out artsy vibe. The Downtown Clifton—a chic retro motel done right—has a funky, Austin-back-in-the-day vibe, and prices are reasonable.
Matt Meltzer is a Miami-based contributor for Thrillist, a veteran of the United States Marine Corps, former pageant judge in the Miss Florida America system, and past contributor to Cosmopolitan magazine. Matt graduated with a BBA from University of Miami and holds a master's in journalism from the University of Florida. He currently lives in Miami with his Betta fish, Bob.