A Land of Adventure Awaits at the Top of the World
Claim to have gone more north than anyone you know.
When it comes to far-flung destinations, there's remote—and then there's Svalbard. Although technically a Norwegian territory, the three main islands of this isolated archipelago are actually closer to the North Pole than to mainland Europe. So removed is Svalbard from civilization that scientists entrusted the region with the Global Seed Vault: a long-term repository housing nearly 1.2 million seed samples to ensure the replanting of Earth in the event of a global catastrophe that looks like a Bond villain lair and is likely just as secure.
Many tourists flock to Svalbard simply to say they've visited the world's northernmost permanent settlement. Or drank a beer at the world's northernmost brewery. Or stayed at the world's northernmost hotel. Yes, virtually everything you do here will be the world's northernmost example of whatever it is you're doing.
But this place is so much more than mere novelty. With unfettered access to icebergs, glaciers, polar bears, and snowmobiles, it's an adventure lover's dream. The primary population center of Longyearbyen—a 'settlement' of some 2,500 year-round residents—affords a disproportionate allotment of culture and haute cuisine. And the Northern Lights? Come during winter and you can peep them at lunchtime. Just don't forget to catch the rest of these can't-miss experiences while you're here: they'd be unforgettable even if they weren't the northernmost of all experiences.
Take a fjord cruise toward the Nordenskiöld Glacier
Between the end of May and August, Svalbard's sun-soaked polar summer never gets darker than dawn. Temperatures climb to a downright balmy 45-degrees Fahrenheit. Tropical it is not, but the permanent daylight allows for night kayaking, midnight seal-spotting, and hours-long glacial excursions courtesy of the world's northernmost fjord cruise.

The MS Bard is the region's first hybrid-electric catamaran. In an attempt to leave a smaller footprint than a polar bear, eco-friendly cruise companies Hurtigruten and Brim Explorer have teamed up to offer a greener way to explore the electric blue glaciers. Onboard, travelers can shuffle inside and outside, observing floating puffins, breaching whales, playful seals, far-flung hunting cottages, and, if you're lucky, a polar bear or two.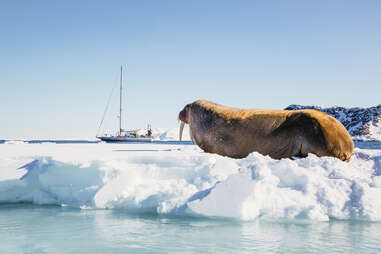 Head out on a polar safari
Make no mistake; you'll see wildlife on any maritime adventure in this part of the world. Whales, puffins, polar bears, even narwhals—the environment is awash in activity, and that's to say nothing of the reindeer and foxes on land.
But if you're in search of walruses specifically, there's a safari just for you. The outspoken, blubbery mammals love to congregate, particularly in the summer months when they flock to the beach for prolonged sunbathing—turns out walruses are just like us. Traverse the Isfjord on a speedboat to arrive at Poolepynten on Prins Karls Forland, among the world's largest colonies of tusked pinnipeds.
Taste reindeer, whale, and seal in Longyearbyen
New Nordic cuisine has reached every corner of the globe, including the tippy-top. On the outskirts of town, inside the historic community center, Huset provides a seasonal, multi-course menu that would have Michelin judges drooling. Each course incorporates an ingredient from Svalbard, the Arctic, or Norway, leading to dishes like brined bearded seal with apples, seaweed, and fermented rhubarb, followed by Svalbard reindeer with spinach puree and grated horseradish. And each course can be paired with juice or wine from their 15,000-bottle cellar, one of the largest in Scandinavia.
Along the surprisingly dense downtown promenade, visitors can find an impressive array of places to eat and drink the cold weather away. At Stationen, an open kitchen plates its whale steak covered in a mushroom sauce and served with buttery, layered potatoes. Its comfort food menu includes fish & chips and a signature burger that pairs nicely with the local craft ale or lager from Svalbard Bryggeri (you better believe it's the world's most northerly beermaker). And directly across the hallway is Karlsberger Pub, known around town as KB, a moody, mine-themed bar where the locals go to have a drink (or one too many) on the weekends.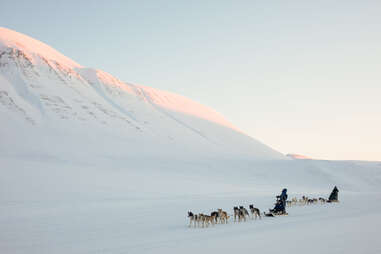 Adventure into the wild
Svalbard is overflowing with opportunities for adventure. Venturing outside the settlement is a must, but doing so alone is not allowed—for one fluffy white reason. Due to the roaming polar bear population, guides with loaded rifles are mandatory for exploring the untouched Arctic. At Green Dog Svalbard, canine lovers can steer their own pack of frothing sled dogs on dog carts during the summer or—you guessed it—sleds during the winter. For the truly intrepid, they also offer multi-day expeditions and northern light safaris.
ATVs, electric snowmobiles, and e-bikes are another way to explore the areas just outside Longyearbyen. These guided tours take you to the famed polar bear crossing sign, up to the Global Seed Vault, and near Svalbard's mines, stopping for historical tidbits throughout. Once you've gotten feeling back into your extremities, board a bus for Camp Berentz. Admittedly touristy, it's a recreation of the cabin built by the first-recorded credited discoverer of Svalbard, Willem Berentz. Inside the all-wood cabin, a massive fire roars, heating up dinner, which includes a heaping bowl of reindeer soup and stories about polar bears, as well as the history of the camp.
Experience a dose of luxury in the harsh Arctic
In one of the world's final frontiers, luxury may seem like an improbability, hell, even an impossibility. But at the four-star Funken Lodge, stylish Scandi-chic interiors are mixed with its delightfully quirky history. Once former residences for Longyearbyen miners, the cellar doubled as an indoor shooting range and a wine cellar housing rare vintages reserved for wild parties. Today, it has 88 rooms and suites decked out in timber, modern Art Deco furniture, and views of abandoned mines. Its onsite Funktionærmessen Restaurant, once the dining hall for miners, now serves an entirely different type of cuisine. Guests choose between four or seven courses with dishes like venison Wellington and cured halibut. After dinner, grab a cocktail from Funken Bar and settle in next to a fireplace so cozy it belongs in a Hallmark movie.
In the center of town, book a stay at the Basecamp Explorer and get a taste for the town's coal-mining roots—with a decidedly more decadent spin. The lodge flaunts a log cabin aesthetic, with cozy bunks featuring fur rugs and driftwood-fashioned furnishings. More than just a clever name, Basecamp is part hotel, part adventurer's hub. A special concierge hooks guests up with exclusive immersions within the surrounding wilderness.
Getting to the top of the world
There are weekly flights from Oslo to Svalbard Airport, but why not do like the explorers did and board a boat, except wayyyy more posh. Hurtigruten's new Svalbard Express will take passengers across the Barents Sea starting in June. This newly outfitted ship will include updated cabins, a whiskey tasting room, and a new expedition center with a five-person experience team to help you book all your Svalbard adventure activities.