Go west, explorers, and catch a movie.

| Photo by Aleks Danielle Butman
Go west, explorers, and catch a movie.

| Photo by Aleks Danielle Butman
Located off of Utah's scenic Highway 12—which climbs through the pine trees of Dixie National Forest and connects the red rocks of Capitol Reef National Park with the massive slots of Bryce Canyon— Yonder Escalante emerges like a scene frozen in time. A drive-in movie screen protrudes from a sandy outcrop, with thrusting canyon formations as its backdrop. Parked in front are nine vintage automobiles, Corvettes and Edsels straight out of the 1950s. Behind the cars, 10 vintage Airstreams. And behind those, 22 pre-fab modern A-frame cabins. On the other side of the 20-acre property are 66 hookups for RVs. Oh, and there's a pool and hot tub.
Opened this March, Yonder Escalante is the latest concept to join the luxury camping world, aimed at travelers who want to connect with the outdoors without sacrificing a decent bathroom or operating heavy machinery. When father-son team Charles and James Tate found the property three years ago (or rather, sent in an intern to drive around Utah looking for a suitable location for their vision), they were looking to reimagine the traditional RV park and road trip experience, adding more comfort and amenities.
Back then the site was called the Shooting Star RV Park, and all the bones were there—including a few vintage Airstreams and the drive-in. "They had a DVD player and they had probably like 30 movies that they would rotate," says designer and Yonder CEO Hannah Collins. "The first time I ever went to the property they threw a movie on for me and I was like oh, this is gonna work. This is incredible."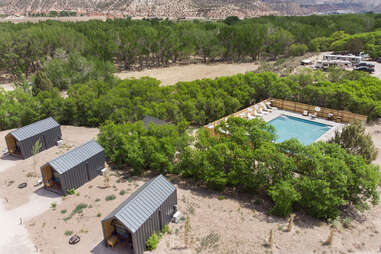 The Yonder team gutted the space and began building. Additional Airstreams—all of which come with a sink and kitchenette—were acquired and designed by Collins with white linens, hardwood flooring and vintage furniture. The small A-frame cabins feature birch ply interiors, soft leather flooring, and glass walls that bring the outside in. Every spot has its own fire ring with a grill, and dinner kits and fire starter packs are sold on-site.
And then there are the bathrooms—shared, spa-like spaces with relaxing music, travertine and terracotta tiles, free luxury bath products, and hair dryers. A separate outdoor shower lets you bathe under the stars. "If you're camping or RVing, the bathroom is the least desirable aspect of the experience, and we tried to flip that on its head and say, well what if we made it one of the more desirable things that you were interacting with?" explains Collins.
As for the drive-in—accessible only to people staying on property—there's hot dogs, vintage candy, and free popcorn on movie nights, with first-come, first-served classic cars for prime seating. There's also a grocery store where you can buy things like cocktail kits, and a main clubhouse with a café, Wi-Fi, books, board games, and communal fireplaces for gathering.
"We have this real fascination with the way that camping and RVing brings people together," says Collins. "I think that there's a real interest in community and building community with this type of travel, and it's part of the reason people do it."
Perhaps most encouraging is that this desert oasis is actually somewhat affordable, currently starting at $215 a night (though we've seen cabins with sale rates of $150), less for RV hookups.
"Without spending a thousand dollars a night at a place like Amangiri (editor's note: try more like $1800 to $5000), you really are stuck with a lot of big box brands," explains Collins. "There's a million Best Westerns you can stay at and they're like an air-conditioned box in the middle of the desert. They give you no context and no relationship to the journey that you're on."
You could easily spend several days just exploring the area. Yonder Escalante is enveloped by the dramatic and desolate Grand Staircase-Escalante Monument, one of the last places in the continental United States to actually be mapped. It's about a 45-minute drive to Bryce Canyon National Park, and the immediate area has its own slot canyons, arches, natural bridges, and hoodoos to navigate.
About fifteen minutes away are the hikable Calf Creek waterfalls. "It's an extraordinary hike," says Collins. "You can either hike to the top of the river and see the waterfall coming down, or [hike] to the bottom and actually swim underneath the waterfall." You're also near Hole in the Rock road, a rugged dirt path that runs 57 miles past formations and slot canyons to the "Hole in the Rock" crack in the canyon overlooking Lake Powell—significant in Utah's history, as this is where in 1879 Mormon pioneers lowered their wagons to cross the river.
Behind the property runs the Escalante river, with Wide Hollow Reservoir a five-minute drive away for boating, kayaking, swimming, and lounging on the dock. Adjacent to the reservoir is Escalante Petrified Forest State Park, with hiking trails and displays in the Visitor Center of fossilized dinosaur bones.
And when the sun sets there's exploration too. Utah has the most Dark Sky Places in the country, and at Yonder you're between the two International Dark Sky Parks of Bryce Canyon and Capitol Reef, making the large, remote Grand Escalante-Staircase monument and its lack of light pollution an awe-inspiring location to experience the stars.
And the hotel leans into it with movie nights. Peppered among comedies and spaghetti westerns are a few tied to astronomy, and space. ET backed by an incredibly vivid Milky Way? Well that's basically an immersive experience.
Vanita Salisbury is Thrillist's Senior Travel Writer. She calls dibs on the Edsel.