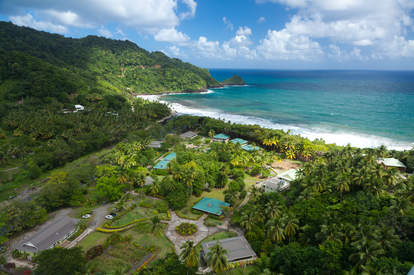 Here's How to Travel the World in 2017 -- And Make It a Better Place
Sue Novik doesn't really take "vacations." Yes, this year she'll travel to seven different cities for the weekend -- Boston, Seattle, Miami, all over. What she's doing there leaves her feeling rested, recharged, and completely fulfilled. But she's not just strolling down the Freedom Trail or tanning in South Beach. Instead, Novik travels for a purpose: raising money to fight rare cancers. Hers is just one of many avenues through which your personal travels can help you make a meaningful difference, even as you get to see the world.
When her fiancé, Brian Rozelle, died of bile duct cancer in 2015, he'd already been an active participant with the organization. So Novik decided to honor him by trying to help others around the country. "I wanted to take his spirit for travel and adventure, and go on as many rides as I could," she says. She's now among a large group of people who travel the country attending Cycle for Survival, a four-hour spinning event that raises money for cancer research. After attending four rides last year, she's planning to hit seven in 2017.
"It gives you a strong sense of community," she says, "of doing something bigger than yourself and making a difference wherever you go." Making that difference is the spirit behind service tourism, the catch-all term for using your time away from work to donate your best efforts toward improving someone's life, somewhere else.
When people hear "service tourism," they recall that selflesser-than-thou college roommate who went and built houses in Uganda on "alternative spring break" while you pummeled your liver in Daytona. And you thought, Yeah, he's a swell guy and all, but who wants to "vacation" by laying a tar roof in the jungle?
Don't let the veneer of martyrdom turn you off. Service tourism has expanded far beyond sweat and dirt and hammers and nails. More and more people -- perhaps 10 million of them annually -- are taking trips that include volunteering. As you might expect, options abound. This list is by no means comprehensive, but everything on here is something you can book, or that can guide your wider search for creative ways to volunteer and then come home feeling like a hero.
A dog lover's dream vacation in Florida
Take a trip to Florida's sparkling Gulf Coast, and near one of America's best beach towns in Anna Maria Island you'll find Southeastern Guide Dogs in Palmetto. Dog lovers get to play with dogs. The community gets an invaluable service. This is where win meets win.
Southeastern raises and trains guide dogs, raising them from puppies to become fully ready service animals. The first step in those dogs' education is "puppy kindergarten," a socializing program designed to give the puppies positive associations with human interaction. For a small donation, you get to be their teacher.
The Puppy Kindergarten Adventure begins with guests sitting on a floor surrounded by toys. A gate opens and half a litter of Golden Retriever puppies come bounding into the room and all jump on the guests, licking faces and trying to eat shoelaces. Over the next half-hour volunteers help dog trainers get the puppies accustomed to people, objects, and commands so they someday will help a person in need.
"The volunteers are the backbone of our organization," says Samantha Theobald, formerly the guest experience coordinator at Southeastern. "We've had generations of people come through. Children become adults and bring their children. We get people who find out about us because we're listed as one of the top 25 things to do near Bradenton. And they have no idea about our organization but they come anyway."
Some of us, though, are not dog people. Perhaps we're oyster people, and more specifically, "slurp down oysters at a beachside restaurant with a glass of rosé" people. And there's service tourism for that, too.
The Sandbar Restaurant

| The Sandbar Restaurant
Eating oysters makes for cleaner water
Not far from Southeastern Guide Dogs in Holmes Beach, the local-landmark restaurant Beach House and Anna Maria Island's Sandbar are using discarded oyster shells to create better marine environments along the coast. They call the program "plate to preserve," and it's used to create hard bottoms in estuaries so oysters and other marine life can thrive.
"Tourists go to the restaurant, they have some tasty oysters, then instead of heading to the landfill they head to Perico Preserve," explains Melissa Nell of the Manatee County Parks and Natural Resources Department. "That shell material is recycled and we use it to create hard-bottom habitat for other marine creatures. Oysters can live there, and they naturally filter the water and improve local water quality."
So, go ahead, order that second-dozen oyster shooters. The people of Manatee County will thank you.
Nell says she's seen a huge increase in visitors looking to help restore and maintain the coastal county's marine preserves -- one of the few things other than "lie on the beach" that motivates spring breakers and snowbirds alike.
"Ecotourism has become huge now," she says. "One of the things you take away from that experience is that you should benefit the community. There's been a big perception shift that you're not just going somewhere for your own enjoyment, but to help that place as well."
In 2017, Manatee County saw 4,000 such volunteers donate 11,000 hours of their time to such projects as replacing marshlands, planting native shrubs, or taking kayaks out on the water to clean up the mangrove waterways.
"I love to see people look over their shoulder and see a bird land on something they just planted, or a dragonfly land in the marsh they just put in," she says. "Their faces light up when they see their work is making a difference."
PAPAGAYO, COSTA RICA

| EQRoy/Shutterstock
Helping tiny turtles -- and kids -- in the Caribbean
Service tourism isn't just limited to the US, of course, and, again, overseas volunteering doesn't mean living in a hovel while you build a school. You can do it while living at the Four Seasons.
For nine years the Four Seasons Costa Rica has worked with Creciendo Juntos, a local educational outreach program in the Guanacaste region. The hotel offers its guests a chance to contribute to local children's education. This means reading to local school kids, bringing a backpack of supplies to the school, grocery shopping with a local family -- or just playing some fútbol during recess.
"It was kind of radical when we started it, because people at a luxury hotel aren't looking to do community outreach in a poor country, right?" says Danielle Finnegan, a Four Seasons Costa Rica spokeswoman. "But the feedback has been amazing. The people who do the program do it repeatedly."
She tells of one man who developed such a bond with a family he visited in Costa Rica, he now pays for the private school for their three children.
"It's children, and you're providing a very basic thing -- education -- we in America take for granted," Finnegan says. "Our guests feel very touched by their experiences and want to give back."
Further out into the Caribbean, the Rosalie Bay Resort in Dominica was named one of National Geographic's Unique Resorts of the World for the opportunity it affords guests to help sea turtles hatch on the shores. The resort was never designed to be a turtle-watching destination, but when owners discovered their beach was a giant turtle-nesting beach, that immediately became part of the draw.
The resort has staffers monitor the turtle hatchings. When they notice turtles about to hatch, they alert guests who head to the beach to see hatchings and watch the turtles move back into the ocean. Because the hatchings are such a draw for Rosalie Bay, the resort ensures the baby sea turtles (as many as they can) get back to the water safely. Which, naturally, can be a treacherous trip. By going to see the turtles at this resort, people are helping to preserve their population.
Rosalie Bay Resort

| Courtesy of Rosalie Bay Resort
So service tourism doesn't have to mean sacrificing your vacation to help others. It can mean as little as waking up in the middle of the night to see sea turtles hatch. It can be as simple as taking an hour to plant some trees, or schlepping some school supplies with you to Costa Rica. Yes, relax, of course. But consider, too, how energizing it is to return home knowing you've done some good in the world.
"This stuff fills up my emotional reserve tank, it restores the magic that sometimes, especially people who suffer loss or disaster, feel like is gone," says Novik of her charity spinning rides. "It makes you realize the world is just awesome. So if you pick something you are passionate about, and travel around and have these experiences, it helps you become fulfilled."
Sign up here for our daily Thrillist email, and get your fix of the best in food/drink/fun.
Matt Meltzer is a contributing writer at Thrillist who still isn't completely comfortable around puppies. See his Puppy Kindergarten Adventure on Instagram @meltrez1.