Level Up Your Iditarod Adventure by Joining the Return Dog Program
The Alaska race's most coveted volunteer job may take some expertise, but it comes with plenty of cuddles.
Every year the Iditarod—AKA the Last Great Race on Earth—typically kicks off with over 100 mushers and sled dogs often numbering in the thousands (this year's unusually low number of mushers notwithstanding). But while these canine superstars are at the top of their game, an average of 30% don't actually make it to the finish line each year.
There are myriad reasons a sled dog might not finish the 1,000-mile journey, which begins ceremonially in Anchorage and ends in Nome, Alaska up to two weeks later. They can get hurt or sick on the trail, perhaps, or just wear themselves out. It could be part of a race strategy, or a matter of good ol' biology. "Maybe a female is in heat and causing problems," explains Dr. Liz Millman, a certified vet and one of the Iditarod's thousands of volunteers. And though the rules state that mushers must cross the finish line with the same dogs that they started with—meaning no new dogs can be added throughout the course—they only need a minimum of five out of the initial 14 at the end to comply.
Which begs the question: Where do the pups who leave the race go? To a magical place called the Returned Dog Hub.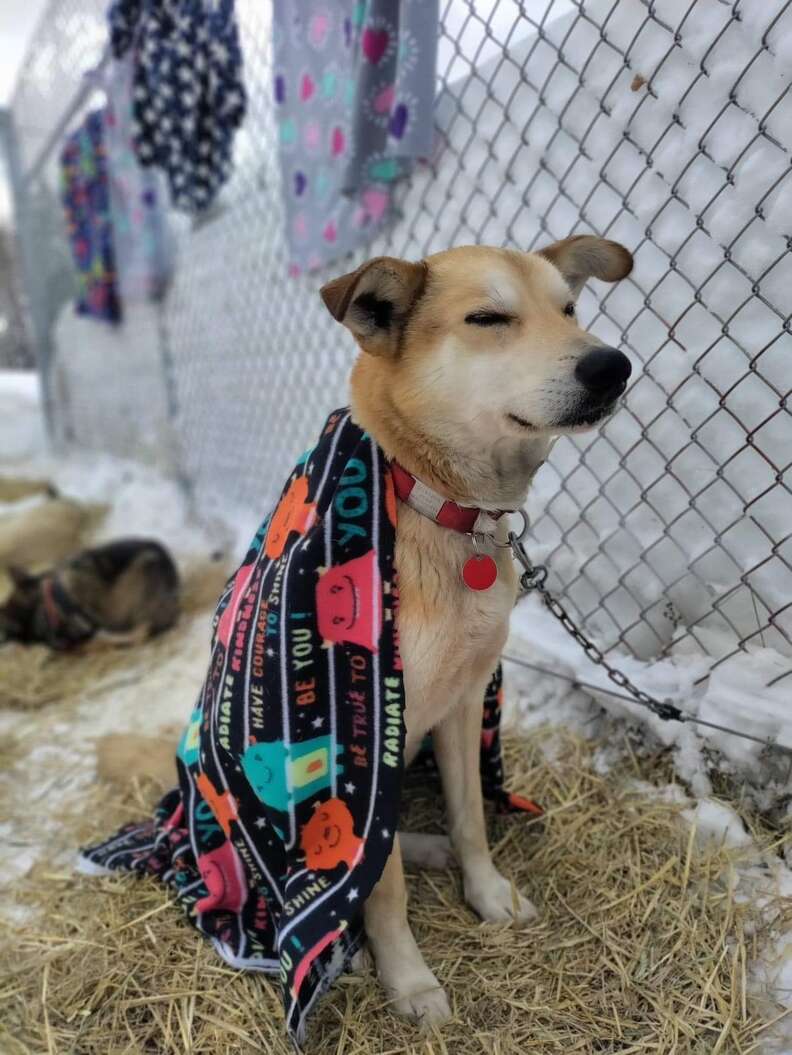 Once the main artery for sled dogs charged with facilitating commerce and delivering mail in snowbound areas of Alaska during the Gold Rush, parts of the Iditarod Trail (now a National Historic Trail) were still in use even after machinery like airplanes and snowmobiles were introduced, particularly in Indigenous villages. The idea for a race was introduced by the Alaska Centennial Committee in 1967 as they searched for something to commemorate the state's history and garner national attention. The first race as we know it today kicked off in 1973.
As popular as it has grown, the Iditarod's decades-long tenure has not come without controversy. Though advocates of the race say the dogs thrive, the harsh conditions of the desolate routes—plagued with blizzards, far-below-freezing temperatures, and treacherous terrain—plus documented cases of mistreatment would have opponents like PETA and the Sled Dog Action Coalition believing otherwise. Humans may have used sled dogs for thousands of years for hunting, communication, and transportation, but the Iditarod, and other races like the Finnmarksløpet in Norway are not exactly necessary.
In response, rules of the the Iditarod state that anyone who has been convicted of animal cruelty or neglect in the state of Alaska is prohibited from participating. Mushers are required to carry a minimum of two sets of booties per dog, and in the weeks prior to the race, each dog undergoes physical examinations including bloodwork and EKGs. And after last year, when a sled dog named Leon slipped out of his collar and escaped from a checkpoint (he was eventually found), and three mushers were penalized for bringing their dogs inside for safety during a storm, tracking systems and sheltering rules are currently being reviewed.
But when a dog dropped at a checkpoint ended up tragically asphyxiating back in 2013, the Iditarod introduced perhaps the biggest reform to date: the amping up of the Return Dog Program. "They already had a lot of people volunteering, but getting people who really knew sled dogs meant the dogs were better cared for," says Dr. Millman. "They started reaching out to handlers and mushers around the nation, people who had experience with sled dogs." These experienced volunteers—about seven to 10 per hub—arrive with prior knowledge about how to mix food for sled dogs and the correct way to feed them, how to walk and handle them, and how transport them properly.
Dr. Millman coordinates the logistics and husbandry for the program and its volunteers. (Her official title? Race Return Dog Coordinator.) Her team includes vet techs stationed along the trail, a veterinarian overseeing Return Dog Medical, as well as experienced dog handlers. They work in tandem with other volunteer crews—including the Iditarod Air Force (IAF), civilians who pilot their own planes to provide aerial support—to make sure the dogs eventually return to their kennels safe and sound. "Everyone works together to make sure the dogs are the most important thing in the race, and we'd do anything to get them home as quickly and safely as possible," she says.
Prior to the race, mushers fill out a Dog Care Agreement Form, which indicates which vet a dog should be taken to if it's in need of medical attention as well as contact info for the handlers responsible for picking them up. Mushers can return a dog to any of the 26 checkpoints along the trail and a vet will check them out. If the dog is deemed in dire condition, they're air-evacuated to a medical facility right away. Most cases are not so extreme, however, and the dogs typically just hang out and wait to be air transferred to a hub in McGrath, Unalakleet, Nome, or Anchorage, where Dr. Millman's teams are waiting to re-examine them.
"Because those checkpoints are only open for one to three days, our IAF crew will bring the dogs from the small checkpoints to the hubs," says Dr. Millman. Eventually, they all wind up in Anchorage, where they're examined one last time, scanned to make sure their microchips match their tags, and given a very important final meal. "We want to see that they're eating before they're released to handlers," explains Dr. Millman.
While many of the rookie volunteer positions at the Iditarod don't require much expertise, joining the Return Dog crew does necessitate some kennel or dog-handling experience in order to provide the best care possible. You sleep with other volunteers on the floors of gyms, community centers, and, in McGrath, a church. Despite the accommodations, it's a very sought-after position. "Everybody's happy because our crew gets to work one-on-one with the dogs," says Millman. "I always get pictures dogs sleeping on the couch with my handlers, coming inside, getting lots of good treats—just well-cared for."
Should you be jonesing to work intimately with the pups but lack advanced experience, Dr. Millman can be flexible—provided you're willing to work your way up. "I'll bring [volunteers] to Anchorage first, work with them that year," she says. "If they're committed and they have a good time and pick it up really well, then I'm more willing to put them on [the] trail next year."
In Anchorage, there are office volunteers and crew volunteers that help with husbandry while learning how to handle and work with sled dogs. You also get the added perk of witnessing an adorable sight: Dogs enjoying planes.
"Most dogs don't like being in kennels or in the car, but sled dogs are really good at traveling," says Millman. "We clip them in so they're not running loose. Most of them just relax and hang out and it's really cute. Every now and then, when a plane is landing at a hub, you'll have a dog looking out the window, like "This is awesome!"