Hug bears and cuddle cheetahs on these badass voluntourism trips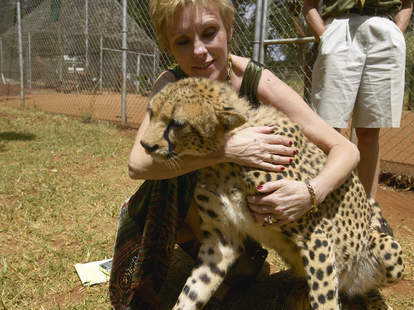 <a href="http://www.shutterstock.com/gallery-978674p1.html?cr=00&amp;pl=edit-00">Spirit of America</a> / <a href="http://www.shutterstock.com/?cr=00&amp;pl=edit-00">Shutterstock.com</a>
Take only pictures and leave only footprints; it's the best advice out there for sustainable travel. But voluntourism takes that idea to a different level: Instead of just spying on animals from afar, you actually get to help them out. So, you know, you help the planet while you're away from the office. It's a win-win.
But instead of just helping out neglected cats or injured birds, you can aid a slew of exotic animals that otherwise would probably eat you for lunch or trample you into dust. With that in mind, we sought out the most badass beasts you can care for on your voluntourism trip.
Elephants -- Chiang Mai, Thailand
Head to the remote Elephant Nature Park in Northern Thailand for a pachyderm paradise, which rescues elephants from all over the country. You can spend anywhere between seven to 28 days bathing, feeding, and walking elephants from the forest to camp… also, cleaning their massive poop. Because who doesn't love cleaning up massive dumps?
Bonus: Get a feel for rural life in this remote village, and teach local children English.
Sharks -- South Water Caye, Belize
Shark cages are for wimps – you, instead, can join Earthwatch to spend your holiday snorkeling around one of the world's most beautiful reefs, while chilling out with sharks... sans bars.
Volunteers work alongside scientists on research boats for 10 days, counting, catching, tagging, and filming sharks, as well as analyzing and cataloguing fins. And did we mention it's in paradise? Eat your heart out, Jaws.
Actually, don't.
Cheetahs -- Somerset West, South Africa
Ever wanted to walk your cats but too embarrassed to take them out on a leash? No?
OK, well, in South Africa, nobody's gonna mess with you when you've got cheetahs on a leash. Volunteers at Cheetah Outreach are provided with accommodation, food (unclear if it involves Cheetos), and transport in exchange for leading tours and greeting visitors, building fences and gates, cleaning cheetah enclosures, and yes, walking and feeding those ferocious felines.
Bears -- Brasov, Romania
They're not called bear hugs for nothing -- this bear sanctuary is home to more than 70 abused and mistreated bears, and relies on you to nurse them back to health with some TLC.
Volunteers lead tours, prepare food, feed the bears, and monitor their wellbeing just by hanging out with them. Plus, this trip doubles as a cultural one too, as the sanctuary rents you and other volunteers an apartment in the heart of Brasov, a stone's throw away from Dracula's castle. It also organizes day trips and makes sure you learn basic Romanian so you can talk to Romanians, and not just bears. Though that's a pretty sick survival skill.
Pandas -- Ya'an, Sichuan, China
Pandas are damn cute – we established that with this insane Panda themed hotel – but instead of stuffed pandas, you can get up close and personal with the real deal at the Bifengxia Panda Base, a giant panda breeding facility. Here, volunteers customize their seven-day stay according to their interests, and will be kept busy helping out panda keepers with feeding, cleaning and medical care, as well as collecting behavioral data.
But no, unfortunately, the food does not involve Beijing Beef.
Rhinos -- Skukuza, South Africa
Steppes' South Africa Rhino Conservation Tour will have you chasing after 130 White Rhinos in order to dart, notch and microchip them alongside Klaserie Nature Reserve's chief vet. You'll be able to ride along on game drives aimed at big cat and game encounters, as well as Rocksteady (TMNT joke) on interactive game walks, where you'll learn how to track and identify birds, trees, reptiles, insects, and mammals.
Jaguars -- Puerto Viejo de Limón, Costa Rica
The Jaguar Rescue Center claims to have a "hands-on policy", believing that
"direct contact is fundamental for the animals to build a strong defense mechanism" -- so you have lots of wildcat cuddles to look forward to. Although it's unclear how building "a strong defense mechanism" involves good touch, and not bad touch.
Regardless, the rescue and rehabilitation center, whose end goal is the release of the animals back into the wild, takes on volunteers for between two weeks and two months to clean facilities, feed the jaguars, and help with research. And when successful, the jaguars thrive elsewhere upon release -- just like Tom Coughlin.

Sophie-Claire Hoeller is Thrillist's associate travel editor, and proud mother of two cats. Which has nothing to do with voluntourism, but she's proud. Follow her @Sohostyle.