Many people have dreamy aspirations of backpacking around Europe, but there's a whole other way to use that pack and actually hike rather than train-hop. If you're looking for more direction than aimlessly wandering and more potential for bonding than just exchanging pleasantries with whoever is in your tour group, look no further than the epic Camino de Santiago.
The Camino de Santiago is an ancient pilgrimage encompassing numerous routes that converge at Santiago de Compostela, a city near the western coast of Spain. It's known to attract hundreds of thousands of hikers, or pilgrims as they're called, per year and it only seems to grow in popularity (pandemic withstanding).
The core idea is this: Choose your starting destination, whether in Spain or elsewhere in Europe, follow the trusty yellow arrows and scallop shell markers along the way, and eventually you'll reach the impressive cathedral in Santiago de Compostela. During your journey, you can stay in affordable hostels specifically tailored to pilgrims, called albergues, and there's always some cafe or restaurant nearby for meals. With no Google maps required and guidebooks being optional, the Camino offers a particularly freeing way of traveling, made even more rewarding by the realization of how far your own two feet can take you.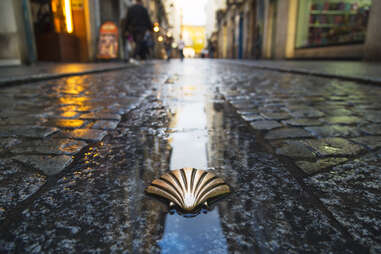 Seeing landscapes change along the Camino from awe-inspiring mountains to shady forests to seemingly endless flat plains is definitely a highlight, but one of the best parts is undoubtedly the community. Assuming you're taking one of the main routes, you'll never truly be alone as a stream of international hikers surrounds you, creating a unique atmosphere of camaraderie and support.
From young adults taking a gap year to retirees tackling their bucket list, there are all sorts on the trail with their own special stories about why they're there. Some are looking to unplug, some are working through change or grief, and some just want the physical challenge. Whatever your reason may be, you might be surprised at what you learn about yourself and what you want out of life once your Camino is complete.
How the journey started
The Camino de Santiago dates back centuries, and the route was created because of the Christian religion, though it's now considered a beautiful path to hike no matter your beliefs. It all started because of a Christian story about James the Great, one of Jesus' twelve apostles, who was martyred in 44 A.D. and his remains were eventually moved to Galicia and then buried there. When the burial site was discovered in the 9th century, King Alfonso II ordered the construction of a church there, which eventually became the cathedral of Santiago de Compostela we see today. Pilgrims started walking to see the cathedral, which is why nowadays hikers are called pilgrims and why you'll also hear the Camino referred to as the Way of St. James. You can easily find other versions of this tale, but now it's a path for all who enjoy the beauty of nature.
Choose your own path
Back in the day, pilgrims would literally leave right from their homes to start their journeys to Santiago de Compostela. These days, you can still meet people who started from their front doors, but it's more common to kick things off along one of the main, established routes.
The most famous and by far the most traveled of these is the Camino Francés, or French Way. The 474-mile (764-kilometer) journey starts at Saint-Jean-Pied-de-Port, France and crosses the Pyrenees through northern Spain. If you've ever seen the movie The Way with Martin Sheen, you'll recognize it's set along this route.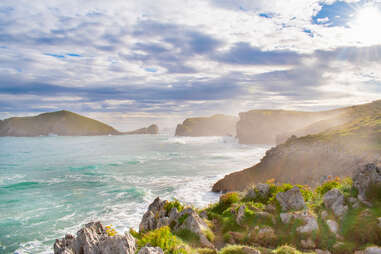 Another popular option is the Camino Portugués, which you can begin in Lisbon if you want to walk the central route spanning 385 miles, or you can start in Porto to do the coastal route stretching 165 miles. Both are attractive for those looking for less of a crowd and a shorter overall distance compared to the Camino Francés.
Then there's the Camino del Norte, which starts in Irún and takes you along Spain's northern coast. This one is known for being more physically demanding, but you're rewarded with a particularly beautiful scenery of mountains and sandy beaches.
What to pack for the Camino de Santiago
The general recommendation is that your fully packed backpack (including water) shouldn't be more than 10% of your body weight. Obviously, this isn't a hard-and-fast rule and ultimately, you can do whatever you want—there's no backpack police—but it's a good benchmark to keep in mind so you don't find yourself weighed down and struggling on the trail (it's all too easy to overpack and suffer from it later). Remember, since you'll be staying in hostels, you don't need to pack any food other than an occasional snack nor camping equipment (so no tent, sleeping pad, or even headlamp), so you can get by with little. In fact, camping isn't allowed on the Camino. Plus, you'll be passing through towns with shops and pharmacies in case you need anything.
Some items that should definitely make the cut? Two to three sets of clothes suitable to the season you're hiking (dry-fit is always a smart bet), two to three pairs of hiking socks (Merino wool is great), some lightweight shoes or sandals you can relax in when not hiking, a microfiber towel, a water bottle or Camelbak, a very light sleeping bag or even just a liner, and sunglasses. On top of those basics, it all depends on what's most important to you to have on hand. Trekking poles, a rain poncho, a hat, earplugs, and blister first-aid can be found with many a pilgrim.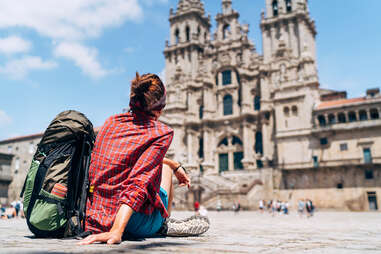 Make the Camino your own
Something you should never forget is that your camino is just that—yours! Only feel like walking a couple of miles? While doing 12 to 15 miles a day is the average, there's absolutely no need to overexert yourself, and rest days are fair game. Don't want to carry your backpack on a certain day, or really any day? Send it ahead to your next destination with a transport service. Can't handle those snoring bunkmates? Feel free to book a private room in an albergue. There's no right or wrong way to do the Camino de Santiago, and if someone tries to tell you otherwise, wish them a "Buen Camino" and peace out.
The only real "rule" is that if you want to receive a Compostela, the certificate confirming that you completed the Camino once you reach Santiago de Compostela, you need to prove you've walked at least the last 100 kilometers (or cycled at least the last 200 kilometers). No, you don't need to show them your phone's Health app with the crazy number of steps you've taken. Having two stamps per day in your pilgrim passport, or credencial del peregrino, for that stretch will do the trick. You can get this passport from a Camino organization back home, or at a pilgrim's office or cathedral in your starting town. Get a stamp wherever you stay each night plus another at a cafe or church along the way and there's your two. Even if you're not aiming to get a certificate, you'll probably want these stamps anyway for the memories.
Cindy Brzostowski is a freelance writer and editor based in Berlin. In addition to
Thrillist
, her work has been featured in
TripSavvy, The Points Guy, Greatist, Time Out, Roadtrippers
, and more. Follow her @cindybrz.