Remember that episode of The Walking Dead when Carl, Michonne, and Rick go searching for weapons and find themselves in a desolate town that's been booby-trapped by Rick's season-one friend Morgan?
Well, that town in real life is Grantville, Georgia. And part of it is officially for sale on eBay. 
So, assuming you super-fandom extends waaaay beyond just taking our 13-stop TWD road trip to the show's coolest filming locations, you can now basically live The Walking Dead (no pun intended) for the low, low price of $680,000. Okay, so that's not really that cheap, but hey, you do get NINE buildings in a historic town.
The sleepy town 45mi southwest of Atlanta on I-85 has already become a bit of a tourist hotspot since being featured in the show -- so much so that one company offers an official Walking Dead Tour.
Which is good for you as the new owner, since -- at least according the eBay sales pitch -- such tourists will be prime clientele for the 20,000-25,000sqft of commercial space for sale, which includes stores, loft apartments, a pizzeria, and a bar.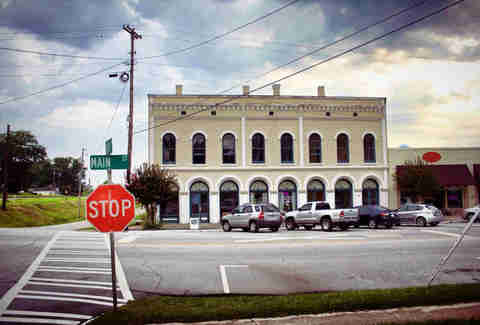 "Our main industry right now is Walking Dead tourists," Jim Sells, the property owner and former town mayor, told WXIA-TV. "We have people coming from all over the world because of The Walking Dead. That's paying the bills downtown." 
And if you'd like to spend time with those tourists, and possibly make some money off of them, you've got 24 days left to bid, right here.
Also, are we ever going to see Morgan again? We know he's out there.

Chloe Pantazi is an editorial assistant on Thrillist's travel team. Yes, that's a British accent. No, she doesn't watch Doctor Who. Follow her on Twitter at @ChloePantazi.