Wander the globe entirely by bus
If you've ever found yourself staring wistfully out the window, dreaming about seeing the world by bus, it's quite possible you've had too much to drink. That, or you are exactly who the travel-savvy Canadian developers behind Busbud had in mind when they built this simple-to-use web/iPhone app, allowing you to search & book bus trips in over 4,181 cities across 66 countries.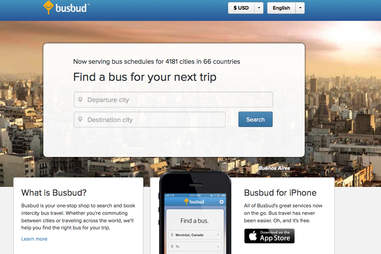 How's it work? Well, pretty much how you would imagine: simply enter the city from which you are attempting to escape, and where you want to go. Then click, "Search".
Busbud then generates a comprehensive schedule of all available trips, sortable by date/time and how long you'll be stuck listening to Danish backpackers talk about how great last night's Alphabeat show was price. Find a time that works and you can either book the trip directly (in one of 15 currencies), or through bus company's site.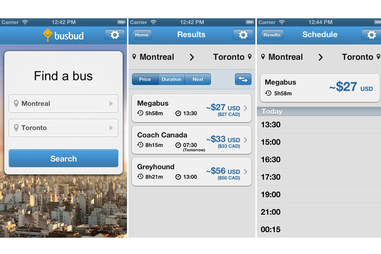 If you can't find an Internet cafe, or library, or Starbucks, fear not, you can also download the iPhone app and book your next bus trip while actually riding the bus (!!).

Now, do you enjoy watching one-minute, dialogue-free video montages that show two travelers finding love after using a handy app to book their bus trips? Of course, how couldn't you, right?!?! Well then you've got to see this video.