Here's the yoga-fueled DJ'd dance party on the beach you've been looking for
Feeling trapped by technology, with the web of beepers, Zenith televisions, Discmans, floppy discs, and Nintendo Power Gloves all proving to be a bit too much? Gesticulate all that frustration, then check out Wanderlust; it's the world's largest yoga/ DJ/ foodie festival, where the focus is on creating a community around mindful living (eating well, being green, being well from eating greens, etc). Come February 27th, they're off to Hawaii, and you can join.
There is A LOT of yoga happening around here. Yoga on the beach, in the mountains, in rooms, on top of surfboards, and apparently on other people.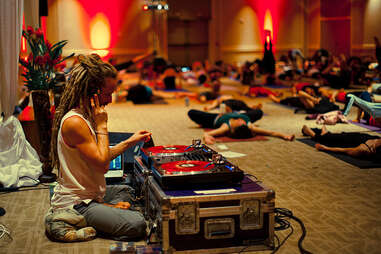 The whole fest is chock-full of musicians and DJs from all over the world. This year promises some heavy hitters, like Moby and Donavon Frankenreiter, who is pretty much a fringe Jack Johnson... who is kind of like a beach-y Art Garfunkel... who is super similar to Phil Everly... nah, Don Everly. Yeah, Don.
Look like you have no business on a paddleboard doing some yoga in the bay. Then, realize you're getting all zen while sharks are swimming right under you... then do some more yoga to combat that anxiety.
All the food at Wanderlust is 100% sustainable and arrives locally-sourced from Oahu, Maui, and the Hamakua coast.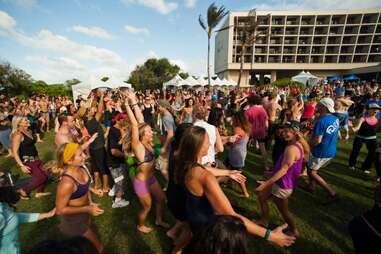 When not practicing yoga or eating fresh fish, you'll obviously be dancing in large green fields full of happy people. Is it time for "The Sprinkler"? Of course it's time for "The Sprinkler"! No one will judge you here.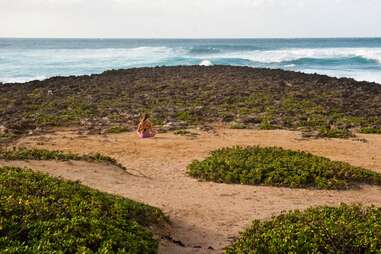 Is this seat taken? Oh, it is? No problem, I'll just go stretch on a paddlebaord in the middle of the ocean.