Havasu Falls

| Juancat/Shutterstock
Havasu Falls

| Juancat/Shutterstock
The ladies of TLC may have a taken a strong stance against chasing waterfalls, but we say, to hell with that. We'll chase whatever we please, thank you very much. In that spirit of summer freedom, we crisscrossed the nation seeking out the finest waterfalls in all of God's land (meaning America, obviously). Not just pretty waterfalls, mind you, but pretty waterfalls you can actually SWIM IN. Be warned, however, the ban on scrubs remains firmly in effect.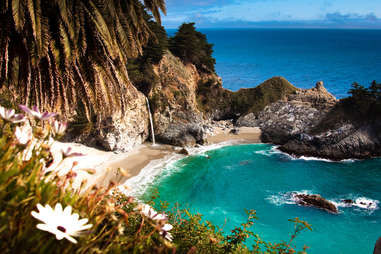 McWay Falls
Julia Pfeiffer Burns State Park, California
Holy shit! Is this what we think this is? Yes, it is. It's a waterfall flowing DIRECTLY INTO THE OCEAN. One of the most beautiful places in California, if not the world, this little-known 80ft waterfall and beach located in Julia Pfeiffer Burns State Park isn't far from the road near Big Sur. It may not be the easiest to find, but that's part of what makes it so cool.
Palouse Falls
Palouse Falls State Park, Washington
If cliff diving is your thing, you could do far worse than plunging into the waters below the imposing, rugged colors surrounding the massive 200ft Palouse Falls in Eastern Washington, part of the 105-acre Palouse Falls State Park and the "official waterfall" of Washington State. (Yes, this is a real thing.) Play around in its placid waters and check out some blue herons in flight. Or do this.
Alamere Falls
Point Reyes National Seashore, California
Waterfalls flowing directly into the ocean (or "tidefalls") are something we will never tire of. And neither will you, especially after visiting this rare tidefall (one of two in the area) where your reward for hiking the scenic 8.5-mile Coast Trail is a cool dip in the Pacific. Does it get better than that? Surely nah.
Little River Falls
Little River Canyon National Preserve, Alabama
For a more accessible waterfall experience, head to the "Grand Canyon of the East" that is the 12-mile-long Little River Canyon in a quiet corner of Northeast Alabama. The canyon is dotted with scenic falls, the most famous of which is Little River Falls, a raging 45ft waterfall atop Lookout Mountain that doubles as one of the more popular swimming holes in the Southeast. Do it.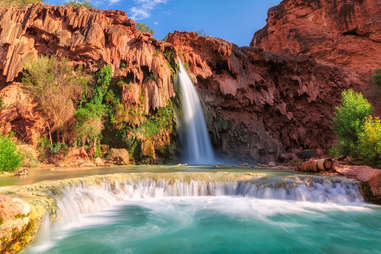 Havasu Falls
Grand Canyon, Arizona
With a 100ft chute cascading down stunning red rock cliffs into a shimmering pool of turquoise water, the most picturesque falls you're ever to lay eyes on come at a heavy price. Located in a remote section of the Grand Canyon 1.5 miles outside the Havasupai Indian village of Supai, you'll need to either charter a helicopter or hike 10 miles in the Arizona sun before basking in the rejuvenating rewards of its pristine, year-round 72-degree waters. On the bright side, if you don't feel like schlepping all your gear on the hike to the falls, you can rent a pack mule. Seriously.
Pe'epe'e Falls
Wailuku River State Park, Hawaii
One mile from the popular Rainbow Falls on the Big Island near Hilo, the lesser-known Pe'epe'e Falls (also known as "Boiling Pots") is a picture-perfect section of the 18-mile Wailuku River that can be serene and welcoming, or raging and angry after a heavy rain. A refreshing swim in the pools beneath the falls is only recommended on a calm day if you are a good swimmer, as strong currents have been known to claim the lives of overzealous tourists in the past.
Cummins Falls
Cummins Falls State Park, Tennessee
This 75ft waterfall cascading over granite staircases has made a popular swimming hole for generations, but only in 2011 was it adopted as a public park. Located within the rugged 211-acre park along the Blackburn Fork State Scenic River, the falls themselves are accessible via a steep one-mile hike that can get a bit dodgy at times. But the payoff is well worth it.
Diana's Baths
White Mountain National Forest, New Hampshire
An easy 0.6-mile hike is a relaxing prelude to enjoying this family-friendly natural pool surrounded by gentle waterfalls that drop 75ft into its placid waters. Once the location of a sawmill operation in the 1800s, these days it's an ideal spot for exploring the surrounding rocks or opening up a book for maximal chill time.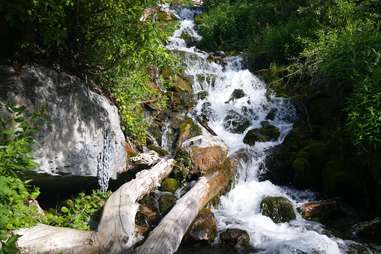 Bridal Veil Falls
Bridal Veils Park, Utah
Here you'll find fresh mountain water flowing from Cascade Mountain streams down 607ft into a shallow pool through a remarkable double cascade. Bridal Veil Falls amounts to a local treasure near Provo that you can photograph from observation decks and, yes, swim in. And the setting may look inviting, but don't forget: melted snowpack runs awful chilly, friends.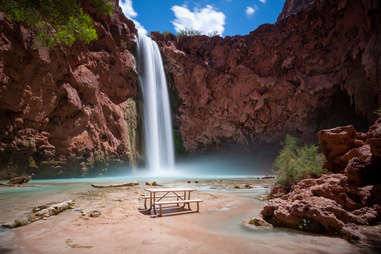 Mooney Falls
Grand Canyon, Arizona
Like Havasu Falls, the otherworldly Mooney Falls is located in the Grand Canyon but not in Grand Canyon National Park, with land administered by the Havasupai Indian Reservation. And like Havasu Falls, it is one of the most beautiful waterfalls you will ever lay eyes on. Also like Havasu Falls, it ain't easy to get to. While the strenuous trek crawling through tunnels and climbing down a sheer rock-face isn't as soul-crushing as the 10-mile slog to Havasu, it ain't for beginners either.
Falling Water Falls
Ozark National Forest, Arkansas
This 10ft waterfall might not be the most imposing, but it's definitely one of the country's most beautiful. The best part? You don't even have to get out of your car to see it. If you want to wade in its placid blue waters, however, you will have to put the Cheetos down a minute and waddle over. While you're at it, check out a sampling of other eye-pleasing falls in the nearby Richland Creek Wilderness Area.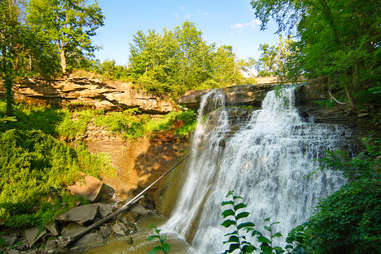 Brandywine Falls
Cuyahoga Valley National Park, Ohio
When people think of Northeastern Ohio, waterfalls are typically not the first things that spring to mind. And while this 65ft-tall waterfall may not be as beloved as LeBron, it remains a popular swimming hole and main attraction of the 16-year-old Cuyahoga Valley National Park. Take it all in by exploring beyond the falls via the 1.5-mile Brandywine Gorge Trail.
Sawmill Falls
Opal Creek Wilderness Area, Oregon
Hike a long but easy four-mile trail through 500-year-old trees and riverside wilderness to wind up amid the 30ft Sawmill Falls, which deposits your sweaty body into a chilly deep-green pool. The solitude of nature makes fighting screaming kids for a towel at your local pool seem like an exercise in sheer stupidity. Which, of course, it is.
Hooker Falls
DuPont State Recreational Forest, North Carolina
Want to ride a kayak over a waterfall? Want to take your dog in with you for a dip? Pretty much anything goes at this popular North Carolina waterfall which, while just 12ft high, is wider than most falls, resulting in a large basin for a variety of water fun. Bring an inflatable raft, if that's your thing. Which, why wouldn't it be?
Jump Creek Falls
Near Marsing, Idaho
Perhaps the country's best reward after an easy quarter-mile hike, the steep 60ft Jump Creek Falls located an hour west of Boise, near the Oregon border, is a brilliant way to cool off on a hot day. Meander through dogwoods and birch trees then either kick off your shoes and wade into the water or scale the rocks and practice your cliff-jumping skills. Life is good, isn't it?
Sign up here for our daily Thrillist email, and get your fix of the best in food/drink/fun.
Jay Gentile is a Thrillist contributor and he would really love a pet pack mule on his next waterfall hike. Make him an offer @innerviewmag.