Visiting a new city for the first time is exciting, especially when you're staying at the center of the action. Recently, Hyatt Centric hotels hosted "Sunrise to Sunrise," where a group of intrepid explorers, made up of passionate in-the-know locals, embarked on an awesome 24-hour, event-packed sojourn in NYC and Chicago. Plus, their lead explorer was none other than world traveler and Instagram star Jedidah Jenkins. Check out what went down here: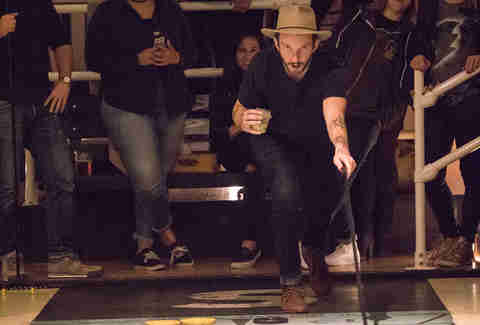 It was called "Sunrise to Sunrise" for a reason. For 24 hours straight, the NYC crew hit Chinatown, the High Line, and ping-pong club Spin, and were still awake enough to catch Jason Derulo play at the Hyatt Centric, Times Square New York. 
There was a vending machine made of dreams
Hyatt Centric hotels decided it wasn't enough to host an exploration of a lifetime, so they set up a massive vending machine in NYC where everyone was a winner. By posting on Instagram, visitors got the chance to use the machine in Flatiron Plaza to win prizes like a 2016 Vespa Primavera, private limo service around the city, Polaroid Snap cameras, and $10,000 worth of Hyatt gift cards. Sure beats a stale candy bar.
As NYC as pastrami-on-rye
NYC covered old school landmarks like the Brooklyn Bridge and Times Square, as well as new must-dos like The Highline, and shuffleboard at Royal Palms. Said Jenkins of the experience: "New York was made to be explored. Walking down every street, any alley, you discover new things with every step. It is full of surprises. That is part of its magic."
Not to be outdone, in Chicago, the "Sunrise to Sunrise" crew took off from the hotel at, well, sunrise to catch the view from Oak Street Beach, then hit a local favorite, Snaggletooth, for smoked fish and bagels. The rest of the day included checking out Wooly Mammoth Antiques, gin cocktails at Scofflaw, and blasting karaoke at Alice's Lounge. Oh and there was probably coffee -- just a guess. 
The Skydeck was scary as hell (but everyone survived)
What would a tour of Chicago be without a visit to the Skydeck at Willis Tower? Lame, that's what. Standing in a glass box suspended 1,300 feet in the air isn't for everyone, but Jenkins and his crew weren't scared, or at least, nobody admitted it. Plus, they got to see all the other places on the agenda that day, bird's-eye style.
They went Chicago with a capital "C"
When you're in The Windy City, you gotta hit the classics: deep dish pizza, Millennium Park, bumper cars at Whirly Ball, and the uniquely Chicagoan Bar Deville. But 24 whole hours left plenty of time to also get off the beaten path. 
Everyone would do it all again (ok, maybe after a nap)
After running around two of the most exciting cities in the world, for 24 hours straight, our respective travelers crashed at the nearest Hyatt Centric hotel. Jenkins' verdict (probably muttered before he fell asleep for two days): "From neon karaoke to mahogany speak-easies to rooftop views, I saw a side of Chicago I had only dreamed of." We think he was in the right city at the time...