Airports have always been a means to an end, a necessary stop on the way to someplace better. Sure, some may have renowned restaurants, rooftop pools, and even strip clubs, but they're still pretty much the purgatory between boring old home and a wild vacation. Or visiting mom.
There are, however, a handful of airports around the world with some insane feature -- be it a dangerous runway, an eccentric design, or a crazy amenity -- that makes them worth a visit unto themselves. Mostly just to say you've been there. But also, to say you've been there on Instagram. These are eight of those airports.
Juancho E. Yrausquin Airport
Saba, Dutch Antilles
The perfect island for that friend who wants to throw his destination wedding in the most inconvenient, nerve-racking location possible just to scare away potentially free-loading guests. The only way to fly here is to catch a puddle-jumper from Saint Martin and land on Saba's wee tiny 1,300ft runway, which is basically a piece of graded road at the base of a mountain. Or, you could just send a nice duvet cover and call it a day.
Barra Airport
Barra, Scotland
This may be the only airport in the world that doubles as a viable body of water and windsurfing hotspot. Yea, when the tide is out, planes land on the hard sand of the bay. When the tide comes back in, grab your board -- the beach is open.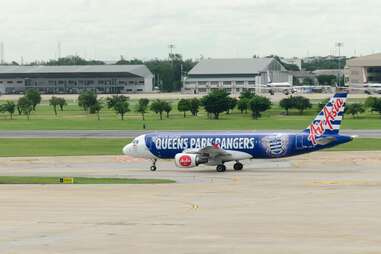 Don Mueang International Airport
Bangkok, Thailand
Delayed in Bangkok? Instead of, perhaps, frequenting the red-light district, do something you can tell your significant other about and play nine holes in the middle of the active airport tarmac! Once a military-only course, this landmark is now open to the public, although security concerns still severely limit access.
Gibraltar Airport
Gibraltar
On an island that's barely 3sqmi, you don't expect them to have room for a runway AND a major highway, do you? Well, they don't. The only way this British territory manages both is by having them intersect in the middle of the airport.
Svalbard Longyear Airport
Svalbard, Norway
In case you had a hankering to go to a Norwegian archipalego above the Arctic Circle, but were like, "Damn, chartered flights are mad expensive, yo," well, this airport exists to make your dreams come true. Built on a layer of permafrost (or as perma as frost is these says), this is the world's northernmost airport that serves commercial flights; during high season, it's serviced by as many as eight airlines.
Qamdo Bangda Airport
Qamdo, Tibet
For years the world's highest-altitude airport (until the Chinese opened one that was 200ft higher at Daocheng Yading), Qamdo Bangda serves the remote Tibetan city of Qamdo. Its most notable feature is a 3.5mi-long runway, built at such a great length because stopping an airliner at 14,472ft takes considerably longer than it would in, say, Fort Lauderdale.
King Fahd International Airport
Dammam, Saudi Arabia
We'd like to think that King Fahd was sitting around with the King of Bahrain one afternoon and, after a heated argument, said (and we're paraphrasing here) "Oh yeah, pal? Well, then I'm going to build an airport bigger than your entire COUNTRY!" And so it was that the largest airport in the world came to exist outside the city of Dammam. Measuring 300sqmi and complete with an epic mosque and terminal reserved exclusively for the royal family, the airport is bigger than the nearby island nation of Bahrain by 11sqmi.
Princess Juliana International Airport
Saint Martin
Say you're having a nice relaxing afternoon on the beach in Saint Martin, lying between an overweight Russian and a topless European celebrity you've never heard of and, oh, hey, look at that, there's a Boeing 737 flying 15ft from your head. Well, that's exactly what it's like on this Caribbean island, where the airport's perimeter fence backs right up onto Maho Beach.