Bishops Finger, Santa's Butt, and 11 other Brit beers with really weird names
Everyone knows that British pubs are better than American bars (sorry, chaps). And that pubs are notorious for their odd names -- a trip to Ye Olde Fighting Cocks, anyone? But even weirder are the names of their beers, which isn't to say we'd turn down any of these brews... Just that we might think twice before ordering a pint of Dog's Bollocks.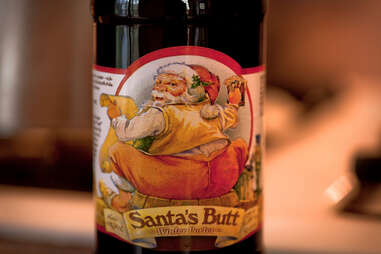 Santa's Butt - Ridgeway Brewing, South Stoke
Unlike the man in the red suit, this porter's thin in body, and -- with a malty, toffee flavor -- more bitter than it is sweet. A cheeky name is all well and good, but this beer doesn't follow through on taste: Santa's goes straight on the naughty list.
Seriously Bad Elf - Ridgeway Brewing, South Stoke
Ridgewood's Christmas theme continues, with Seriously Bad Elf, a strong (and therefore "serious") but sweet ale with a citrus kick. Other brews in the Christmas range include Very Bad Elf, Criminally Bad Elf, and Insanely Bad Elf -- with just about every increment of bad elf you can imagine, you're spoiled for choice.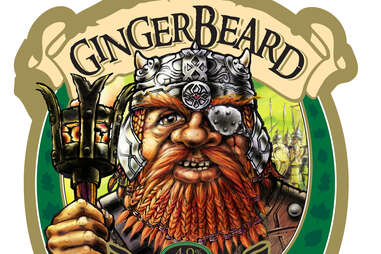 Ginger Beard, Wychwood Brewery, Oxfordshire
Because the Brits love a ginger (and who doesn't love a good ginger beer-d?). Contrary to its name, this brew (thankfully) doesn't taste like a ginger bloke's facial hair -- not that we know what that tastes like -- but instead has a tangy, somewhat spicy ginger taste.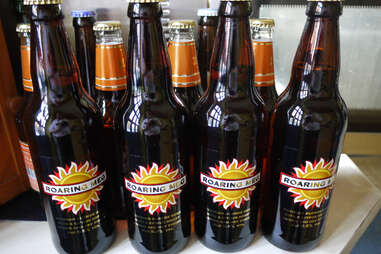 Roaring Meg - Springhead Brewery, Nottingham
From gingers to blondes, this smooth, amber beer -- dubbed the "Big Blonde" -- is a beauty, with a sweet, citrus taste. It even has its own fan following, thanks to its popularity at beer fests. As for Meg, we've no idea who she is, so the beer's either an insult or a great accolade...
Tanglefoot - Badger's Brewery, Dorset
Despite what the name might have you believe, this ale does not taste like feet -- tangled or otherwise. Rather, it's got a light, somewhat buttery taste with a hint of honey. Tangled toes have never sounded so appealing.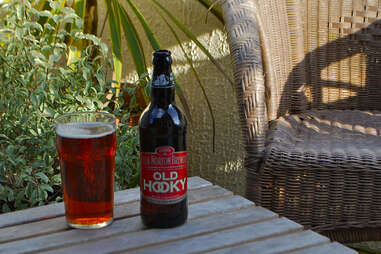 Old Hooky - Hook Norton Brewery, Oxon
We're pretty sure Old Hooky's not named after a captain lost at sea aboard a pirate ship, but let's just pretend that it is... Hooky may've been an old fellow, but this ale's a fine one to refresh the palette -- fruity, full-bodied, and with a citrus zing, Old Hooky's still got it.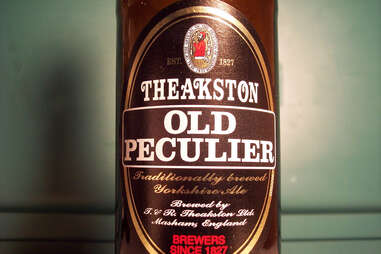 Old Peculier - Theakston Brewery, Masham
The Brits love their golden oldies... At first glance it looks like a bad spelling error, but its spelling might be the only thing strange about this brew. Beer connoisseurs love the Old Peculier for its smooth texture and peppery, earthy taste -- and with a hint of licorice, this one's not for the faint-hearted.
Old Speckled Hen - Greene King/ Morland Brewery, Suffolk
Despite the off-putting name, there's nothing old about this crisp pale ale. A bright amber color when poured, with a subtle bready taste, Old Speckled Hen's a trustworthy bird -- and a failsafe order at the local.
Old Engine Oil - Harviestoun Brewery, Clackmannanshire, Scotland
Yet another unpleasant-sounding brew that's getting on a bit, Old Engine Oil's a ruddy strong porter, packed with flavor. Chocolate, malt, and coffee dominate, while the texture's far more sumptuous than the stuff leaking in your driveway.

Pigswill - Stonehenge Ale Limited (Bunces Brewery), Wiltshire
You won't find this at the bottom of a pig's trough... But with its rich, hoppy taste and full flavor, this ale's one to chug down as though you did.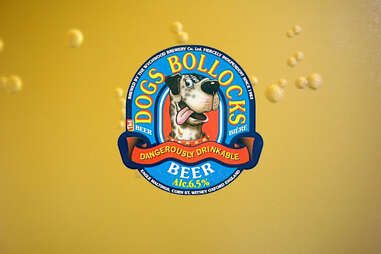 Dog's Bollocks, Wychwood Brewery, Oxfordshire
You might be reluctant to order a pint of Dog's Bollocks -- just try to not make a total ass out of yourself in front of the cute barmaid/ your mates/ pub locals -- but it's worth it. "Big, Round and Fruity" is this beer's motto, and it sticks to its promise with a slightly tart plum taste and smooth, rounded finish. No one'll break your balls over a tankard of this stuff.

Bishops Finger - Shepherd Neame Brewery, Kent
Bishops abound in Britain; from Chester to Chelmsford, bishops be errrrywhere. We wonder how this beer got its bizarre, and frankly rather questionable, name -- did a bishop lose a finger during the brewing process? Regardless, it's got a fine, sharp, chocolately taste.
Tactical Nuclear Penguin, BrewDog, Ellon, Aberdeenshire
The (former) world's strongest beer is tactical, indeed -- we're not so sure about nuclear. But, at a whopping 32% ABV, it's strong enough to conceivably hallucinate penguins.Thanks to its sharp chocolate and tar taste, this brew's been likened to an ashtray, and compared to a cigar's burnt end. If that's your deal, then this one's for you. If it's not, whatever, penguins are damn adorable.
Chloe Pantazi is an editorial assistant on Thrillist's travel team. She spent last summer at a beer festival in England serving Granny Wouldn't Like It to drunk Irishmen. Follow her on Twitter at @ChloePantazi.