Anyone who's locked eyes with the creepy dude by the hotel ice machine knows that just about any hotel can be pretty damn strange at 2am. But there's a big difference between the weirdest La Quinta in Los Alamos and some of the world's more unconventional accommodations -- whether it's a hotel staffed entirely by robots or one shaped like a human colon. Seriously.
We took it upon ourselves to find the 11 absolute strangest hotels on planet Earth, each of which falls somewhere on the grand spectrum of weirdness: from "hmm, that's strange" to "OKAY, WTF."
Stekene, Belgium
Let's cut to the chase: this one-room hotel in Belgium is crafted in the shape of a coiled, tapering anus. That's either gonna sound like a dream come true, or, more likely, a total fever dream. Originally built by a Dutch artist named Joep Van Lieshout, this tubular suite was relocated to Verbeke Foundation Art Park and transformed into a hotel room that comes complete with central heating, a double bed, and its own shower -- so you can wash off that icky feeling of having slept in a giant colon.
Recommended Video
This Egg Roll Has a Hot Cheetos Wrapper
Harlingen, Netherlands
This Dutch collection of dockside accommodations is a lot like staying in a standard hotel room, except instead of that standard hotel room, you'll be bedding down in either a lifeboat, a lighthouse, or a full-sized harbor crane. They've each been renovated to comfortably accommodate up to two visitors, with modern amenities like TV, full-sized beds, and yes, bathrooms. Spending a night here might be the only time it's socially acceptable to ask someone you met at the bar if they "Wanna spend a night in my boat?"
Shenzhen, China
This futuristic Chinese lodging's tricked out with enough LEDs to make Daft Punk blush (not that anyone would be able to tell), and has the sort of tiny, pod-like rooms you might expect to find in a spaceship -- or, in an Asian novelty hotel. Apart from the uber-cheap rates afforded by your tiny room, the main attraction at this place is that it's pretty much staffed entirely by robots. Yep, order drinks via iPad in the lounge area, and a robo-waiter wheels them out to you. No tip required, although this is China, and tipping's verboten here anyway.
Salar de Uyuni, Bolivia
If you're in a forest, you build your house with wood. If you're in a muddy field, you build it with clay. If you're smack in the middle of Salar de Uyuni, the world's largest salt flat? Well, you end up with a hotel made almost entirely of the stuff you put on the rim of your margarita glass. This remote Bolivian hideaway is built from approximately one million bricks of pure salt, and everything from the chairs and beds, to the ceilings and walls are 100% salty goodness. At the end of the day, though, you're still sleeping in the middle of a barren, briny wasteland, so only the most well-seasoned of travelers need apply. See? Because salt is a seasoning, and... yeah. Oh, while you're there, don't forget to hit this insane train graveyard that looks straight out of Thunderdome.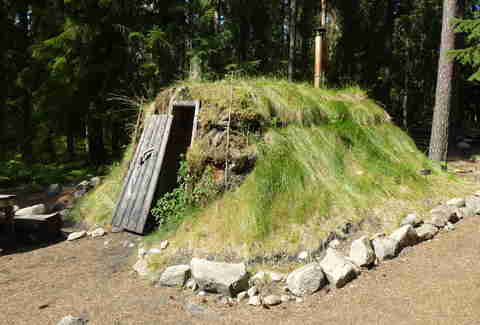 Skinnskatteberg, Sweden
Looking less like a hotel than a miniature version of The Shire, this collection of grass-covered cabins in the middle of the woods is about as off-the-grid as it gets -- as in, there's neither electricity nor running water here. Each of the cabins does feature its own fireplace, though, so at the very least you won't be shivering when you bed down for the evening after a long day of hiking through the Swedish wilderness ​and/or the wastelands of Mordor.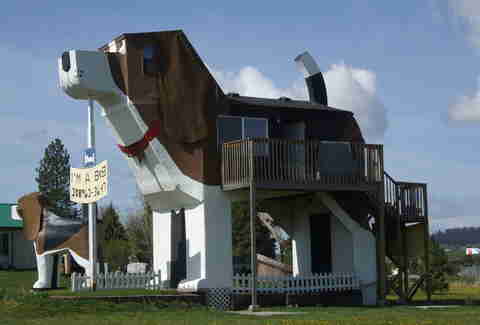 Cottonwood, ID
Not only is the world's biggest beagle one of America's weirdest roadside attractions, it's also the world's only beagle-shaped B&B. Because that's what the world was missing, really. This 30ft pooch has its own private porch (a selling point when it comes to canine casitas), and while the list of other amenities is pretty short, you are allowed to bring your own four-legged friend to stay with you. For a small fee, of course.
British Columbia, Canada
If the Ewoks had taken their design cues from the Death Star, the result would probably look something like this trio of spherical abodes suspended in the trees of BC. Apart from the obvious circumferential differences between these orbs and your standard room at the Ramada, each of them strangely has its own name (Eve, Eryn, and Melody), and they actually tend to sway a bit when the wind blows. Or whenever an occupant moves in any way. Basically, there's gonna be a lot of swaying going on.
Dandong, China
On the inside, this hotel in China's Hebei province isn't much different from one you'd find anywhere else in the world. Once you step outside, though, you're greeted by the towering likenesses of Fu, Lu, and Shou -- the Chinese gods of Prosperity, Status, and Longevity. The bald dude on the left, Shou, holds a peach in his hand that symbolizes immortality, and before you ask, yes, the peach contains a suite that you can totally rent out. Because if you're gonna spend the night inside the God of Longevity, you might as well spend it inside his immortal peach.
Fall River, MA
On the off chance you've always dreamed of sleeping in a house where two brutal murders occurred, you're in luck! Lizzie Borden -- she of axe-based matricide and patricide fame -- lived in this quaint little Massachusetts home, from her birth in 1874 right up to the point where she (allegedly) became every parent's worst nightmare.
These days, the house is a major tourist attraction in the town of Fall River, and while it may or may not be haunted, it's definitely decorated with creepy crime-scene photos. You can still spend the night in any of the house's eight rooms -- including the ones where her parents' bodies were found -- or get together with up to 20 of your freakiest friends and rent out the entire place.
Emeishan, China
As non-procreating mammals go, pandas are kind of a big deal. It stands to reason, then, that there'd be a whole hotel out there dedicated to the fuzzy bastards. Panda Inn, however, takes things to another (very weird) level with its 32 rooms of panda-soaked glory. Everything's panda-themed here, from the artwork to the beds to the dinnerware to the hotel staff decked out in full-on panda costumes. Whether you'll have the opportunity to facilitate any of the aforementioned procreation, however, is unclear. Sicko.
Tonopah, NV
We know what you're thinking. How, HOW could anything be weirder than a hotel fashioned to look like a human colon? Well, dear reader, say hello to the Clown Motel. This dingy creepshow sits three hours outside of Vegas, right next to an actual graveyard, and is stocked to the brim with clown paraphernalia.
Once you pass through the lobby, with its wall-to-wall clown dolls and life-sized clown mannequin, you'll spend the night in a dismally appointed motel room, identical to any other you'd find elsewhere in America, except for the lone clown paintings that hang above the beds. If you don't arrive here with a clown phobia, you're pretty much guaranteed to leave with one.