There's nothing better than a great American cross-county road trip: soaking in the nation's majestic beauty, eating in tiny roadside diners, driving 150 miles out of the way to take a selfie in front of... a giant ball of string! Oh say, can you see... me with the world's largest frying pan?
And to ensure that you know exactly which 50 sites are probably not (but may be) worth the detour, we've compiled this rundown of the absolute weirdest, tourist-trap roadside attraction in each state.
Recommended Video
Are You Brave Enough to Walk Around on the Wings of a Biplane While It's Flying at 3,500 Feet?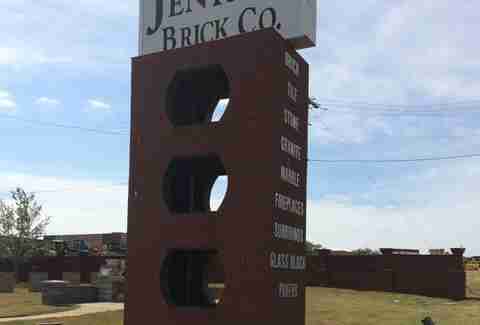 Alabama
World's Largest Brick
Montgomery, AL
Before you make a pit stop in Montgomery to see this oversized ad for Jenkins Brick Company, you should know one thing: it's no longer technically the world's largest brick. No, it was bested by a bigger brick from Denton, TX, in 2007. That said, since this brick is made from a lot of little bricks, it's still unofficially considered the world's largest brick… made of bricks. So, continue to delay your trip to Gulf Shores to take a look.
 
Alaska
World's Largest Santa
North Pole, AK
Just because North Pole, Alaska, isn't the real North Pole, doesn't mean this town of 2,000 outside Fairbanks can't capitalize on the name, right? Their 900lb statue of St. Nick serves as a giant advertisement for the Santa Claus House – a place, like in your dreams, where Christmas never ends.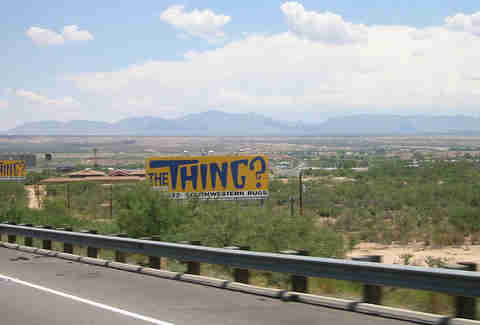 Arizona
The Thing
Dragoon, AZ
After passing 247 billboards advertising The Thing along Arizona's I-10 highway, it's impossible to not stop and find out what it is. While we won't give it away, rest assured that the "Mystery of the Desert" should remain just that.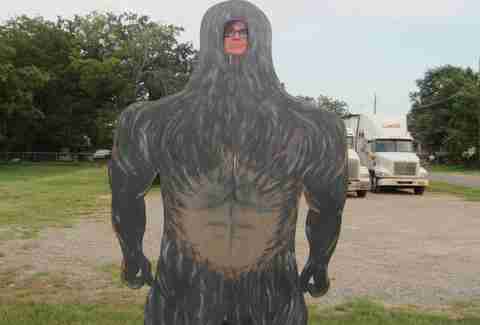 Arkansas
Peavy's Monster Mart
Fouke, AR
This little souvenir shop/convenience store -- with its mural and amateurish cutout in front -- pays homage to the Boggy Creek Monster, a Sasquatch-like beast said to have roamed the area since the 1940s.
California
Salvation Mountain
Calipatra, CA
A trippy, 50ft hill in the California desert that's been covered in 100,000 gallons of paint, Salvation Mountain's an art exhibit slash "tribute to God" from artist Leonard Knight. He pretty much spent the better part of 30 years painting born-again biblical messages on the mountain until he passed away last year.
Colorado
Cano's Castle
Antonito, CO
Beer can folk art at its finest, Cano's Castle is a four-tower chateau made almost entirely of suds cans and scrap metal. Also, heads up: Jesus lives inside. At least according to its architect, Donald "Cano" Espinoza.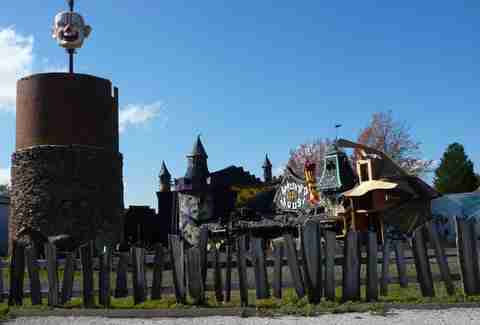 Connecticut
World's Largest Jack-in-the-Box
Middletown, CT
Yes, it's exactly what it looks like: a super creepy, 600lb clown head atop a 50ft grain silo used to advertise Wild Bill's Nostalgia Center. So, what's your point?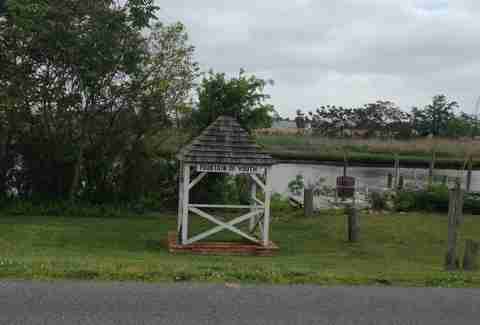 Delaware
Fountain of Youth
Lewes, DE
If only Ponce de Leon and the cast of Cocoon knew this was here all along. Discovered by the Dutch in 1631, it's long since dried up. Which's bad news for Steve Guttenberg.
Florida
World's Largest Chicken Wing
Madeira Beach, FL
To be honest, Florida has, like, a million weird things to visit, but who can bypass a thousand-pound chicken wing and the chance to eat at Hooters?
Georgia
Jimmy Carter Peanut Statue
Plains, GA
This mildly unnerving, 13ft statue of a toothy nut was erected by the Indiana Democratic Party to honor the peanut-farmer-turned-presidential hopeful as he campaigned around the Hoosier State during the 1976 campaign. It's since found its way to Carter's hometown of Plains, Georgia.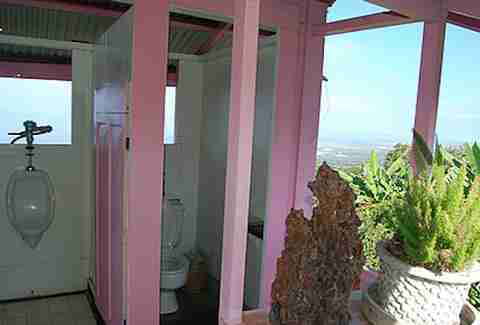 Hawaii
World's Most Scenic Urinal
Kealakekua, HI
At Hawaii's Hotel Kona, making a pitstop is the main attraction.
Idaho
World's Biggest Beagle
Cottonwood, ID
This is actually the Dog Bark Park Inn, a 27ft-tall B&B/Trojan Dog with a single room inside the Beagle's belly. Even weirder, it's connected to a park filled with quirky dog paraphernalia created by a self-taught chainsaw artist.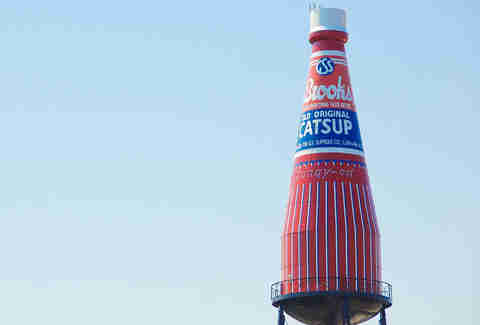 Illinois
World's Largest Catsup Bottle
Collinsville, IL
The main attraction at the World's Largest Catsup Bottle Festival, this 65yr-old, 70ft tall water tower is now a regional landmark, and is even listed on the National Register of Historic Places.
Indiana
World's Biggest Ball of Paint
Alexandria, IN
Once upon a time this was just a normal baseball... but 40 years and 24,350 coats of paint later, it's a 4,200-pound ball of paint, and the world's largest at that.
Iowa
Iowa's Largest Frying Pan
Brandon, IA
Apparently there are six such frying pans scattered around the country, all claiming to be the world's largest. Built in 2004 to promote the town's annual Cowboy Breakfast fundraiser, this one's 14ft tall, weighs 1,020lbs, and can hold around 528 eggs and/or 88 pounds of bacon.
Kansas
The World's Largest Ball of Twine
Cawker City, KA
It's a giant ball of twine.
Kentucky
World's Largest Baseball Bat
Louisville, KY
In case you have trouble finding the Louisville Slugger Museum & Factory, just look for the 120ft-tall, 68,000lb steel replica of Babe Ruth's bat.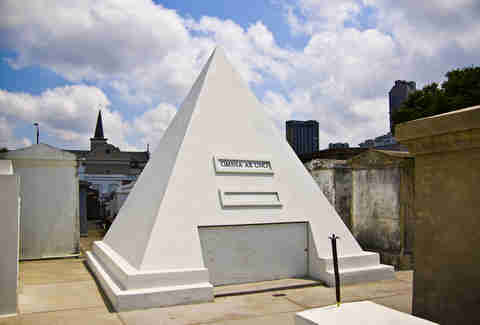 Louisiana
Nicholas Cage's Tombs
New Orleans, LA
What's even weirder than the fact that Nicolas Cage is still making movies is the fact that he has his burial plot already picked out -- and it's a 10ft-tall, National Treasure-esque pyramid inscribed with the phrase "Omnia Ab Uno", or "Everything From One."
Maine
Lenny the Chocolate Moose
Scarborough, ME
Come see 1,700lbs of stale, 18yr-old chocolate shaped like a moose. Then drive up to Freeport and visit the L.L. Bean Store.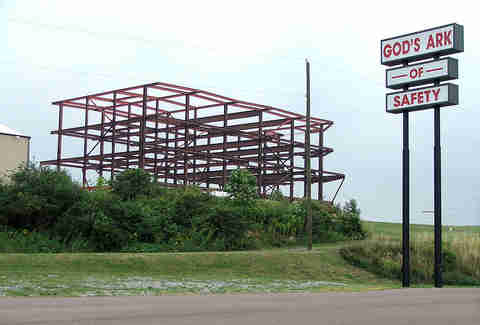 Maryland
God's Ark of Safety
Frostburg, MD
Let's hope the world doesn't flood any time soon, because despite the fact that it was started in 1976, this exact replica of Noah's Ark (right down to its Biblically outlined specs) is still nothing more than a steel and concrete skeleton on the side of the interstate. Who knows, maybe the dude who built it will get inspired by last year's Russell Crowe movie.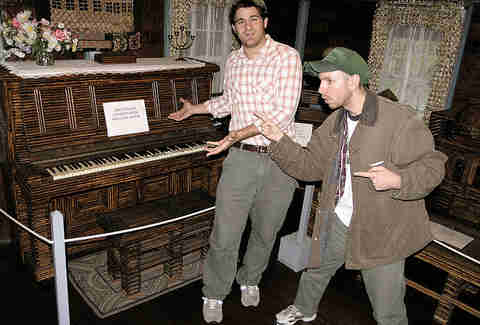 Massachusetts
The Paper House
Rockport, MA
In 1922, Ellis Stenman wanted to see if he could insulate his summer house with newspaper. Somehow, the experiment turned into a full-fledged obsession, and he ended up using 100,000 newspapers to actually build it -- at least everything but the roof, floors, and frame.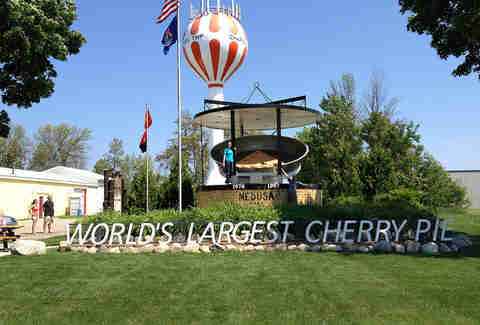 Michigan
The (Former) World's Largest Cherry Pie Pan
Charlevoix, MI
In 1976, this 17,420lb pan was used by local businesses to bake the "World's Largest Cherry Pie." Unfortunately for Charlevoix, though, the neighboring town of Traverse City said "not so fast," and in 1987 unveiled an even bigger -- if you can believe it -- cherry pie pan.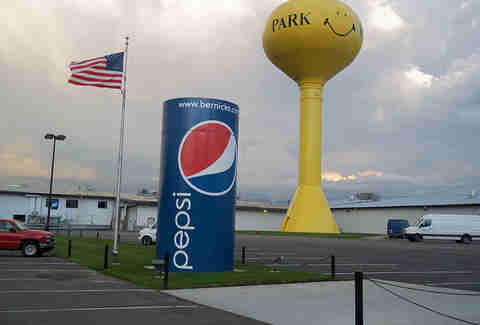 Minnesota
Giant Pepsi Can
Waite Park, MN
Okay, so "giant" might be a slight exaggeration. But the only thing more disappointing then making a pit stop to see this large soda can in the middle of a parking lot is hearing the waitress say, "We don't serve Coke, Pepsi alright?"
Mississippi
Mammy's Cupboard
Natchez, MS 
This not-very-PC roadside restaurant was founded in 1940 and repainted in a lighter skin tone during the Civil Rights Movement. Also, yes, you're eating breakfast underneath the woman's dress.
Missouri
Nuclear Waste Adventure Trail and Museum
Weldon Spring, MO
Because why wouldn't you want to frolic on a mound of nuclear waste? No really, this 75ft-tall pile is made up of 1.5 million cubic yards of entombed hazardous waste. Apparently, there was a uranium ore processing plant on the site until 1966. Abandoned for 20 years, U.S. Department of Energy finally decided to cover it with a pile of rocks.
Montana
Occasionally Talking Penguin Statue
Cut Bank, MT
Meant to delineate the "coldest spot in the nation", this 27ft statue of a penguin at the Glacier Getaway Inn unfortunately only talks one out of 10 tries, but when he does, he sounds just like Morgan Freeman! Maybe.
Nebraska
World's Largest Ball of Stamps
Boys Town, NE
Collecting stamps? Not exactly a hobby that's landing you a cheerleader girlfriend. But use 4,655,00 of those stamps to make a giant ball and suddenly you're the coolest dude in the 10th grade, and proud owner of the world's largest ball of stamps. Okay, still not true. But this must-hit Nebraska attraction does weigh 600lbs, and has a diameter of 32 inches.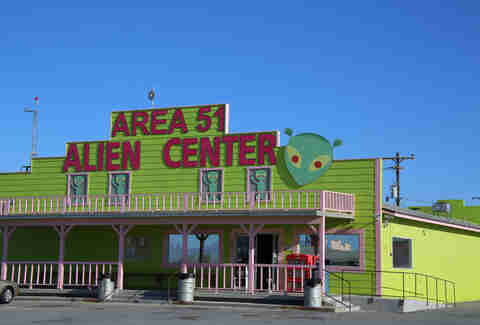 Nevada
Area 51 Alien Travel Center and Brothel
Amargosa Valley, NV
Alien-themed brothel. That is all.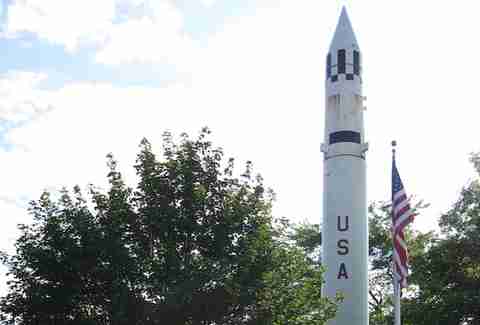 New Hampshire
Redstone Rocket
Warren, NH 
It's just a real-life missile in a public park, NBD. Installed in 1971, it was one of America's first ballistic missiles (and the first type to carry a nuclear warhead) and did time in the US arsenal in the late 1950's and early '60s. 
New Jersey
Lucy the Elephant
Margate City, NJ
Lucy is not only the world's largest fake elephant, but also the only one in the country designated as a National Historic Landmark. Standing six stories tall, Lucy was built in 1881 by a local real estate developer and served first as his office, before becoming a summer home and then briefly a pub. Visitors are still free to climb inside.
New Mexico
World's Largest Pistachio
Alamogordo, NM
Not surprisingly, this giant (and startlingly realistic) 30ft pistachio is designed to lure unsuspecting passersby into the McGinn's Pistachio Tree Ranch and Arena Blanca Winery.
New York
JELL-O Gallery and Museum
Le Roy, NY
Watch it wiggle, see it jiggle at the birthplace of your favorite Thanksgiving fruit salad and hospital dessert. Exhibitions include 20 original JELL-O oil paintings from the 1920s, and a video of Bill Cosby's commercials on a continuous loop. Well, probably not any more. 
North Dakota
World's largest man-made turtle
Dunseith, ND
This giant turtle is made out of 2,000 wheel rims. That's all we got.
North Carolina
World's Largest Chest of Drawers
High Point, NC
Oh, you didn't know that High Point was the Home Furnishings Capital of the World? Well, this 38ft dresser is here to remind you.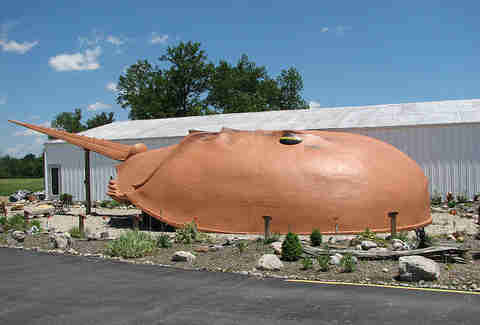 Ohio
Giant Horseshoe Crab
Blanchester, OH
A giant crab in the middle of Ohio? Doesn't make a lot of sense, does it? Well, turns out this well-traveled crustacean (which is 68ft long and 24ft tall) was originally built for the Baltimore Maritime Museum. Annnd now we're getting somewhere -- Maryland crabs! Weirdly, the statue also spent some time at the Creation Museum in Kentucky before becoming Freedom Worship Baptist Church's mascot in Blanchester.
Oklahoma
The Blue Whale
Catoosa, OK
Almost as sad as an abandoned water park... oh wait, that's exactly what this is.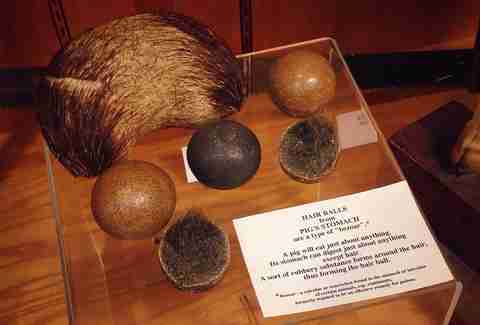 Oregon
World's Largest Pig Hairball
St. Benedict, OR
You'll find the world's largest pig hairball comfortably nestled among hundreds of years' worth of Catholic memorabilia inside the museum at the Mount Angel Abbey. Naturally.
Pennsylvania
The Largest Burger in the World
Clearfield, PA
The "Beer Barrel Belly Buster" is ten pounds of beef, 25 slices of cheese, and what appears to be at least several jars of pickles, on a 17inch bun -- eat it in under three hours (you can even enlist a friend!) and you get your $30 back.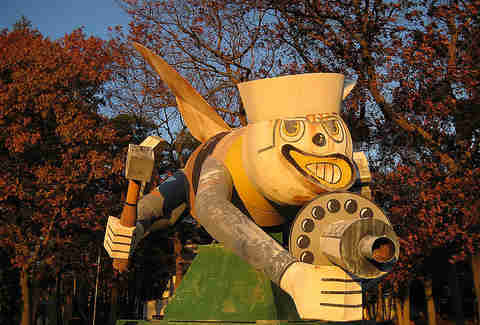 Rhode Island​
Fighting Sea Bee
North Kingstown, RI
This scary-looking bee at Rhode Island's Seabee Museum and Memorial Park is the longtime mascot of the United States Naval Construction Forces. Get it? Sea Bee = Construction Battalion.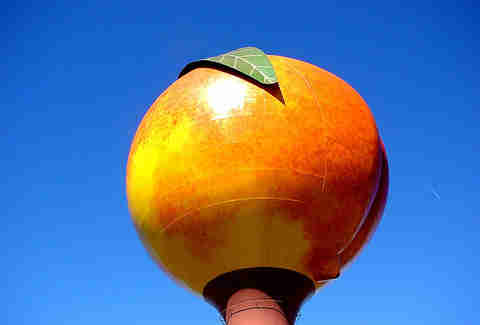 South Carolina
Peachoid
Gaffney, SC
You'll recognize this 135ft peach-shaped water tower that resembles a giant butt from its cameo in House of Cards, where it was the subject of a potential legal battle between Frank Underwood and one of his constituents.
 
South Dakota
World's Only Corn Palace
Mitchell, SD
No doubt the corniest attraction on this list, the 123-year-old Mitchell Corn Palace's exterior (and intricate murals) is made entirely out of local corn and grains.
Tennessee
World's Largest Cedar Bucket
Murfreesboro, TN
Guys, it's not just a humongous bucket -- it's a humongous cedar bucket. The world's largest, in fact. We absolutely HAVE to stop. Actually, it's a fake. The original, which was built in 1887, fell victim to arson. This 6ft-tall replacement, however, is capable of holding 1,566 gallons of beer.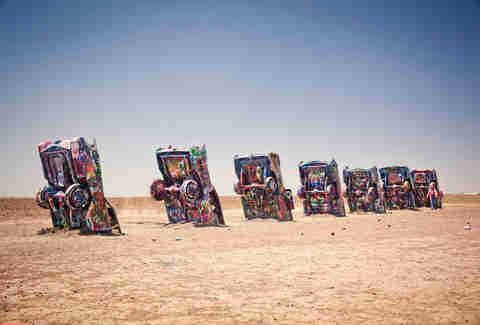 Texas
Cadillac Ranch
Amarillo, TX
Pretty much the most OCD junkyard you've ever seen, Cadillac Ranch consists of 10 upside-down Cadillacs half-buried in middle of the desert, allegedly tilted at the same angle as the Great Pyramid of Giza.
Utah
Hole N The Rock
Moab, UT
With a name that doesn't give too much away, this spot in Moab is actually a 14-room cave-house (and gift shop) carved into the stone in the 1940s. With no rhyme or reason, it also houses a small zoo, a ton of Native American pottery, and the largest collection of Lyle Nichols metal art sculptures.
Vermont
Giant Gorilla
Leicester, VT
When you come across the giant gorilla holding up a VW Beetle in front of Pioneer Auto Sales, just keep on driving.
Virginia
Foamhenge
Natural Bridge,VA
As we've said before, the, er, artist behind this non-biodegradable masterpiece made sure that every stone was positioned exactly like its original in England.
Washington
Seattle Gum Wall
Seattle, WA
Colorful as it may be, it's basically a wall of saliva.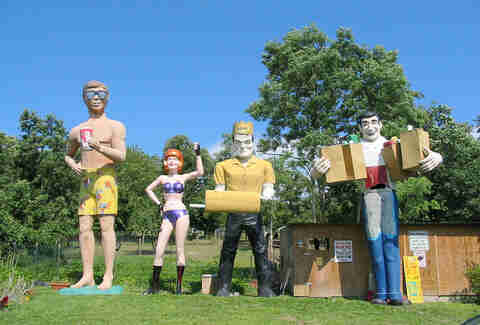 West Virginia
Franham Colossi (Land of Giants)
Unger, WV
Presumably sick of living in city apartments that couldn't hold giant action figures, Pam and George Franham moved to West Virginia and promptly began adorning their lawn with a random assortment of massive statues.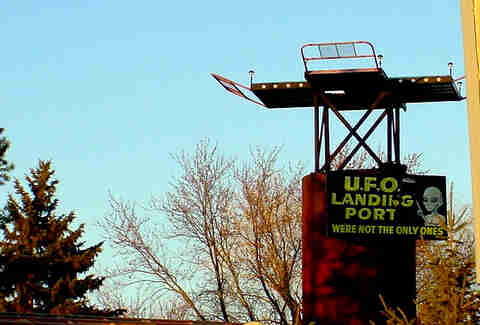 Wisconsin
U.F.O. Landing Port
Poland, WI
So many questions about this one. Mainly, though, why would aliens land their super futuristic space ship on a rinky dink, 42ft-tall platform made from an empty fuel tank?
Wyoming
America's Smallest Town
PhinDeli Town Buford, WY
Originally just Buford, the town was founded in 1866 during the construction of the Transcontinental Railroad and grew to 2,000 residents before shrinking back down to a single, lone citizen. The one remaining resident put the the 10-acre town up for auction in 2013, and it sold to two dudes who promptly slapped the Vietnamese coffee brand they peddle, Phin Deli, onto the town's name as an advertising gimmick.

Sophie-Claire Hoeller is Thrillist's über-efficient German associate travel editor, and has had frequent flyer status since she was born in a Lufthansa terminal. Follow her @Sohostyle