The 13 Coolest Water Towers in the United States
In the grand scheme of things, water towers are usually relegated to country music lyrics, somewhere between the old high school football stadium and a girl in cutoffs selling lemonade. They're giant structures that, while providing H20, more often than not come to symbolize towns that have little else to symbolize them; other than, of course... their high school football team!
That said, a select few water towers around the country stand out. The result of somebody's crazy imagination, they have long histories and hilarious designs. These are 13 of them.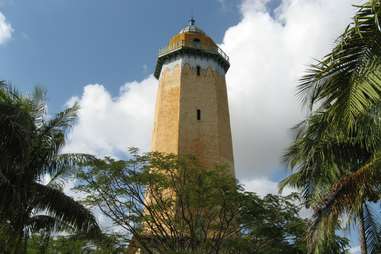 Alhambra Water Tower
Coral Gables, FL
In the aesthetically obsessed Miami suburb of Coral Gables -- where you need city approval to paint your house and park a pickup truck -- a big ugly water tower wasn't going to fit George Merrick's grand vision. Instead, the concrete tower was surrounded by a structure that fits the city's Spanish theme. Its nickname: the "lighthouse that has never seen the sea."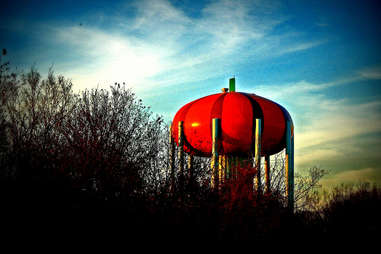 Pumpkin Water Tower
Circleville, OH
Instead of wasting his time hanging out with Linus in the world's most sincere pumpkin patch, old Charlie Brown would have been better served coming to Circleville, where every October over 400,000 people descend on the town for the annual pumpkin show complete with a Miss Pumpkin Show pageant. So, really, it makes perfect sense that they turned the town water tower into a Great Pumpkin.
Air Force Water Tower
Greenville, MS
In a tribute to the Air Force, the folks at Mid-Delta Regional Airport attached an actual Air Force training jet to their big red water tower, which they also repainted with the USAF seal. At night, the tower's LEDs make it a beacon to the whole city.
Ear of Corn Water Tower
Rochester, MN
Yep, it's a 25ft ear of corn atop what might be the world's largest cob holder, brought to you by the good folks at Libby's (now Seneca Foods).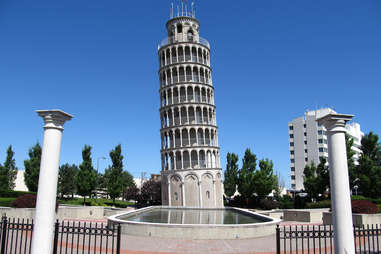 Leaning Tower of Niles
Niles, IL
A half-sized replica of the Leaning Tower of Pisa, this structure is surrounded by four fountains and provides water to area public swimming pools. And Niles has actually been a sister city to Pisa, Italy since 1961.
Ypsilanti Water Tower
Ypsilanti, MI
Once named the most phallic building in the world by Cabinet magazine (naturally), this limestone tower in Michigan has been designated an American Water Landmark (of course). In addition to providing the city with water, it once also generated hydroelectric power.

Louisville, KY
Though you won't find any actual bourbon in the self-proclaimed "World's Largest Bottle of Booze," it does provide the water to make America's first bottled bourbon, Old Forester. It's also about as close to a behind-the-scenes look as you'll get to the distillery, as sadly it's not open for tours.
Brooks Catsup Bottle Water Tower
Collinsville, IL
It would be pretty awesome if the biggest catsup bottle in the world held actual catsup, so you could break it open and have some kinda Homer Simpson fantasy about swimming around in a catsup pool. Alas, it's not to be -- this tower just supplies water to the Brooks Catsup plant in Collinsville.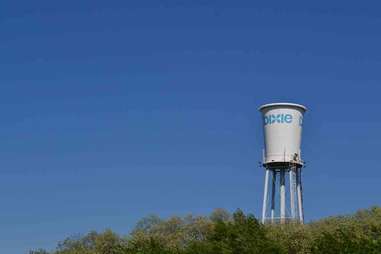 Dixie Cup Water Tower
Lexington, KY
If only somebody could construct a 30ft copy of Highlights magazine nearby, Lexington could play home to the world's largest dentist's office. As it is, this cup sits alone atop the now-defunct Dixie Cup factory, a landmark the city forced Georgia-Pacific to keep when it purchased the building -- it's used as a beacon for incoming air traffic.
Stanton, IA
The World's Biggest Teacup -- which holds 150,000 gallons of water (or 2.4 million cups of coffee) -- is flanked by the World's Biggest Coffee Pot. It was built as a tribute to Stanton's most famous daughter, Virginia Christine, who starred in Folgers coffee commercials. Why they don't just call it a coffee cup though, is anybody's guess.
Peachoid Water Tower
Gaffney, SC
It's really a shame that this tower erected as a tribute to the hard-working peach farmers of South Carolina is now equated to a giant ass... Frank Underwood! Featured prominently in a season one episode of House of Cards, the Peachoid resides in the town of Gaffney, SC, right in the heart of the fictional veep's original congressional district.
Taj Mahal
Randolph AFB, San Antonio, TX
The Administration Building at Randolph Air Force Base also serves as home to base's 500,000-gallon water supply, as the tower was encased inside the building to keep it from being an aviation hazard for incoming pilots. The lighted dome at the top serves as the airfield's beacon for night landings, has an observation deck, and is decorated with murals painted in tribute to the World War II-era cadets who trained there.

Germantown, MD
This spherical tank on the campus of Montgomery College serves water to the DC suburbs and is one of the more interesting structures found on an American college campus. Originally commissioned to artist Peter Freudenberg in 1978, the 100ft orb started as a simple white tank adorned with green continents but eventually morphed into to a full-on replica of planet Earth -- a constant reminder of the importance of our natural resources.