The 15 Weirdest Summer Festivals in America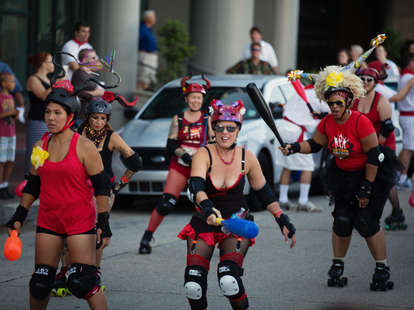 San Fermin

| Flickr/Darrell miller
San Fermin

| Flickr/Darrell miller
According to the great Hunter S. Thompson, "When the going gets weird, the weird turn pro." Well, these summer festivals are nothing if not professional in their weirdness. They also provide the biggest party of the year for some of country's smallest, most out-of-the-way locales -- providing a hearty slice of Americana far outsized in its capacity for eccentricity. Like to get weird? You've come to the right place.
Duck Tape parade? Check. Duck Tape fashion show? Check. Duck Tape sculptures? What do you think? Yes, Duck Tape is king in Avon, Ohio, the self-proclaimed "Duck Tape Capital of the World," and it's ridiculously proud of it. The festival is held every year on Father's Day weekend, and centers around a different theme each year (last year's was "Duck Tape takes you on a tropical vacation," whatever the hell that means). It's the biggest thing going on all year in this town 20 miles west of Cleveland, and way too weird to pass up.
Floats full of aliens and spaceships lit up at night is a highlight of this annual freakfest rolling through Downtown Roswell, the world's most well-known hub of UFO activity, where it's not uncommon to see people in massive green alien masks driving motorcycles through the streets (how do they see?) or dogs dressed in alien outfits at this annual party for the paranormal. It's Halloween come early with tours of the local UFO Museum, bizarre art, surreal street performers, and more alien costumes this side of a Comic-Con convention.
Can you believe it's been 15 years since a cult party in Louisville transformed into the Burning Man for Big Lebowski fanatics? While the popular fest has since expanded to over 30 cities, the granddaddy of them all still goes down in the land of the Kentucky Derby. The festival spans two nights that include "The Movie Party" (with an outdoor screening of the film and live band performance, this year by raucous Chicago punk-rock marching band Black Bear Combo) and "The Bowling Party" (featuring unlimited bowling and a costume/trivia contest). Will there be White Russians and endless Jeff Bridges lookalikes? The Dude abides.
At first glance, this might not seem like that weird of an event. Until you see the oddball antics of the "Chickendales" (shirtless dudes with brown paper bags over the heads upon which chicken faces are drawn) dancing on a float during the parade and the "National Cluck-Off," where humans dressed as chickens shamelessly flap their arms and loudly cluck likes chickens for prize money. There's also "free chicken stories" at the library, a tractor pull, a rubber chicken-chucking contest, a "cement chicken" auction, and, of course, the world's largest chicken dance led by local cheerleaders. So yeah, apparently this town is kinda into chicken.
You've heard of the Running of the Bulls in Pamplona -- this fest is kind of like that. Sort of. Only instead of bulls, participants are chased by sexy roller-skating women from the Big Easy Rollergirls who, instead of piercing you with deadly horns when they catch you, seek to politely whack you with a foam paddle. There is also a parade, live music, and (this being New Orleans) plenty of eating and drinking. Not to mention La Fiesta de Pantalones (yes, the pants party) and a next-day hangover party complete with skit contests, dramatic readings, and a Hemingway lookalike contest in collaboration with the Tennessee Williams Literary Festival.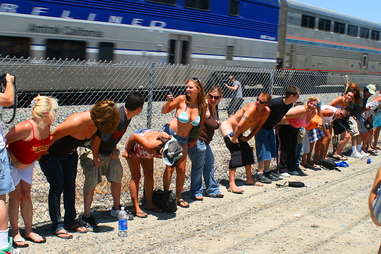 So, funny story. There's this bar in Laguna Niguel, California called Mugs Away Saloon, located near the train tracks. For some reason, people started mooning the passing Amtrak trains -- according to legend, it started in 1979 when someone offered to buy a free drink for anyone who dropped trou at the passing train. And, voila, what started as a passing joke/dare has turned into a full-fledged, booze-soaked festival complete with a wet T-shirt contest, Mardi Gras-style bead flashing, and a healthy amount of gratuitous nudity. And yes, plenty of bare butts pressed against the chain-link train tracks fence.
If you're tired of seeing the same old cover bands at your local street fest, it might be time to don some scuba gear and dive Looe Key Reef in the Florida Keys National Marine Sanctuary during its annual Underwater Music Festival, where music broadcast by a local radio station is pumped into the sea by speakers suspended from boats. Participants can swim along listening to tunes like "Yellow Submarine" and "Fins," and some choose to wear costumes and even pretend to play underwater instruments crafted by local artists such as harps and fish trombones.
Don't let the cutesy name fool you. This is a full-on adult festival featuring naked women spreading their legs and clutching trophies in nude lineups, as hordes of horny dudes with cameras clamor at the action from behind a fence at the Ponderosa Sun Club nudist resort. And it's in Indiana, which is even weirder than the fact that it exists! There's nude pole performances, porn star guest "masters of ceremony," including Ron Jeremy and Stormy Daniels, and the crowning of "Mr. and Mrs. Nude Entertainer of the Year." Don;t believe this is real? Do a Google Image search.
When you see a giant blow-up mosquito named Willie Man-Chew smiling and waving at you as the official event mascot, you know you're in for a pretty weird time. And while most small-town festivals seek to highlight their strengths, this muggy town near the Texas Gulf Coast is known for its bloodsuckers and is not afraid to admit it. There's a "mosquito-calling" contest, a "mosquito chase" 5K, and, if you're looking for a sexy event with a date, you can sign up for the "Doubles Washer Pitching Tournament," where you and your significant other take turns throwing washers (the disc-shaped pieces of metal hardware). The festival's theme this year? Zika???
Anyone who's ever eaten bologna knows one thing: it's not something to be celebrated. Yet every summer, this town of 2,000 an hour east of Flint in the Michigan thumb begs to differ with a full-throated endorsement of this meal of last resort with a bologna derby and outhouse races (which is presumably where you visit after eating the stuff), plus additional oddball activities including a golf cart parade and cardboard boat race. Who will be crowned this year's King and Queen of Bologna? Only one way to find out.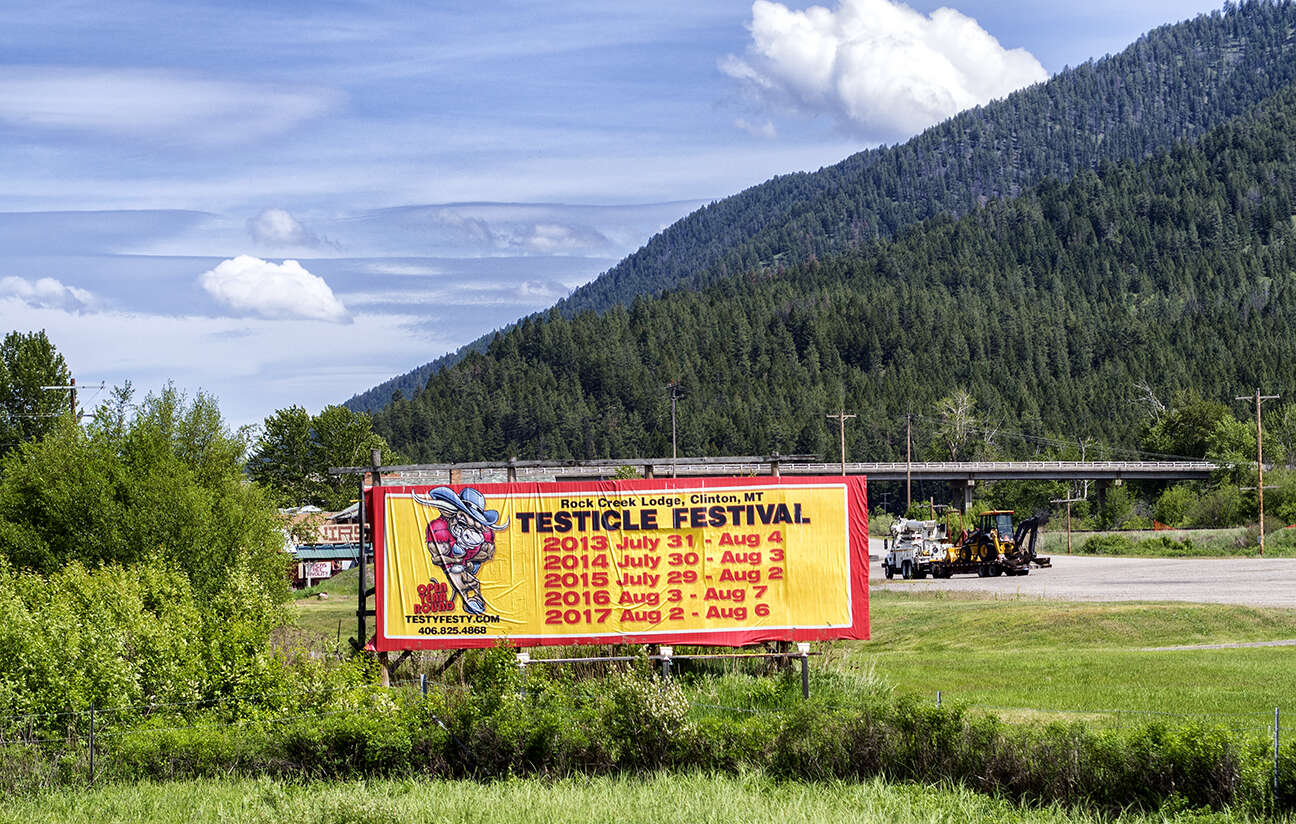 True, there are several festivals in America where you can eat animal testicles. But how many feature an "Undie 500" of grown men and women racing tricycles in their underwear, a Wet t-shirt contest, and a "big balls" contest where men's you-know-whats are judged by a panel of women? Only one. Held on a ranch somewhere between Missoula and Butte, Rock Creek's biggest party of the year also features a bull ball-eating contest, wet undies contest, "itty-bitty titty" contest, and plenty of people raging till 2am.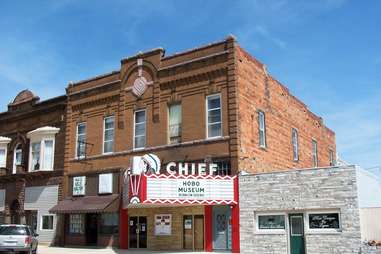 They've got a hobo cemetery tour. They've got hobo poetry. They've got a vagabond craft show. In others words, they've got all the essential elements for a serious party at Britt, Iowa's annual gathering of homeless vagabonds, rail-riders, and vagrants. There's also a pudding-eating contest (because apparently hobos like pudding, maybe because they don't have teeth?), cow chip-chucking contest (because who doesn't love tossing dried cow shit?), toilet bowl races (we don't even know what this is), and an all-evening bingo stand on Main St (because that's how hard this town parties).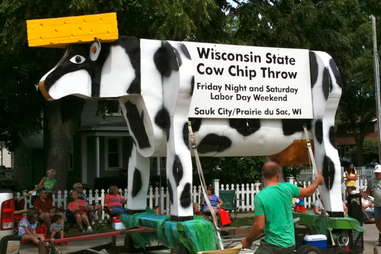 Once you learn that a "cow chip" is a large chunk of hardened cow dung, the weirdness of this fest becomes readily apparent. What is harder to ascertain is why anyone (let alone a whole town) would choose to pick up these things and fling them disc-style in a competition to try and break the record of 248ft. Then again, we're not here to judge. Everyone's got their own definition of fun. Which, apparently, sometimes involves cow shit. Only one rule: no gloves, although licking your hands is totally allowed to get a better grip. Not making this up.
If a "National Broom Sweeping Contest" sounds like your idea of a sweet-ass time, swoop down to this Central Illinois town and get your rocks off in the "Broom Corn Capital of the World" (apparently, this is a type of corn). But the "precision lawn mower drill team" known as the World-Famous Lawn Rangers takes these words deadly seriously, as they march in formation through the Downtown parade pushing lawn mowers jerry-rigged with brooms. Because why the hell not???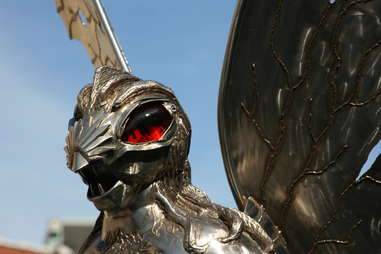 While less famous than fellow cryptids like Sasquatch and Loch Ness Monster, the man-sized bird known as the Mothman lives in Point Pleasant, West Virginia, where he was reportedly first sighted in the late '60s. These days, during the world's only Mothman Festival, you can pose for selfies with the Mothman (the town's version of Mickey Mouse), indulge in Mothman cosplay, check out the "Miss Mothman" pageant, and visit the secluded ammo bunkers where the Mothman sightings took place. There's also a Mothman Museum and panels on the paranormal, naturally.
Sign up here for our daily Thrillist email, and get your fix of the best in food/drink/fun.
Jay Gentile is a Thrillist contributor and he is a big fan of the bizarre, especially when it involves mooning commuters. Follow him: @innerviewmag.