Some bars up their manliness quotient with wet t-shirt contests. Others lay it on thicker -- welcome to The Cock and Bullshark, home of the world's first and possibly last Wet Flannel Contest.
Located in the tiny hamlet of Haymaker's Hollow on the Island of Kentucky, the C&B encourages both women and the burly, bearded guys who love them to take the stage in their finest lumberjack threads, then get doused until even the bulkiest plaid becomes pleasingly form-fitting.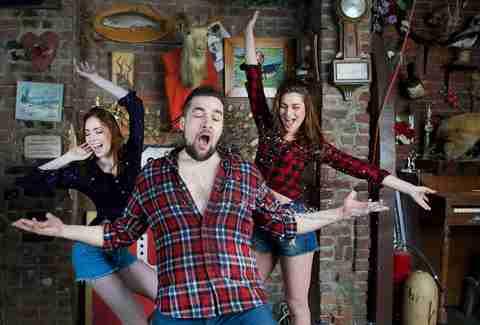 Winners get a cooler full of… wild boar meat (which apparently tastes somewhere between pork and beef and nothing like chicken), and two bottles of Wild Turkey Spiced, which with maximum manliness they just pack in alongside the meat. The delightful machismo doesn't stop there though: in order to watch this inspiring competition from the bar, you have to become an official regular, and the only way to become an official regular is to -- you (could not have possibly) guessed it -- carve your own stool.
While the stool-carving takes some skill, the flannel-dampening definitely does not. All that's required is genuine love of getting that red-and-black shirt you've owned for 20 years hosed down in front of a cheering crowd, and a hunger for game meat that the bar's most manly regular might have secured with a spear. Accompany him on a hunt if you want a whole new way to experience "first and possibly last".