While the problem of hotel-star inflation isn't exactly a pressing world issue, it does feel a lot like a game of grade-school one-upmanship that will inevitably end with the world's first "Infinity-Plus-One-Star" hotel, probably somewhere in Dubai.

But with all the talk of super-starred hotels, one's left to wonder: who exactly is assigning all these stars? And what do they mean? AND WHEN WILL THE MADNESS END? We wanted to know the answers to at least two of those questions and poured through some scintillating fine print to find them. And now we'd like to share that new knowledge with you. Here's everything you need to know about the hotel star system.
Who makes the ratings?
A lot of different rating bodies are considered "official" guides to hotels. But in the United States, the three most-trusted are AAA, Forbes, and Michelin.

AAA
To get AAA-approved -- an honor bestowed upon properties, mind you, by the same folks who come out to the Target parking lot when you lock your keys in the car -- a hotel must pass an exhaustive 33-point checklist designed to ensure that the travel agency is not recommending an establishment where you'll contract ringworm. The criteria aren't unreasonable, and could apply pretty easily to a Motel 6.

Once a property has been AAA-approved, it then can apply for the vaunted AAA One-Five Diamond Ratings. These are based on 77 categories, with a specific criteria set for each level of star. Amazingly, that doesn't even include the section for guest services, which encompasses 12 additional areas of service, each with 12-27 checkpoints.
In order to receive Five Diamonds, rooms must not only be clean and luxurious, but include specialized design features, valet dry cleaning, 24-hour reception, separate enclosed areas for the toilet, sheets with over 400 thread count, legitimate artwork on the walls (no framed museum posters here), and some sort of decorative ceiling, among other things. The entire process is laid out in a 41-page guide that you can peruse before bed tonight.

The main problem with the Diamond system, though, is that it requires the property to provide televisions in the rooms and a swimming pool just to get about Three Diamonds. And while exceptions are made -- like for the pool-less Plaza in New York -- many high-end hotels that think guests should do things other than watch TV on vacation get left, like Taylor Swift, without a Diamond.
Forbes
Forbes inspects around 1,000 hotels a year and awards only Four and Five Star ratings based on a titanic, 800-item checklist that covers everything from the hotel to the restaurant to the spa. We'll save you the trouble of reading it and just tell you this -- the criteria are derived from an algorithm built around a 70/30 service facility orientation and are the only inspection body who stays anonymously. That said, Forbes' guide is available online at ForbesTravelGuide.com totally free, and is more comprehensive than the AAA system.
Michelin
Michelin, whose Red Guide was once upon a time the hotel bible for travelers, is now more known for its ranking of chefs and restaurants. So while a culinary establishment that can boast a star from the big fat tire man is considered one of the best in the world, its rankings for hotels aren't quite as comprehensive. Yes, if you head over to the Michelin travel site, you will find star rankings for hotels. And, yes, that hotel could legitimately say it's a "3-star Michelin hotel." But, to be honest, that ranking isn't a whole lot more meaningful than one you'd find on a comparable travel site.
What about online star ratings?
Other outlets offer star systems too, of course, the most common of which you'll find on travel booking sites like TripAdvisor, Expedia, and HotWire. Bare in mind, these sites have absolutely NO standardized criteria for what qualifies as one-five stars, and unless they're user-generated, you won't have any idea what level of room you're really booking. Each site, however, does provide a basic description of what its star systems mean, and most definitions are pretty similar. Just to repeat: those classifications are not based on a set criteria like Forbes, AAA, or Michelin.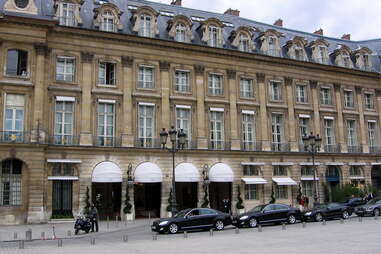 What about in Europe?
Those zany Europeans, because they like to do crazy stuff like organize things, established a trans-European organization called HOTREC. Formed in 2004, it has standardized hotel star ratings in 20 countries, including all of the ones you'd probably want to go to except England. Because England's allllllways gotta be different. (The UK has its own version of AAA, called the AA, that rates hotels. No word on if it also offers encouraging weekly meetings with free coffee.)

The European HOTREC criteria can be found here. They are far more stripped down and generalized than the AAA-Diamond system, as a nice hotel doesn't need much more than a personal greeting and flowers in the room to rate five stars. Clearly, it doesn't get as carried away with complimentary lavender bubble bath as Americans do.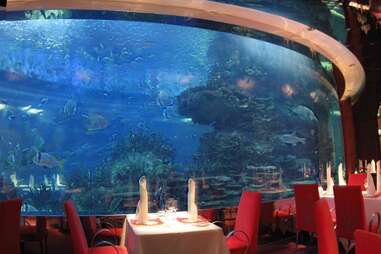 What about those seven- and eight-star hotels?
You might have heard about the Burj-al-Arab in Dubai, dubbed by some as the world's first eight-star hotel. Who are "some" you ask? Mostly online reviewers and bloggers who love hyperbole, the same kind of people who like to call the SEC the greatest conference in the history of college sports. Not even self-promotion-obsessed Dubai has attempted to use seven- and eight-star ratings as marketing ploys. As of now, NO rating body -- not Forbes, not AAA, not any trade agency like Europe's HOTREC -- awards more than five stars. So don't buy into the hype, 'cause it's all a big gimmick.
What about the rest of the world?
For the record, there is no worldwide system of star classification; if you can't find it rated by either a governing body or a standardized rating agency, the star claims are probably not much more than marketing. Then again, guesswork is half the fun of travel, right? Just as long as you guess right.