A British Airways A380 at London's Heathrow airport.

| Steve Parsons/PA Images/Getty Images)
A British Airways A380 at London's Heathrow airport.

| Steve Parsons/PA Images/Getty Images)
Before that clear, bright day in early July, I wasn't sure if I'd ever seen an Airbus A380 in person. But the more I thought about it, the more I felt I had to be mistaken. I'm a travel writer—I cross paths with plenty of planes. But like a lot of flyers, I'm usually more focused on my destination than the thing transporting me there. Nevertheless, I must have seen one, right?
First of all, the double-decker behemoth—so big it's nicknamed the "superjumbo"—would have been very difficult to miss. Initially introduced in 2007, it one-upped the reigning Boeing 747 (a.k.a. Queen of the Skies) as the largest passenger aircraft on the planet. And it's gargantuan, holding up to 853 people (the 747's max capacity was 524), with the wingspan of a pterodactyl and four powerful engines that could each double quite comfortably as New York City apartments.
The A380 is rare, sure, but not that rare. There are some 300 in existence, about a half of those belonging to Emirates, and quite a few were taken out of service in the pandemic. But considering the countless hours I've spent taxiing on tarmacs around the world, the odds of me bumping into one of 300 active aircrafts wasn't exactly slim. Had I seen an A380? Who knows. But I did know that was about to change.
Because on that near-cloudless day in early July, I was on my way to meet planespotting sibling duo Peter and Joshua Solorzano of the hit YouTube channel L.A Flights. Planespotters are aviation enthusiasts who camp out around airports to survey incoming and outgoing aircrafts, documenting their makes and models, flight paths, inconsistencies, and anything else their wonderfully obsessive minds can clock. The brothers Solorzano livestream their endeavors for folks around the world to see, providing the opportunity for everyone, no matter where they're located, to ogle the aviatic action.
To be clear, this is no Saturday afternoon hobby. For the Solorzanos, it's a full time job. They usually set up shop at their homebase in Los Angeles about four times a week, broadcasting streams that can last up to 12 hours. As the fourth-busiest airport in the world, LAX's airspace offers plenty of content, but occasionally, the pair is inspired to take their show on the road. That's how I was able to join them at the TWA Hotel at New York's JFK Airport, where they were on a mission to document the return of Lufthansa's Airbus A380 to New York from Munich.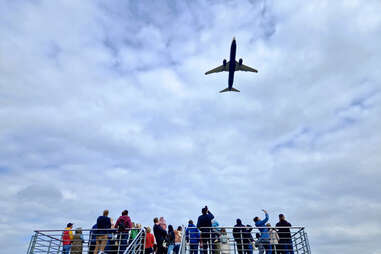 "That A380, that was the first time in years it's been here to JFK," Peter said, explaining the aircraft's significance. "Because of the pandemic, many airlines that operated big planes didn't need them." But, he continued, Lufthansa did something no one in the aviation world thought they would: "They had been trying to retire the A380 because they're a big cost. But because of popular demand, they brought them back from storage."
Watching L.A Flights' livestream of Lufthansa's A380's triumphant return to JFK on the 4th of July, you couldn't help but get excited—even, it seemed, for something as seemingly mundane as a plane. 28-year-old Peter, in his role as announcer, called the landing like a sportscaster, spouting facts and describing the scene while 19-year-old younger brother Josh, the cameraman, zoomed in generously, doing his best to showcase the blue and white aircraft. The camera darted around in search of "Lufty" (pronounced "Loofty"), which swept past a Swiss Air and a couple of JetBlues departing on parallel runways (a "two-for-one special" in planespotting parlance). And then, finally, the winged giant emerged, appearing out of the misty air, arms spread wide.
"For the first time in years, we have Lufthansa bringing the A380 to JFK," Peter announced on the stream to 4,000 viewers. "Welcome back to New York." The camera closed in on the precise point of landing—the tires skidding on asphalt is the money shot, I later learned. "Scheduled to arrive at 3 pm, arriving 15 minutes early," reported Peter. "Nice!" Josh chimed in. "Good for Lufthansa."
Situated right next to the longest runway at JFK—and outfitted with a full covered bar serving up food and cocktails and a turquoise infinity pool should you need to cool off—you couldn't find a better planespotting vantage point than the rooftop at the TWA Hotel. And given the building's history, it's no surprise. In 1962, Finnish architect Eero Saarinen designed what was then Trans World Airlines' main terminal or "head house," now serving as the hotel's entrance, in a style befitting a time when flying captivated the world. He envisioned the terminal's exterior, with its swoopy silhouette and large windows overlooking the runways, as not only practical, but an effort to "interpret the sensation of flying," and "express the drama and specialness and excitement of travel," according to Eero Saarinen: an Architecture of Multiplicity.
The work of L.A Flights evokes that same flight-inspired awe. But this time it's through livestreams and not built architecture, an application of Saarinen's vision in the digital age. For the duo and their followers, flying still captivates. The Solorzanos' style is all about making you feel like you're there, a part of the action. And it's not just through visuals. "Sound is a key aspect in our shows," says Peter as we hang out on the hotel's vacation-ready roof. "We upgraded our sound system several months ago, and you should see the size of this microphone—it's able to pick up sounds from one particular spot, and the sound you have is unrivaled."
Thanks to their tech savvy and attention to detail, tuning into the brothers' feed is a close second to being there with them. Hell, it might even be better, because you can planespot in your pajamas."The only thing we don't have is smell-o-vision, but we're working on that," says Peter.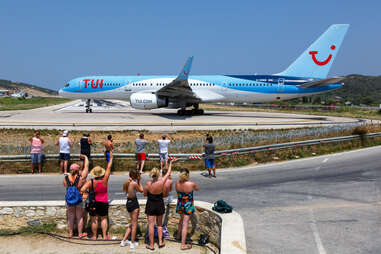 Why airplanes?
It's easy to see why someone would enjoy the act of planespotting—a.k.a. flightspotting, a.k.a. aircraft spotting. The machines are akin to large mechanical birds, mesmerizing to watch as they coast smoothly on tarmac before lifting and becoming airborne. A perfect, visceral landing, rubber tires skip-skidding as it touches down, is a satisfying marriage of sight, sound, and smoky aroma. Each time an airplane lands, it leaves up to a pound and a half of rubber on the runway, a piece of itself. It's poetic, really.
For some planes, what stands out is the livery, like Australian airline Qantas, whose fleet proudly displays a collaboration with Indigenous artists, or the Star Wars-themed liveries adopted by several airlines over the years (ANA's R2D2 model is pret-ty cool). For others, it's their rarity, like this 48 year-old DC-10 Air Tanker captured taking off from LAX last month, one of only four in operation.
"They trigger memories of the times that I've been happiest in my life"
Regardless of an aircraft's appeal, watching planes can simply be relaxing. "We've had so many comments say that this is almost therapeutic for them," says Peter. There can also be an emotional component. For some planespotters, flying is equated with childhood vacations and joyful nostalgia. "They trigger memories of the times that I've been happiest in my life," Peter adds. "When I'm with my family, when I'm going somewhere."
And then there's the undeniable fact that airplanes are engineering marvels, the closest thing we have to magic. (Magnets, how do they work?) Self-proclaimed aviation geeks—or AVGeeks—are akin to gearheads or sports fanatics, spouting off makes, models, release years, and engine designs with enthusiasm. Planespotters study flight plans and upload arrival and departure times to online databases. They know registration numbers and can tell you just how many times a particular airplane has changed hands. They tap into the control tower's frequency. They study not just the poetic lift of the plane, but the degree of the angle at which it takes off. (Sharp angle? Must not have a lot of cargo today.)
Planespotters watch L.A Flights' streams not just for the visual experience, but for the facts. Did you know Rolls Royce makes plane engines? Or that CFM 56 engines are the most popular, with more than 30,000 units made? After spending a few minutes planespotting with Peter and Josh, I do. And now you do, too.
Turning a childhood obsession into a career (and a community)
Peter's introduction to aviation began in Las Vegas, posted up next to the city's iconic welcome sign on Las Vegas Boulevard, gazing at the planes dipping in and out of McCarran International airport (now Harry Reid). The family didn't have much money to spend on entertainment, but Peter's dad had an affinity for aircraft, and one evening after work took his son out to the airport to planespot. "He said, 'You know, you're gonna be so close you can almost touch the planes,'" remembers Peter. "And it was all true." Like the Las Vegas sign itself, the jets symbolized possibility, they opened up the world. Plus, they were just so cool. Peter was hooked. "Since that night, I've been captivated by everything aviation," he says.
So he set out to learn all he could about the industry. He even went to a magnet high school in the area that allowed him to specialize in aviation, all with one end goal in mind. "My ultimate dream was to become a pilot," he says. "I wanted to go into the airlines and pilot the biggest international planes." But one thing stood in his way, and the way of many: the cost. "I was told, 'Hey listen, there's gonna be $100,000 for flight training.' And I didn't have a penny growing up."
High-flying dreams deferred, Peter turned his attention to what he could do on the ground. Starting L.A Flights felt like a natural progression. Peter and Josh had been capturing their planespotting adventures on video for years, so inviting others into the fold via YouTube just made sense. On August 27, 2021, they launched their channel, broadcasting their shared passion for planespotting into thousands of homes. Soon, it was hundreds of thousands. Today, the brothers claim some 217,000 subscribers and counting. Give it a go and you'll immediately understand why: Here, it's a sport, Peter expertly delivering the play by play with a perfect mix of technical jargon and requisite awe.
Of course, the L.A Flights guys aren't the only ones in the biz—posting videos of planes might be a fledgling field, but it's growing rapidly. Dedicated subculture includes military planespotters, international planespotters, and one Los Angeles TV cameraman turned pro planespotter named Kevin Ray, whose loyal group of fans include a group who watches his livestreams religiously from their California nursing home. He—and they—were recently featured on CBS Saturday Morning.
But what really stands out about the Solorzano brothers' channel is the overwhelming warmth, and the community it fosters. Peter makes a point of personally thanking everyone who donates to the channel, taking care to pronounce names correctly as the tape rolls. Fans often show up to watch with them in person. Many are livestream regulars, and quite a few are aviation professionals, solidifying the guys' integration into the broader airline industry. One occasional co-host is a fan named Captain Ken, a Delta pilot who regularly provides inside baseball-style commentary to the delight of everyone involved.
The streamers on L.A Flights have membership tiers, inside jokes, special emojis, and their own slang. They bet on which planes will take off or land first, make requests for certain crafts, and sometimes even appear on the screen themselves via what they call "shine a light." If a fan knows they'll be taking off or landing at an airport where L.A Flights is streaming, they'll shine a flashlight out the window from their seat, which Josh will then try to catch on camera. Even pilots have done it, a 21st century version of the Trucker Salute. And once, the guys' mom got in on it, casting a glow from her window seat on her way out of Los Angeles on vacation, and adding a hint of emotion to Peter's voiceover.
Typing into the chat box during a livestream, one viewer put it best: "The L.A Flights family are friends that I haven't met yet."
Fancy yourself a planespotter? Here's what to know
However you catch the bug, once you've embraced planespotting you'll start to notice ideal viewing locations everywhere. I was recently on a trip to Alaska—a state heavily reliant on aviation—and my itinerary included a seaplane-powered flightseeing (or aerial sightseeing) tour of Denali National Park. We boarded at Lake Hood—the largest and busiest seaplane base in the world, situated right next to Ted Stevens Anchorage International Airport. Before the tour even began, my eyes were trained to the skies, taking in all the air traffic swarming above the major freight and transportation hub. I made a mental note to one day post up with a snack on the Lakefront Anchorage Hotel's outdoor deck—located just steps from the lake, it's a favorite among local AVGeeks.
In Los Angeles, In-N-Out near LAX is a popular and easy, if somewhat removed, planespotting perch (bonus: it comes with a mean burger). The L.A Flights crew, however, prefers to film in places where you can see the wheels touch down. For that, one favorite is Clutter's Park in El Segundo, stashed just across the freeway from LAX's winding network of runways. And for the motherlode of planespotting with a side of Caribbean vibes, head to Maho Beach in Sint Maarten, where you can lay on the sand watching planes soar above your head, seemingly close enough to reach out and grab.
Anyone can planespot, provided it's legal to be wherever you've set up camp. But filming near an airport with professional equipment requires extra steps to gain security clearance. Before heading to the TWA Hotel, for example, Peter and Josh had to assure New York's Port Authority that they weren't intending to record for any other purpose than aviation appreciation. "We have to contact [them], like, 'Hey, guys, we're gonna be here with a massive camera and a massive tripod,'" Peter says. "'But we're just flight spotting.'"
And if someone tries to sneak into a protected area with a camera hidden in a violin case? "The Port Authority would swiftly take you down," Peter confirms. Bottom line: If you're planning to planespot with professional cameras or for long periods of time, drop the airport a line well before you head out.
Back at the TWA Hotel, I'm busy eyeing a small Cessna being dwarfed on the runway by Boeings when he taps me on the shoulder and points. "There's your A380!" he says. And what do you know—it's an Emirates, its red, green, and blue tail poised to pivot upwards. The gold writing on its livery—or exterior paint job—glistens in the sunlight. After a few seconds, the nose tilts, and the plane disappears.
Vanita Salisbury is Thrillist's Senior Travel Writer. She now always looks for the A380.