To Survive Winter, Americans Best Embrace the 'SaunaMeister'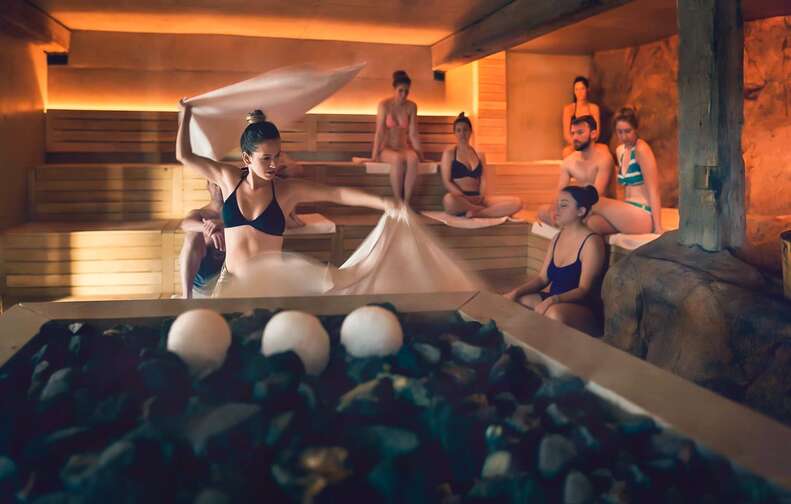 Experience the Aufguss Ritual at Nordik Spa-Nature in Chelsea, Québec.

| Nordik Spa-Nature / Chelsea
Experience the Aufguss Ritual at Nordik Spa-Nature in Chelsea, Québec.

| Nordik Spa-Nature / Chelsea
A wooden tinderbox no larger than 10x10 feet is packed tight with a dozen strangers. We share an uncomfortable silence, as the atmosphere intensifies from tepid to near-sweltering. A damp towel is my sole solace, protecting me from a wooden bench that would otherwise scorch the skin in these increasingly oven-like conditions. A woman stands tall, fanning us, one at a time, with direct blasts of supercharged heat. This is SaunaGus (or in German 'Aufguss', which is the term catching on in the States) -- a sacred Northern European ritual that's slowly wafting its way Stateside.

More than just a personal apres-workout relaxation, Aufguss is a performative, ritualistic experience to purify mind, body, and soul, and is shared between a group. You'll find (attired, it should be said) people of all ages and genders together in the hot room, led by a guide -- a 'SaunaMeister,' as the Germans call it -- many of whom are assigned almost shamanistic reverence.

Though Saunagus traces its lineage back to thousand-year-old Scandinavian bathing ceremonies, it was the Germans who helped revitalize the tradition beginning in the 1950s, and now -- thanks to the hard winters and influx of Nordic and German immigrants -- it's Minnesota that finds itself as the epicenter of burgeoning interest in the United States.
MORE: Winter getaways that'll help you beat the blues

John Pederson is the co-founder of Sauna Society Outfitters, a Minneapolis-based company that's one of the first to bring this 'thermic bathing tradition,' a fixture in colder European climates, to a North American audience.

"In Germany, many public saunas feature a 'SaunaMeister', who helps guests enjoy the full health benefits of the experience," explains Pederson, of a country that now counts more than 12,000 public bathing facilities. "They lead full warm-up and cool-down cycles, incorporate steam-pouring, breathing and cooling techniques into the session." And they each have a style and personality all their own. So it's not uncommon, as Pederson points out, for participants to plan their visits based on the schedule of their favorite Meister.

"I tried to register for a SaunaMeister training program, but the best one was only taught in German," he recalls. "Turns out German is very difficult to learn, so I decided to start a Sauna co-op instead." In Minnesota, he was able to shake out a community of thermic bathing enthusiasts and crowdsource funds for a mobile sauna unit.
MORE: The best cruises in the world right now

One of those enthusiasts happened to be an engineer on the buildout of The Hewing Hotel, a boutique luxury property that opened in downtown Minneapolis in 2016. It didn't take long before a more stable platform presented itself. "We participated in a small sauna experience with Pederson," says Katie Szczepaniak, the hotel's Director of Lifestyle. "We knew right away we had to bring this offering to our guests. So we partnered with Sauna Society to begin programming as soon as our rooftop opened."

For $40, guests can now choose between a handful of guided regimens, including a monthly Full Moon Steam Medley, and the ever-popular, Aufguss with Alex -- hosted by German-trained SaunaMeister Alex Triotzsch. "We've had a waiting list for almost every session," says Pederson. "I think it's because the sessions help people enjoy the full physical, mental and social benefits available and at the heart of every thermic bathing tradition."
How Saunagus is done in Europe
In Nordic climes, those traditions are as much about what happens outside the sauna as what happens within. At the Kurhotel Skodsborg, 10 miles north of Copenhagen, hourlong SaunaGus sessions incorporate a manic series of heat-ups and cool-downs. Renowned GusMaster Tina Andersen pours different aromatics onto the heating element, ranging from lavender to juniper, intermittently flapping a large canvas curtain towards each guest. After 15 minutes, her group is spirited outside where they promptly plunge into the frigid embrace of the Baltic Sea. The cycle repeats itself three times and is purported to release endorphins and expel toxins.

According to Pederson, a guided session such as this 'exercises' blood circulation throughout the body. "[It] help guests activate their thermoregulatory system," he explains. "Doing so in a relaxed parasympathetic fashion will provide the most and longest lasting benefit."

That's a lot of big words. And, to be sure, the science behind the whole production is debatable. But the near-transcendent exhilaration of the experience is tough to deny, as is the showmanship.

The pageantry is so pronounced, in fact, that it's given birth to organized competition. Launched in 2014, the Aufguss World Cup is an annual event where an international panel of judges evaluates 70 contestants from over two dozen nations to crown an official champion of the Gus. Competitors don elaborate costumes, and 'perform' inside a specially-constructed 200-person sauna.

Although you won't find this 'sport' airing on ESPN anytime soon, North America has been quietly building up its own fellowship of Gus fans. Minneapolis is ground zero for the growing movement, and on a more isolated basis, you'll find regimens at Thermae Retreat in Fort Lauderdale, Florida, and at Nordik Spa-Nature in Chelsea, Quebec.

From coast-to-coast, pockets of communities are forming out of online forums. After all, you don't need much more than a sauna and a few like-minded individuals to fire it up. Heck, if you have a bucket of hot stones, some canvas and charisma, you might just be natural born meister, yourself. If you think you can stand the heat, forget all the fuss, and just get in the Gus!
Brad Japhe is a freelance journalist specializing in travel, outdoor adventure, food and beverage. He moonlights as a beer and spirits consultant, hosting frequent craft pairings/educational dinners in both Los Angeles and New York, and curating drink menus for festivals and restaurants. He prefers scotch to bourbon, IPAs to lagers, a premium hamburger over a prime cut of steak. His favorite breed of dog is unequivocally the Siberian Husky and he suffers from an irrational, unrequited love for the New York Knicks.