Flying over the past 10 years or so, if you haven't noticed, pretty much sucks. Unless you're lucky enough to land yourself on a private jet, the list of problems with air travel is endless. Or at least stops at 99.
That said, the easiest way to minimize the aggravations associated with air travel is to make your trip as short as possible. But how short is short, when it comes to commercial flights? We found out. Here are the 10 shortest flights (both in distance and duration) on which you can book a seat.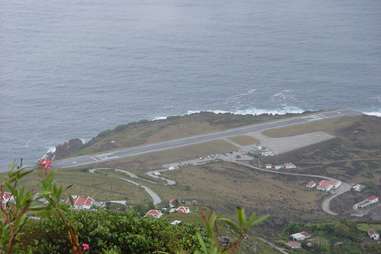 10. Saba to St. Maarten
Winair
Distance:
28 miles
Duration:
15 minutes
An added bonus here: you get to take off from and land on two of the
weirdest runways in the world
. First, the beachside takeoff at Princess Juliana in St. Maarten; then, landing at one of the
craziest airports in the world
, a graded road at the base of a mountain in Saba.
9. Taitung to Green Island
Daily Air
Distance: 23.87 miles
Duration: 15 minutes
This volcanic island off the coast of Taiwan is a popular day-trip from the mainland, and a quick 15-minute flight for Taiwanese people eager for an escape to nature.
8. Kinshasa to Brazzaville
Camair-Co
Distance: 20 miles
Duration: 30 minutes
Avoid the traffic of that pesky commute from the Democratic Republic of Congo to the plain-old Republic of Congo with this convenient 20-minute hop between African nations. This Cameroon-based airline offers a nice, quick alternative to the not-totally-smooth highways that run between the countries.
7. St. Kitts to Nevis
LIAT
Distance: 17.4 miles
Duration: Five minutes
Poor Nevis. When people talk about going to this two-island Caribbean paradise, they usually only mention St. Kitts. But you'll never forget its name again after taking the five-minute hop between the two islands, the seventh-shortest commercial flight in the world.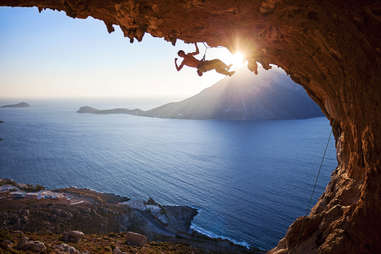 6. Kos to Kalymnos
Aegean Airlines
Distance: 13.6 miles
Duration: 20 minutes
Sure you could take a nice scenic ferry ride from the Greek island of Kos to the climbing destination at Kalymnos. But if you'd rather maximize your time on the rocks, jump this thrice-weekly flight and arrive in no time.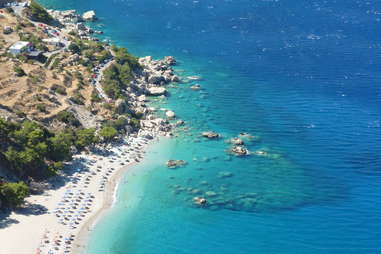 5. Karpathos to Kasos
Olympic Air
Distance: 12 miles
Duration: Five minutes
The Greek Islands are fun to cruise around and all, but you don't want to be stuck on the ship's schedule. That's why airlines like Olympic will let you pop around to wherever you damn well please, even if it means you're only in the air for a whole five minutes.
4. Cayman Brac to Little Cayman
Cayman Airways
Distance: 11.8 miles
Duration: 10 minutes
If you're the type of person who feels their money should enjoy living in the Caribbean even if they can't, you probably like to at least visit it once in a while. But rather than spend all your time in the bank and/or sailing between islands on your personal yacht, take one of these convenient 10-minute flights. Then again, if you have your own yacht, you probably also have your own private plane, but that's not the point.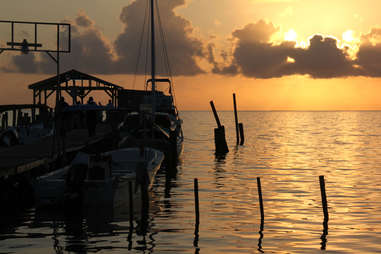 3. Caye Chapel to Caye Caulker
Maya Island Air
Distance: 2.4 miles
Duration: 15 minutes
And if you're in Belize, it's a downright bargain at $34. You'll spend more tipping your dive guide.
2. Westray to Papa Westray
Loganair
Distance: 1.7 miles
Duration: Approximately 47 seconds
Though only the second-shortest flight in the world by distance, this flight between two of the Orkney Islands North of Scotland is the shortest by time, lasting only slightly longer than your average television commercial.
1. Kegata to Apowo
Bush pilot Matt Dearden
Distance: 1.3 miles
Duration: 73 seconds
Deep in Papua New Guinea sit two mountaintop villages separated by a cavernous valley. While the hike might sound fun, flying between them takes a lot less time/insect repellent. At just over a mile, this flight is the shortest in the world (by distance) for which you can buy a regularly scheduled ticket.