What I Learned Working as a Wilderness Therapy Guide
For seven years after graduating college with an environmental engineering degree, I struggled to find a direction in life. I waited tables, spent three years holed up in a cubicle working as an environmental and a civil engineer, de-iced aircraft at the Philadelphia International Airport, traveled around the world, and even did some writing and photography on the side.
But in 2017, I found myself in a new line of work.
Rain fell steadily as I stood in the middle of the White Mountain National Forest in western Maine, surrounded by ten other people and an endless stands of spruce and hemlock. Two teens worked together to prepare dinner -- a mixture of instant rice, freeze-dried vegetables, chicken and barbecue sauce -- for the rest of the group. Five others worked to set up tents and organize gear. One teen in particular, Jeremiah, stood silently in the rain, refusing to put on his rain layers or help with tasks.
I was one of three guides in the midst of a four-day expedition, or "expo," leading a group of eight teens who had enrolled at the wilderness therapy program I was working for, Summit Achievement.
The students, all of whom were struggling with anxiety, depression, substance abuse, ADHD, executive functioning skills, or a combination of the five, were on the final day of the expo, waiting to head back to campus to dry their gear and take hot showers. Jeremiah, a five-and-a-half foot tall student with black hair and glasses, struggled immensely with the anxiety that built in moments of discomfort, and would often resort to "shutting down" entirely.
Summit Achievement was founded in 1996 in western Maine, and focuses on at-risk teens and young adults between the ages of thirteen and twenty. While the outdoors have long been used therapeutically, modern wilderness therapy programs began gaining traction in the 70s, taking influence from Outward Bound, an outdoor-oriented leadership program.
At Summit Achievement, the week of therapy is split into two halves, first in the classroom and then in the wilderness. Licensed clinicians work with students and their families during sessions that take place in the first half of the week, while guides oversee the students, assisting with the therapeutic process through nightly group therapy circles and by helping them work through deeply-rooted emotional struggles. Once on wilderness expeditions, which occur between Thursday and Sunday, guides also teach the necessary skills for self-sufficiency in the outdoors, from which parallels can be drawn to everyday life back home.
While spending time in the outdoors alone has plenty of advantages, the mixture of psychotherapy and nature can be effective for many people.
"Wilderness therapy has the advantage of being outside and talking about challenging issues," says Will White, the founder of Summit Achievement and author of Stories from the Field: The History of Wilderness Therapy. "Nature increases true self-worth. If you're feeling physically healthier, you feel better. You can't separate the mind from the body. And therapy helps us become more aware of our blind spots and thinking errors related to how we exist in the world.
"Some people question wilderness therapy -- what it's all about," said White. "Yet very few people are questioning sitting sedentary on a couch."
During my year as a wilderness therapy guide, I took students into the wilderness to sleep under the stars and summit mountains (physically and metaphorically), taught them basic life skills and watched their successes and failures. I watched myself grow with the students, and realized the life-altering effects nature can have on an individual.
You don't have to be Bear Grylls to become a wilderness therapy guide
While working as a wilderness therapy guide, I met a variety of people with different personalities who came from a variety of backgrounds. Although many were the hippie, mountain town, outdoorsy type, some were the opposite. Some guides came into the program having never camped in their lives, but were pursuing social work or psychology. These guides learned hard skills -- setting up tarp shelters, identifying trees, and learning to cook meals in the backcountry -- side by side with the students, sometimes even receiving help from the more experienced ones.
Ideally, the perfect wilderness therapy guide will have some sort of background in psychology (either pursuing a degree, or previously worked in some sort of treatment setting) as well as outdoor experience. But of course, there are exceptions. Even if your experience in one of the two fields is limited, there is still room to become involved and learn the skills needed to be a successful guide if you have the right amount of patience, the ability to endure difficult situations, and a willingness to learn.
During the 10-day intake and training process, new guides learn hard skills during a short training expo, in which they are taught Summit Achievement's way to lead students safely through a four-day itinerary, while teaching them outdoor skills. Guides also attend a full day training dedicated to clinical-related skills, and how to engage and build rapport with students. During much of the training shift, guides shadow teams they are assigned to, and get a feel for how the program works. While the training process is extremely helpful, most of the skills necessary come with spending time actually working through problems with students, making mistakes, receiving feedback from other staff, and learning and progressing while on shift.
Accepting a job as a guide means accepting a new lifestyle
As a wilderness therapy guide, you have to be comfortable with an atypical lifestyle. Due to a week-on week-off schedule (some programs are two on, two off), it's difficult to maintain relationships with the outside world. Guides often hang out with each other during the off shift, spending a majority of time hiking, climbing, mountain biking, skiing and being outdoors during the six days before the next shift. And of course, there's plenty of late-night hang out sessions to blow off steam after a taxing week -- as long as it doesn't interfere with the next day's planned adventure.
Wilderness therapy guiding won't make you rich, but it has perks
While not an extremely high-paying job, the per-diem wage is liveable, especially considering many guides live a frugal lifestyle. And since you're at work for half the month, it's easy to put some cash into savings. The schedule -- which gives guides almost seven days off in a row -- allows them the opportunity to travel and do things that a "normal" schedule wouldn't allow.
Of course, getting a week off every other week can be beneficial, but it also has its downfalls. It can be difficult to maintain relationships with the world outside of guiding, since schedules rarely align. But if you're willing to hang out with other guides, have friends with flexible schedules, or are willing to go on solo adventures, the week off can be great.
The job is physically and emotionally draining -- and rewarding, too
Practicing true patience in a difficult situation, with uncooperative students, in sub-freezing temperatures is a true test of what you can endure. Throughout my time as a guide, I often had to work through extreme moments of struggle with students, in which I could try my best to empathize but not always relate. During these moments, students could attempt to run away, scream, cry, refuse to meet basic expectations, and disrupt their fellow teammates. Remaining calm and knowing what to say -- aware your words will likely fall flat in the moment -- was extremely difficult.
But having a difficult student look you in the eye as they graduate the program and thank you, telling you how big of an impact you had on them, makes all of the challenges worth it. And the ability to work through these situations with students can be applied to scenarios often encountered in everyday life.
Technology addiction is a real thing, and it's worse now than ever
While substance abuse and addiction is old news, there is a new type of addiction with similar effects that has become prevalent in recent years -- technology addiction.
Students were isolated from technology during the program, which all too often would cause them to shut down or have extreme outbursts over their inability to use their phones, check social media, and play video games. Their addiction to technology often had similar effects as one to substances, affecting their relationships, school, and ability to function in society.
By isolating students from triggers and bad influences, wilderness therapy helps them identify those triggers more easily. The less a student is using, the more they realize how much they were using and the effects it had.
"The trigger is boredom," White said. "So they grab the screen and look at Snapchat and say 'wow I'm bored and lonely and look at what all of my friends are doing.' That typically doesn't make people feel good, so they keep searching for something else. It's endless. So we're trying to replace unhealthy habits with healthy habits."
My experience working with students with technology addiction made me reflect on my personal bad habits, often taking any moment of free time I had to grab my phone and check Instagram. Once I came to the realization that I struggled with a similar problem -- although to a lesser extent -- I began setting timers and limitations on my own internet and social media use.
New England winters are harsh, but there are ways to cope
The temperature dropped quickly, replacing the feeling in my toes and fingers with a burning sensation. The students sat on their insulated camp chairs on top of three feet of snow in a circle, illuminated only by a subtle ambient light from the stars. As they shared their stories and emotions, all I could think about was my warm sleeping bag waiting for me.
I had experienced winter camping before, but it hadn't prepared me for additional rigors of winter guiding where I had to stand and sit still for hours on end, not generating any of my own heat.
After my first freezing cold winter expedition, I learned how to better cope with the elements. Double-layer insulated boots replaced my single-layer leather ones, I put on a fresh pair of dry socks at the conclusion of each day's hike, layered up with a down mid-layer to keep my core warm used ventilation techniques to stay dry. And to counter my sometimes sedentary guiding activities, I learned the importance of active warming -- doing push-ups or other dynamic activities to keep you warm. With these skills, there is no such thing as "bad" weather.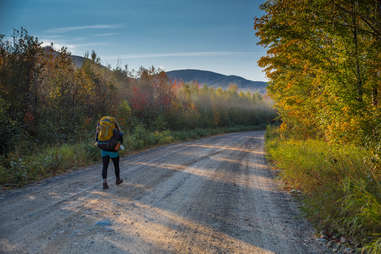 Wilderness therapy can work for anyone
After 30 minutes of standing in anxiety-induced paralysis, Jeremiah utilized the coping skills he had been practicing and was able to change into dry clothes and re-join the team. I looked around me, and saw the smiling faces of eight students enjoying hot bowls of barbecued chicken and rice. My smile matched theirs. They weren't the only ones learning from the program.
During my year spent working as a wilderness therapy guide, I changed lives. And not just of the students I worked with, but also my own. I learned to listen, empathize and be patient. I learned that everyone has their own struggles to overcome. I learned the healing power of self-reflection. And most of all, I learned that you don't have to be an adolescent struggling emotionally in order to reap the benefits of physical activity and the simplicity of nature.
Josh Laskin is a contributor for Thrillist.