While the frilly amenities on cruise ships vary, from ice rinks to ziplines to planetariums, some things remain constant: Awful buffets, deck chair wars, shuffle board, and partying Spring Breakers. Also, getting stranded at sea and having to pee in a bucket. Sometimes. Which is why, instead of going the traditional route, you, the intrepid anti-tourist, should book yourself on the voyage less traveled – on a cargo ship.
Yes, indeed, savvy adventurers can ride along on freighters -- no stowing away necessary. And with that in mind, we've compiled everything you need to know about cruisin' slowly amid a hundred crates of Brazilian bananas.

It's like a regular cruise, but better
So you're saying I can actually sail on a real life, working cargo ship?
Yup!
Why would I do that?
The benefits are many. Fewer people are on board cargo cruises: On average, freighters take between one and 12 passengers; any more and they'd have to bring along a doctor. Plus, the cargo ships often port in less-touristy locales, not just overrun hotspots. In the case of a cargo cruise, it really is about the journey and not the destination.
Is it cheaper?
Yes, one of these cruises will cost around $100 per person per day, including meals, but that depends on the ship. Some cost as little as $65 per day.
Who travels on freighters?
People running from the law, of course. Okay, more like folks with flexible schedules and a lot of time. Basically, old people and Europeans.
Where can I go onboard?
It's probably best to ask the captain or crew before barging in on a napping officer, but visitors are generally free to hang out all about the ship, even on the bridge.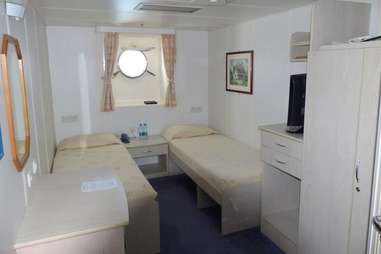 You won't even get scurvy onboard
Will I sleep in a hammock with the crew?
No, it's a cargo ship, not an 18thC schooner. You'll have your own cabin and bathroom, which are generally on par with those found on standard cruise ships.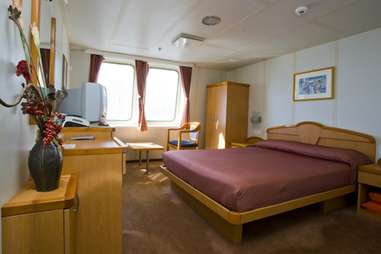 Sometimes, rooms are even better than those on commercial cruises. There's usually a small fridge, maybe a TV, sometimes even a sitting room. Bedding and hand towels are provided, and the steward will usually swing by for weekly housekeeping. Guests always get cabins with port holes or windows, though ships can't promise unobstructed views.
Is there Wi-Fi?
Generally, no.
A phone?
There will be some sort of satellite phone, but you'll have to buy a phone card.
So, like, what do I do all day?
Read, write, hang out on the bridge, play bridge, watch the world go by, think, chat with the crew, ignore the voices in your head, maybe use the time to learn a new language. Who knows, it's a slow-moving cargo ship. You could re-watch every episode of Sports Centers 30 for 30 on your laptop, if you wanted to. Be aware that beer and hard liquor is available, tax-free.
Cargo ships have creature comforts, too
I don't need a surf simulator or putting green, but what sort of amenities can I expect?
Most ships have a rec room, bar, convenience store, and swimming pool or whirlpool. Some even have a sauna and a gym.
What's the food like?
Well, it ain't an all-you-can-eat buffet, that's for sure, but it really depends on the cook – a German chef might lean heavy on the meat and potatoes while a Thai one might roll with curry. You will be dining at the captain's table every night, and eating the same cuisine as the crew.
Thankfully, scurvy shouldn't be an issue.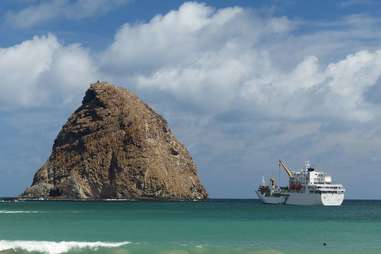 No, maritime law doesn't eliminate rules
Can I bring my dog?
Pets are generally not allowed.
What about my neighbor's kids?
Depends on the ship, but generally, only kids over the age of 13 are permitted. Also, no one over the age of 79.
What about… visitors?
Check with the captain before inviting anyone you meet here aboard.
Do I have to pitch in?
No, in fact you're strictly prohibited from swabbing the decks, fulfilling pirate fantasies, or any kind of voluntourism.
You're on a m@therf$#ing boat
How long are these cruises?
It depends on the ship, but trips can vary from two weeks to a full-fledged world tour lasting around three months. However, you can also book one-way sailings or individual legs of a total itinerary. Check out the websites listed below for sample itineraries.
Where will they take me?
Just about anywhere with a coast. Literally, any port in the world is fair game – so expect some pretty exotic locales.
And, since everyone loves a good tramp (right?), try to hop aboard one of those. This kind of ship has no fixed schedule or itinerary, making it the easiest way to turn a quirky trip into an epic adventure.
Otherwise, most ships operate on popular travel routes, like trans-Atlantic, trans-Pacific, South Pacific, South America, Caribbean, and round-the-world itineraries.
When should I book?
Since most of ships have only a few cabins, you'll want to book early – six months in advance, at least.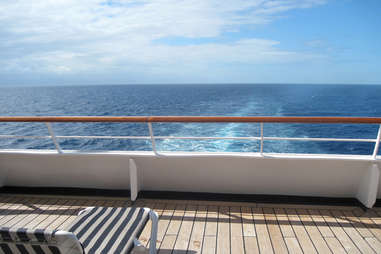 Know before you go
What should I wear?
Sturdy, comfortable shoes with non-slip soles. So leave your favorite pair of Nike Airs at home. Other than that, it doesn't matter. The crew doesn't wear uniforms. Why would you?
How much time do I have at ports?
It varies, but you should have a solid 12 hours, if not up to three days to explore. Mostly it depends on the time it takes to load and unload cargo.
How come I've never heard of this?
American freighters don't take passengers. Leave it up to the U.S. to put up red tape on fun. And while international ships will stop in the U.S., foreign-flagged ships cannot haul cargo and passengers between U.S. ports, per U.S. maritime law. In fact, that law applies to standard cruise ships as well – they'll never link two U.S. ports.
How punctual are the ships?
Honestly, not very. The golden rule of cargo cruisin': Be flexible. Sometimes a ship will leave later than expected, or dawdle in a port. Schedules depend on current import and export trends, too, so there's not really a regular schedule. But isn't that part of the appeal, getting stuck in Mobile?