What to Wear: 8 style essentials for your next beach vacay
Given that it's the one place that people tend to wear, like, basically nothing, getting clothes for the beach can actually be a lot tougher than it sounds.
Luckily, we've put together a handy guide to get all the right attention on your next shoreside furlough. Whether it's a day of surfing, beach shenanigans, or after-sundown activities at a bonfire or oceanfront dinner, this roundup of beach essentials should cover all bases, and all price points.
Oxford shirts aren't just for closing deals and meeting your girlfriend's parents (and closing that deal). Dress things down, and wear one to the beach. Go slightly wrinkled, untucked, and roll up the sleeves with a neutral color like white, or an understated stripe. Give the ladies some mystery as to the gut perfectly chiseled abs beneath.

1. Old Navy - Men's Slim-Fit Oxford $30
2. Target - Merona® Men's Tailored Fit Solid Oxford $23
3. J. Crew - Vintage Oxford Shirt $70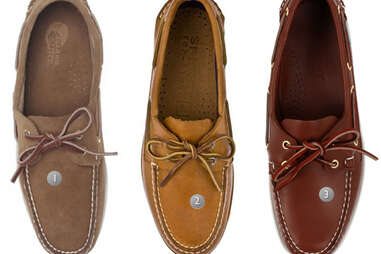 The beach calls for a versatile shoe: something that's functional on sand, asphalt, and docks. Instead of flopping around in flip flops, get grounded with a sturdy boat shoe. They look sweet with khakis and shorts, and a strong brown tone is the perfect base color for your beach attire. Depending on the occasion, you can literally go from the sand to evening dinner with no trouble.

1. Island Surf Company - Dixon Suede $45
2. Sperry Top-Sider - Authentic Original Boat Shoe $85
3. Sebago - Docksides $100
All eyes are on you. It's time to get in your shorts, and give the ladies what they've been waiting for (some time alone while you swim). Hit 'em with a speedo pair of brightly colored, unhammocked swim trunks. Remember, too long, and you're a surfer dude. Too short, and you're an 80s pro-basketball player. Make sure they fall somewhere in the middle.

1. Trunks - Swami Short $26
2. Old Navy - Swim Trunks $18
3. H&M - Swim Shorts $30
Whether you're trying to cover something up or show something off, a properly fitted tank top will save you from the embarrassment of having given up 6mins into that P90X DVD. Go for a color that compliments and doesn't compete with your dazzling swim trunks.

1. Old Navy - Striped Crew Tank $10
2. H&M - Basic Tank Top $6
3. Gap - Tri-Stripe Slub Jersey Pocket Tank $17
Bonfires be damned, beach nights can get chilly -- so be sure to pack a comfortable crew neck sweater to toss over the oxford, or just rock it by its lonesome and roll up the sleeves.

1. J. Crew - Cotton Sweatshirt $65
2. H&M - Sweatshirt $30
3. Gap - Knit Crewneck Pullover $40
And no need to worry about hangers to keep all your gear crispy! It's summer, so wrinkles are par for the course, and anyway, that's what open car-windows are for. Feel free to stuff your digs, including the blazer, into one of these convenient carry-alls.

1. Herschel Supply Co. - Novel Duffle Bag $90
2. J. Crew - Fjällräven Classic Kanken Backpack $75
3. Everlane - The Weekender $95