America's greatest asset is our freedom. But after that, it's probably our national parks. Really, is there a more elaborate network of awe-inspiring landscapes in the world?
And even if you visited every one of the country's 20 most popular parks -- or hit one of the 15 most underrated ones -- as a kid on summer vacation, many of them morph into completely different places when the leaves start to turn. To prove it, we rounded up some sweet pictures of 15 national parks in the fall.
Recommended Video
Stay Classy This Winter With a Spiced Pear Tom Collins
Yellowstone National Park
Wyoming, Montana, and Idaho
The Grand Prismatic Spring is your must-hit spot in Yellowstone -- the colors there will blow your mind. After that, take a hike through America' s oldest national park and see Old Faithful.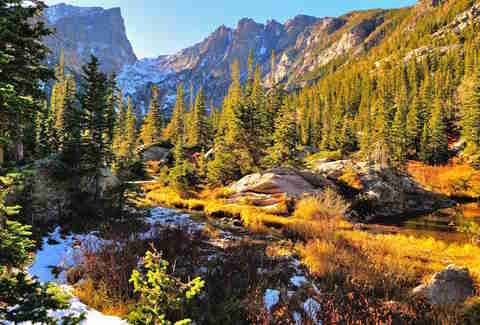 Rocky Mountain National Park
Colorado
If leaf peeping's your thing, then steer clear of the eastern part of the park -- it's mostly arid desert. You'll want to hit the 415-square-mile western section of the Colorado front range, that's where the greenery and colors are gonna be.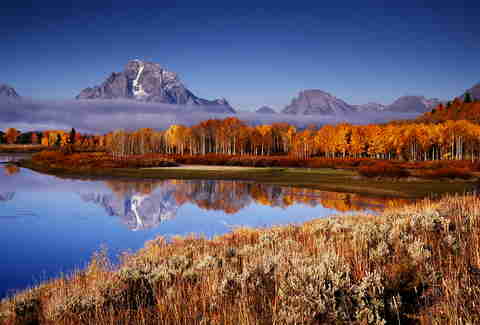 Grand Teton National Park
Wyoming
During a good year with an early snow, you might actually be able to enjoy some Jackson Hole skiing whilst nodding approvingly at the changing leaves.
Glacier National Park
Montana
The glaciers are what you come to see, but let's be honest: they're probably not gonna be there in a few years. But you know what will? Beautiful fall colors. Hike the famous Highline Loop where you might spy some bighorn sheep, mountain goats, or grizzly bears. Or venture up to Cracker Lake to catch some sweet reflections on the water.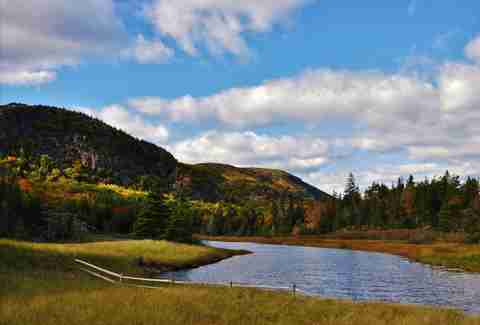 Acadia National Park
Maine
An early-morning hike to the top of Mt. Cadillac not only offers one of the most spectacular sunrises in America but a stunning view of New England's finest colors.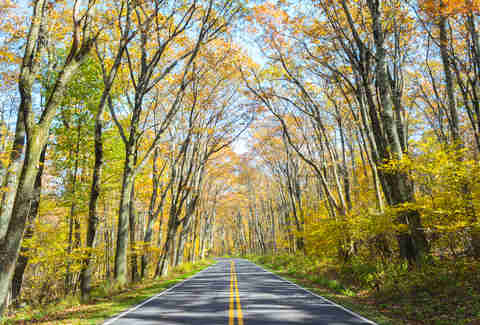 Shenandoah National Park
Virginia
If you love fall foliage, but aren't so much in love with getting out of your car, this is the best national park in America. Hit its famous 105-mile skyline drive and get encapsulated by the colors as you drive under a canopy of red, orange, yellow, and green.
Bering Land Bridge National Preserve
Alaska
This national preserve in western Alaska is where many think our original inhabitants arrived in the Americas. Today, expect to see muskox, caribou, and all sorts of animals you can't find in the Lower 48, all traipsing through the remote landscape.
Badlands National Park
South Dakota
The badlands of South Dakota are the only national park in the country where you can get psychedelic desert colors at sunrise, then awesome fall colors in the afternoon. Drive the arc-shaped road through the park, and you'll also see other-worldy rock formations dotted with bright fall foliage.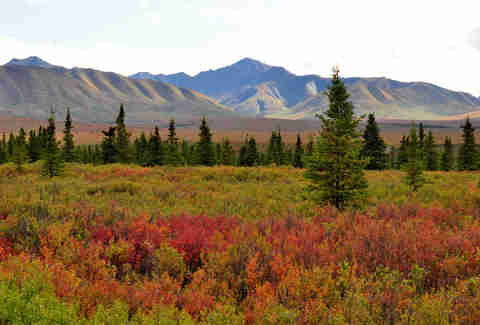 Denali National Park and Preserve
Alaska
The recently renamed mountain serves as a stunning backdrop to the grizzly bears, and moose, and caribou just moping through dense foliage. Oh yeah, you may also see some golden eagles screaming past the golden leaves.
Mount Rainier National Park
Washington
While the snow cap won't be like it's been in years past, a hike through Paradise (the area on the south slope of Rainier) will still have you saying, "Yep, they definitely got the name right." This trail through subalpine wilderness lets you stroll through the Evergreen State's not-so-evergreen trees.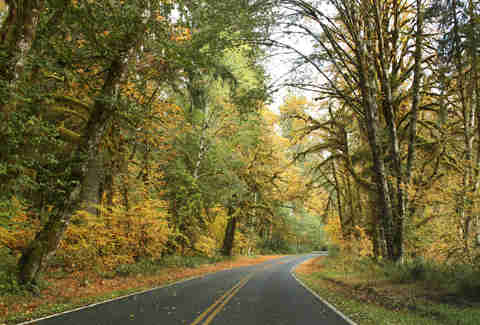 Olympic National Park
Washington
Rainforests aren't typically known for their spectacular autumn colors, but when you're the only temperate rainforest in the contiguous United States, you're in business. And once you're done with said colors, head to the active tide pools to see what kind of marine life is still out when the temps start to drop.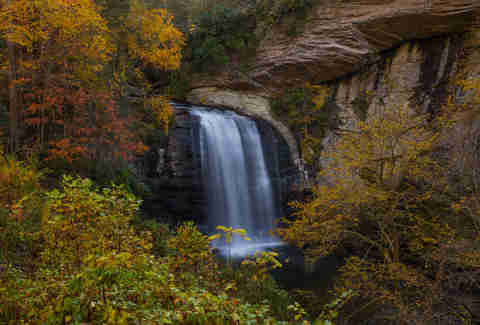 Great Smoky Mountains National Park
Tennessee and North Carolina
The mountains that run through this park aren't as smoky as they are fiery this time of year. The reds, oranges, and yellows cover the hills and brighten the land; a trip to Looking Glass Falls is the best way to see it.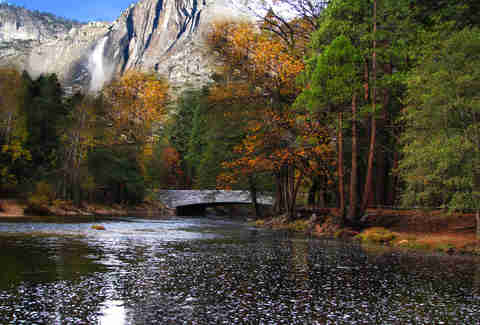 Yosemite National Park
California
Although the intimidating sequoias don't really change color, a hike through California's most popular national park still offers visitors some festive fall sites. The famous Half Dome Trail is the highlight, but even if you can't get a permit, the rest of the park is certainly worth a visit.
Wind Cave National Park
South Dakota
In the lesser-known of western South Dakota's two national parks, you can hike down to a cave where the wind blows out (!) of the entrance. (Due, apparently, to the difference in atmospheric pressure between the cave and the surface.) One of the longest caves in the world, some Native Americans believe their maker was born here. And during the autumn months, the variety of foliage provides a colorful backdrop to the park's native wildlife, which includes bison, elk, pronghorn, mule deer, coyotes, and prairie dogs.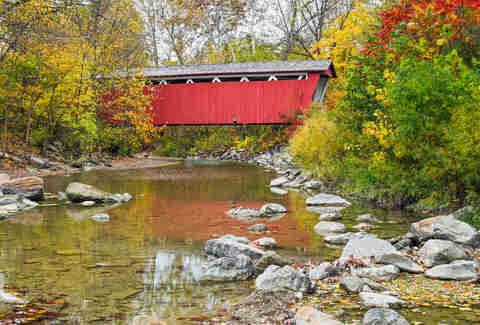 Cuyahoga Valley National Park
Ohio
Say what you will about Ohio, but between college football and the seasonal foliage, it's actually a pretty awesome place to visit during the last few months of the year. And unlike the Browns, the fall colors are tough to beat, at least at this state park where you can hike to the Everett Covered Bridge and count the number of days until the NBA season starts.
Sign up here for our daily Thrillist email, and get your fix of the best in food/drink/fun.
Matt Meltzer is a staff writer with Thrillist. Follow him: @mmeltrez.