Where Are Tinder Users Trying to Get Laid the Most?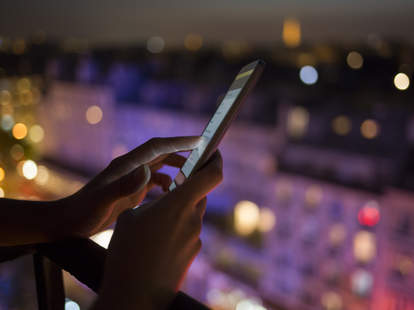 Everybody with a smartphone and the ability to swipe knows Tinder is all about local hookups... but a new feature's taking the dating app global, allowing users to swipe anywhere in the world without leaving the couch. And the friendly folks at Tinder have revealed where everyone's trying to hook up.
According to data provided to Thrillist, Tinder Plus users around the globe are looking for matches in London, England, more than anywhere else in the world in the new "Passport" function. Tinder Passport allows users to swipe in any location they choose, expanding outside the app's previous 100mi radius.
Turns out everyone's trying to get some "bangers and mash" with ladies and gents who speak with saucy British accents. That's a euphemism for sex.
The second most-searched city? Amsterdam. Maybe it has something to do with the Red Light District and the city's notorious reputation. Barcelona takes third place, with plenty of people pining for the Vicky Cristina Barcelona experience.
While Europe dominates the list, with six cities in the top 10, Los Angeles and New York are unsurprisingly the only US cities to rank highly. Though New York shows up twice, because people think it's so nice... and because Tinder's data goes off search terms; users looked for both "New York" and, fearing they'd hit matches in Schenectady, "New York, NY."
But before you relocate to London to speak like Daniel Craig and up your matches, check out the cities Tinder users are attracted to the most...
10. New York, NY
9. Berlin
8. Paris
7. Buenos Aires
6. New York
5. Los Angeles
4. Stockholm
3. Barcelona
2. Amsterdam
1. London
And the top 10 countries where Tinder's used the most:
10. Spain
9. Mexico
8. The Netherlands
7. Germany
6. Australia
5. France
4. Canada
3. Brazil
2. UK
1. US

Chloe Pantazi is an editorial assistant on Thrillist's travel team. Yes, that's a British accent. No, she doesn't watch Doctor Who. Follow her on Twitter at @ChloePantazi.