Rocket Down a Mountain at These Old Olympic Bobsled Tracks
Olympic stadiums are usually doomed to be bastions of waste and purposeless excess, born in a frenzy of investment and dizzyingly erected infrastructure to exist for two weeks in the spotlight before being left to simply decay. But not all former Olympic facilities become ghost towns. A few here and there are repurposed as recreational tourist attractions, and among the most beloved of those are the Olympic bobsled tracks.
You've seen footage of bobsledding. Or at least fondly remember Cool Runnings. You want to do it. Just without all the training and, y'know, imminent danger. Fortunately, no previous experience is required to zoom down these tracks -- you hop in, and someone else steers, and you get up to nearly 80 miles per hour. Essentially, fun times for those of us who like to experience the highest possible level of adrenaline while exerting the least possible effort. You know this speaks to you. There are currently three ex-Olympic bobsled tracks open to you in North America. Let's take a look.
MORE:The world's first human catapult has arrived!
Whiteface Lake Placid
Lake Placid, New York
The 1980 Winter Olympics are probably most famous for all that Miracle on Ice drama, but the legacy of competitive events besides hockey endures in other ways. Here, the Lake Placid Bobsled Experience offers you the opportunity to tuck yourself into a bobsled and speed off down the original Olympic track while the professional driver sitting millimeters in front of your nose handles the actual twists and turns, leaving you free to, if not really sit back or relax, at least enjoy the ride. Aim to make your reservations at least 72 hours in advance. Tickets are $95 for adults and $85 for juniors. Between the rest of the Lake Placid facility and the adjacent Whiteface Mountain, you can also avail yourself of skiing, boarding, ice skating, mountain biking, ziplining, and -- for the bold -- skeleton.
Whistler Sliding Centre
Whistler, British Columbia, Canada
Advertising itself as a ride on the world's fastest sliding track, Whistler's Passenger Bobsleigh Experience hits speeds upwards of 75mph on the track once used for the 2010 Winter Olympics. With your four-person bobsleigh (the correct spelling while we are in Canada) safe in the hands of a professional driver, you can actually experience a few seconds of 4 g-forces -- more than the Space Shuttle experiences during takeoff. The track is available rain or shine through the end of March. Tickets are $189 for ages 19 and up; ages 14-18 ride for 50% off when accompanied by an adult. The nearby Whistler Olympic Park is packed with other Olympic-themed offerings including cross-country skiing and the biathlon (skiing and shooting combined).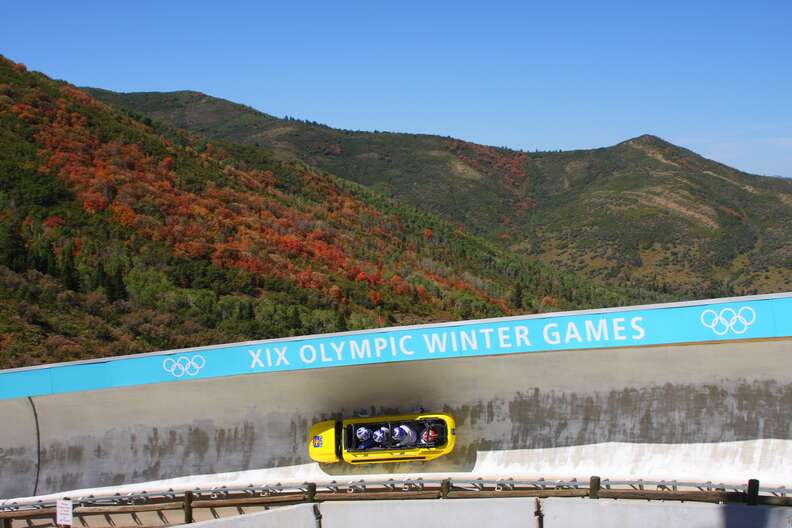 Utah Olympic Park
Park City, Utah
In 2002, the Winter Olympics came to Salt Lake City, and now the track that once saw the bobsled (and skeleton and luge) competition is still getting plenty of mileage as a tourist attraction. Park City's Winter Bobsled Experience sets you up behind an experienced driver to hit up to 4gs and potentially 5gs while requiring nothing more of you than the ability to sit and not embarrass yourself. The track is open through early April, and you'll definitely want to make your reservation in advance. Riders must be at least 16 years old and weigh at least 100lbs. Tickets are $195.