Nature's Only Light Show to Rival the Northern Lights Is Happening Now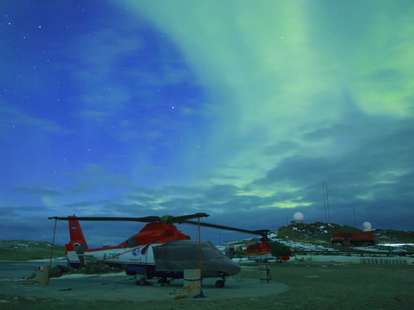 Xinhua News Agency/Getty Images
The northern lights, you know. It was once a far-fetched life goal just to see them -- involving days-long travel to remote, frozen locations -- but they're now as much a part of your vacation options as the Grand Canyon or Disney World. (Muchas gracias, Icelandair and Alaska Airlines.)
Aspiring aurora borealis viewers now rival the number of residents in Iceland -- so maybe you've already seen them or just want to outshine the masses. Why not make this a challenge, you say. Well, the interplay of Earth's atmosphere and outer space has you covered, fam. Enter: the southern lights.
No, they're not a new country-pop band opening for Florida Georgia Line. The southern lights (or aurora australis) are the same electromagnetic phenomenon as the northern lights, but at the South Pole. The world hasn't beaten a path to see them yet because unlike the northern lights -- visible regularly from Alaska, Canada, Russia, Iceland, and occasionally even the lower 48 states -- seeing the southernmost green flashes is really difficult. Only in a remote few places can you reasonably expect to glimpse them, and even then it's not guaranteed. Which is exactly why seeing them is so darned special.
What are the southern lights?
The southern (and northern) lights are magnificent green, red, orange, and pink light displays that result when solar particles collide with gases around the Earth's magnetic poles. Though that patriarch of Pacific exploration, Captain Cook, was the first European to make note of the southern lights in 1773, they'd been the stuff of Oceanian folklore for centuries. New Zealand's Maori people said the lights were bonfires lit by ancestors who'd canoed south and gotten trapped in ice. Native peoples in Australia thought they were dancing gods or bonfires lit by spirits of dead ancestors banished to Kangaroo Island.
Big solar storms can whip up lights that splay far from the bottom of the globe -- that might be as far away as Tasmania and New Zealand, some 3,000 miles from the South Pole. The closer to the pole you are, the better your chances of seeing the lights, so going to Antarctica gives you your best chance. And even though that continent just saw its first Tinder match, it's not exactly teeming with nonstop flights and Airbnbs. Getting there is a days-long journey that you can't make for under five figures. Other places you can see the aurora australis won't involve cashing in your 401(k).
The best destinations to see the southern lights
Stewart Island, New Zealand. Just a short ferry ride from the town of Bluff on the southern tip of New Zealand's South Island, Stewart Island is mostly national park land. So on a clear night, you won't have many lights interfering with your light show. The Maori name for the island is Rakjua -- which means glowing skies -- so consider your odds of a sighting here pretty good. If it's not raining. Which it often is.
Ushuaia, Argentina. Logic would tell you that if this is the world's southernmost city, it would be the best place to see the southern lights. But nothing is guaranteed. The city is actually nearer to the South Pole than Stewart Island or the ice fields in South Georgia Island (another place nearly impossible to reach without dropping a ton of cash). It's in the Patagonia region of Argentina, so in the likely event that the weather doesn't cooperate, there are still plenty of other options for vacation.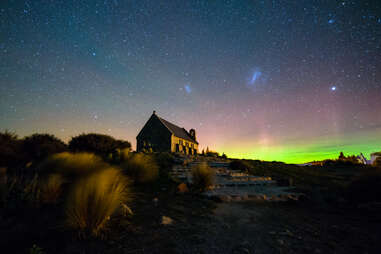 Lake Tekapo, New Zealand. If you're not keen on the a ferry ride over to Stewart Island, this lake in Aoraki Mount Cook National Park lets you get up in the mountains in a dark-sky preserve. It is further north, though, so sightings are less frequent.
The Falkland Islands. These islands east of Argentina aren't quite as far south as Ushuaia, but still offer fantastic vantage points for the southern lights. Though the island is known for its majestic cliffs, penguins, and sea lions, it's also home to a permanent monitoring station for the aurora australis, established in 2010. As a disputed territory it's also a culturally fascinating place to visit, so if the lights aren't shining it's still worth a visit.
Hobart, Tasmania. A long shot to show off southern lights, Tasmania is also the most populated and easily accessible destination. And during large storms, the city has been known to have displays; lights were most recently spotted there in 2015. Again, if you're planning your trip exclusively to see the southern lights, this might not be your best bet. But Hobart is your best all-around tourist destination on this list.
Charter flights. In early 2017 Air New Zealand launched its first-ever charter flight to see the southern lights, departing Dunedin and flying to the Antarctic Circle for a four-hour light show. The price ain't cheap, but nor is it private-jet territory: A coach seat runs $1,200. It took the 134 tickets on the 767 just five days to sell out. Organizers say they'll plan another charter for next year, so stay tuned.
When to go and where to stay
The southern lights mirror their northern counterpart: They shine brightest in winter. In the Southern Hemisphere that means April to September, when some places get only seven hours of daylight. You'll also need clear skies and some solar activity to see a real light show.
While weather is unpredictable, and it's almost impossible to call a solar storm more than a month out, the University of Alaska's Geophysical Institute forecasts auroral activity 28 days out. So if you can travel on short-ish notice, track everything there and book accordingly. It also banks information from past years, though that's never a perfect indication.
Lodging can be a little trickier. You can grab a hotel in places like Stewart Island and the Falkland Islands, but to stretch your budget, look for some kind of vacation rental, be that scouring Airbnb, VRBO, or other sites. TripAdvisor Rentals has an entire page devoted to southern lights rentals, so that might be a good place to start.
Maybe the northern lights are a little easier to see -- and might offer you better odds of catching an actual show. But the rare and difficult southern lights viewing is a far greater travel accomplishment than hopping a discount flight to Reykjavik on a clear night. If the far reaches of the Southern Hemisphere call to you, this summer might be your time to try it out. And maybe get a show that no one else you know has seen.
Sign up here for our daily Thrillist email and subscribe here for our YouTube channel to get your fix of the best in food/drink/fun.
Matt Meltzer is a contributing writer for Thrillist who lives in Miami. Follow him on Instagram @meltrez1.