Legend has it that Captain Richard Barter, the famed Lake Tahoe hermit who lived in a shack on the lake's only island, kept the toes he lost during a boating accident in a box. And upon being asked by visitors what the strange, gray objects were, Captain Dick would simply respond, "Them's my toes."
Perhaps in a tribute to Captain Dick, your best friend just put something else in a box (an engagement ring! Come on, he's not Justin Timberlake), presented it to his special lady, and now, will presumably be living a much-less-hermit-like lifestyle as a result. 
So really, if you think about it like that, what better place to take your boy to celebrate said accomplishment than Captain Dick's final resting place: Lake Tahoe, home to some of the world's best skiing, gambling, and party people ready to help send him off in style.
But where should you go? And where should you ski? And where exactly are these party people? We'll tell you, in our authoritative guide to throwing an epic bachelor party in Lake Tahoe.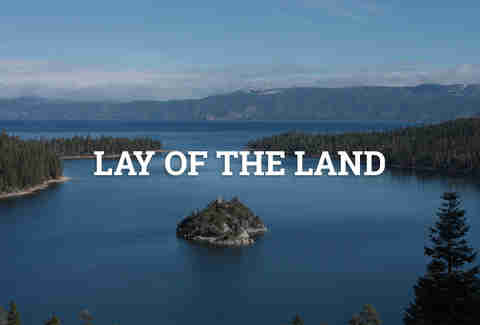 Lay of the land
The first thing you need to know is that Lake Tahoe is the lake, and that lake is surrounded by cities in both California and Nevada.
The South Shore of the lake has South Lake Tahoe on the California side, and Stateline on the Nevada side. You'll know which is which by the massive casinos on the Nevada side of Stateline Avenue.
The North Shore is home to Incline Village and Truckee, as well as resorts at Squaw Valley, Alpine Meadows, and Northstar.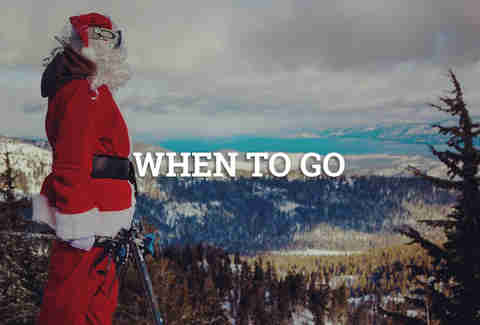 Obviously, this depends on what you want to do when you're not drinking, gambling, and ogling strippers.
If you're looking to ski, the good snow typically doesn't get to town until January but sticks around until late March. December isn't bad but it's still early in the season, so: a) the snow might not be the best; and b) there won't be nearly as many people there to party with.
If you're looking to golf, bike, and hike, expect temps in the 70s and low 80s from June to September, although you'll find good weather for outdoor shenanigans as early as April, and as late as October. The party scene, however, is best in July and August.
... if money is no object and you love to ski: Ritz-Carlton at Northstar
It might look like Hogwarts from the outside, but on the inside, this ski-in/ski-out spot has a massive spa, and one of the best barbecue joints in Tahoe. And, oh yeah, it's the Ritz.
If you're looking to party: Mont Bleau
To help you minimize the possible logistic mishaps that come between "What's your name?" and "Do you have a condom?", this hotel's got not one, but two, big time clubs... right there, on the property! Plus a theater that hosts most of the major bands that come to South Lake. 
If you're looking to gamble: Harrah's
Not only do they have the best casino in town, the club inside, PEEK, is the perfect place for everyone in your party to spend all the money they win.
If you want a condo right next to the gondola: Squaw Valley Resort
Like "roll out of bed, put on your skis, and be on the top of the mountain in five minutes" close. Like "if you forgot your Clif bar in the refrigerator, you can run back and get it" close. There are resorts with parking lots that are further away.
If you've got a big group: Rent a house
Some might tell you this is the best option no matter what, but in a town with more cops than taxis, being close to where you party is important. That said, you can't ignore the economics if you've got a big group, and there's no shortage of rich people with "places" in Tahoe that they rent out for the 355 nights a year they're not there. Check VRBO and Airbnb, just not Craigslist.
If you've got a small group: Rent a condo
Again, you can score beautiful spots in buildings nicer than many of the hotels. And if you don't mind cramming six dudes into a 1BR condo, you'll have a lot more cash to drop on drinks and lift tickets.
...and you want to party on the mountain: Heavenly
It's not one of the world's best party mountains because people finish their runs and go straight back up to the top. The gondola sits right in the heart of South Lake, so any and all party people on the slopes during the day are gonna be here. Hit the East Peak Lodge for a weekly outdoor beach party, then finish your day at Unbuckle at Tamarack, complete with mobile DJ snowcat, drink specials, and the ever-popular Heavenly Angels go-go dancers.
...and you're an expert skier on the South Shore: Kirkwood
Sure, it's 45 minutes down a windy mountain road, but since Vail Resorts owns both this place and Heavenly, there are buses you can hail to get there. If there's fresh powder, it pretty much feels like a bus ride to the North Pole.
...and if you're on the North Shore: Northstar
The entire backside of the mountain is made up of mile-plus groomed black runs. These are pretty much the go-to for expert skiers.
...and want to ski more than one day: Squaw Valley
This 1960 Olympics host has the most diversified collection of runs on the north shore. And there are two resorts: Squaw and Alpine Meadows.
...and you're all about the snowboarding: Depends
On the South Shore, you'll want to hit Sierra at Tahoe, whose terrain park was designed by the guys behind the Winter X Games, SnowPark Technologies. On the North Shore, Northstar is your spot.
...and you've got both experts, and people from Florida: Sierra at Tahoe
Just south of the South Shore, SaT has big, long easy runs (with a bar at the bottom!) for the folks in your group eager to traverse the mountain on their ass, and an entire hill of expert trails that even the best of skiers will find challenging.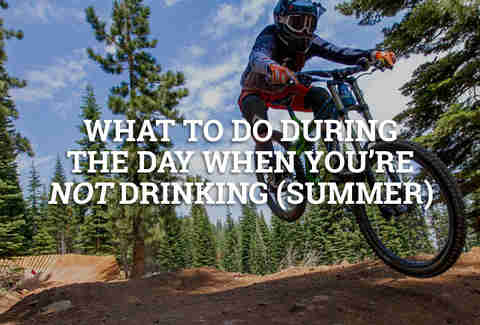 ...and you want to blow your whole budget on golf: Edgewood
Oft mentioned in the same breath as Pebble Beach, Edgewood is one of the nicest courses on the west coast and hosts the American Century Golf Championship. And THAT, my friends, is why greens fees can run you well over $200.
 
...and you want to bike the mountains: Northstar
This private mountain has, hands-down, the best downhill mountain-biking trails in Tahoe AND the largest lift-served bike area in the US. If you want a harder but more scenic ride, the Flume Trail offers the best views of the lake.
 
...and you'd rather see the mountains by foot: Squaw Valley Aerial Tram
Take it up to High Camp, hike the trails/ski runs, and then relax at the pool bar and lagoon.
...and you want to golf AND hike: Incline Village
The course is built into the side of a mountain, so make sure you get in some quality time with the Stairmaster before your trip. Pro tip: The Championship Course is the big fancy name, but the adjacent nine-hole executive course goes up the mountain and it probably more challenging.
 
...and you wanna see the lake from the lake: Rent a boat or jetski
Captain Ron's is the largest purveyor of watercraft and will set you up. Just remember, it's a mountain lake that would freeze if temps got colder. So, what we're saying is... don't fall in.
...and you're on the mountain: Heavenly's Unbuckle at Tamarack
The best daytime party in Tahoe. Period. Home to the Heavenly Angels dancers, where else would we get our cover shot for a story on party mountains?
...and you don't happen to be on THAT mountain: Couple of options
Most of the big resorts have bars chock full of women who came to ski one green run and then party. High Camp at Squaw Valley has a lagoon, hot tub, and waterfalls. 7800' at Kirkwood has a great scene after about 2pm. Even the Sierra Pub and Deli and Sierra at Tahoe get going, especially when there's a live concert outside.
...and you came to party in the summer: Zephyr Cove
It's like spring break in Florida. Except the beach is a lot smaller and the water is 68 degrees. So really nothing like Spring Break in Florida, except people will line the beach playing beer pong, flip cup, and generally doing the things that result from said games on a beach.
...and you want a private party: Rent a yacht
Bleu Wave, Safari Rose, and the Party Boat are your best options. They come fully equipped with staff, bars, food, and a "support beam" that easily doubles as a stripper pole.
...and you want to bar hop on the water: Lake Tahoe Boat Tours
They'll drive you to Tahoe's top waterfront bars, all day long.
 
...and you'd like to drink for free while possibly losing your house: Any of the casinos.
Because nobody ever lost money giving free liquor to gamblers.
For the big, fancy steak dinner: Ciera Steak and Chop House at Mont Bleau
It's the only AAA 4-Diamond restaurant in Lake Tahoe and has a great modern feel. On the North Shore, the Lone Eagle Grill at the Hyatt is on the water and offers a kickass sunset with that steak.
For modern food that'll keep you warm in the winter: 22 Bistro in Squaw Valley
Warm yourself up on the North Shore with a truffled Brussel sprouts fondue, or fuel up for the next day's runs with bison meatloaf and garlic mashed potatoes. Or, find out why the hipster crossed the road with their PBR-beer-can chicken.
 
If you want to eat with locals (or at least people who like to SAY they're locals): Sunnyside
This spot on the west shore is a hangout for people who "have places" in Tahoe. Mostly because the food is SF-quality and they can "be local" without really having to be.
If you want to eat so much nobody gets laid: Forest Buffet at Harrah's
It's like they took the best buffet in Vegas -- loaded with everything from crab legs, to steak, to wood-fired pizza -- and put it on the 18th floor with a gorgeous view of the lake.
If you've got a hankering for southern BBQ on the mountain: Backyard Bar and BBQ
It's at the Ritz-Carlton at Northstar; so yes, it's about the exact opposite of a hole-in-the-wall BBQ joint you'd find in Memphis or KC. But don't hold that against it, the ribs here are as good as you'll find anywhere in California.
If you want that barbecue on the South Shore: 360 Degrees Smokehouse at Sierra 
It's also got, well, a 360-degree view from the top of the chairlift.
If you're trying to grab some pizza: Blue Dog Pizza
Blue Dog's a local favorite, with two spots. Hit the one that's NOT near Heavenly Village and you can get $10 pizzas and $2 beers all day, every day. If you're sticking closer to Heavenly Village, though, hit Basecamp Pizza  Co. It skews gourmet, but it's the best pie in town.
If you're looking to pop bottles: PEEK at Harrah's
It's about as close to South Beach as you're getting in a city where the average high is in the 30s.
If you like a club with an acrobatics show: Mont Bleau's two clubs, Opal and Blu
Which come complete with fire-dancers, scantily clad aerialists, go-go girls, body painting, and DJs. So. Many. DJs.
For local beers: Take your pick
Since Tahoe has more breweries than some states, you've got a few options. Stateline Brewery in Heavenly Village (at the base of the gondola) is the most convenient to the rest of Tahoe's nightlife. The Brewery at Lake Tahoe is probably the most established. And the brand new Coldwater Brewery and Grill is a little bit down highway 50, but worth the drive if you want food.
For tequila: Cabo Wabo
This tourist trap draws a lot of women eager to drink well tequila, but it'll also attracts a bigger crowd in general, and often an hour wait for a table. Just down the street, Azul  Latin Kitchen pours just as many tequilas but with better food, and with tables you can sit at before the tequila makes you forget why you're there.
 
If you're in North Lake Tahoe: These are the best bars
 
If you like dives: Sam's Place
Or, if you prefer dives with live music, Whiskey Dicks.
For burgers, beers  and endless innuendo: Lucky Beaver
They serve those LaFreida burgers 24/7, alongside drinks with names like the Kinky Beaver, the Horni Beaver, and the Justin Beaver. You get the idea.
If late-night calories aren't an issue: Fatburger at Harrah's
Be sure to leave a note in the comments to let us know how you feel in the morning.
If you've got a late-night hankering for schnitzel: Himmel Haus
Where they sling German beers all night and a lengthy menu of pork, spätzle, and goulash until 2am.
For the best food you'll find at 2am: MacDuff's
Known for an inventive menu full of wood-fired, roasted pork pizzas and Moroccan lamb burgers, they pretty much serve 'til they damn well feel like stopping.
Tahoe doesn't have any strip clubs. And while you might think this a bad thing, think again: in-room strippers are everywhere in Tahoe, and typically better value since you can provide your own alcohol, avoid cover charges, and have friends stop you from dropping $800 on lap dances. You can find info for said in-room entertainment in casinos, bars, or, ya know, on the Internet.
If you're in the mood for a drive, though, Reno does have some strip clubs. The selection isn't exactly Portland-esque, but the Wild Orchid is as nice as any large club you'll find and has the hottest girls in Reno. For what that's worth.
Girls from Sacramento. Well, really, any group of women there for a bachelorette party, girls weekend, or just to get away from her usual haunts in Northern California. But if a woman tells you she's from Sacramento, your job just got a whole lot easier. You see, the majority of visitors to Tahoe come from the Bay Area and Sacramento. And while the Bay has a large enough nightlife scene that women can go out and not see the same 40 people, that's not the case in the capital. 
While these ubiquitous groups of ladies aren't hard to find, the absolute BEST place to do so is at the bar next to PEEK at Harrah's. This is the pre- and post-game spot for the nightclub, and a much easier talking environment than inside the actual club.
Drugs
If you're looking for something green, smokable, or edible, there is a medical marijuana dispensary right on the Cal-Neva border in South Lake Tahoe. If you don't know anyone with a medical card, harken back to your high school days of shoulder-tapping outside the local liquor store and offer to throw someone an extra $50 for picking something up. You'd be surprised how many say "yes."
If you'd like something geared more towards an active lifestyle, the guys who run the strippers also run the drugs. So when you call and order your G-strings, insinuate that you might also be looking for some "extended concierge services."
 
Prostitution
Kinda like how not every girl who brings you back to the champagne room will offer you "full services" for a price, neither will an in-room stripper. But they might. However, you do happen to be about 45 minutes from the only place in America where prostitution is legal. So for a 100% guarantee that you can get sex for money, take the short drive towards Carson City and stop at the Bunny Ranch.
Getting your gear
If you're coming to Tahoe to ski, and happen to live in a place where the highest point is a freeway overpass, you'll need to rent some gear. Every resort will do it, but your best bet is to hit up Powder House in South Shore or Tahoe Dave's up north. Best part, if you're planning to ski both sides of the lake on your trip, you can rent from one and return to the other.
Make sure you get a 4WD vehicle
If you're not from a place where it snows much, you have no idea how badly a snow-chain requirement on a highway can ruin your day. It will cost more, but piling your crew in an SUV is the best play.
Plan your evening transportation ahead of time
Since cab service in Tahoe is limited, and by "limited" we mean "a 30 minute wait on weekends if you're lucky," you'll need to budget more time. Or get a limo/car service to take you around. 
Casino ATM fees fall in the $7 range
And since those cabs are in high demand and low supply, they'll probably require cash. Don't be that guy who only carries plastic.
Join the casino's VIP clubs
They don't care if you live in Tampa and won't ever be back. But those clubs will get you serious discounts at their bars, expedited admission to clubs, bonuses on gambling, and all kinds of other perks.
Make sure you buy lift tickets online in advance
Walk-up prices are generally structured to punish people who don't plan ahead. Plus, you can get get a bulk discount if buy online.
Hit up the casinos for a limo
Especially if you joined the casino's VIP club. Many of them will comp you a limo if you're showing up with a big group.

Expected costs We know you're the greatest poker player in history and have figured out a foolproof system to win every spin at roulette. But, on the OFF chance that doesn't work out, remember Tahoe isn't all that cheap. Drinks run about the same as they would at nice bars in larger cities, and restaurants aren't far behind.
Budget about $50-$100 a day for lodging, depending on how cozy you want to get with your buddies. Add another $100 for recreation (lift tickets, mountain bikes, etc.) and $100 for booze. What you budget on strippers, gambling, and other extras is up to you.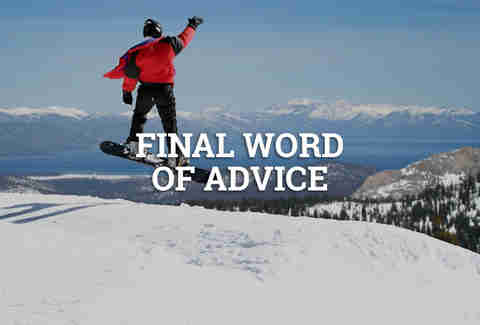 While the partying in Tahoe is some of the best in the country, don't forget the lake is why people are here. So even if you plan to spend the whole trip in a three-day haze, spend as much of that haze as you can outside. And if you gamble, do your bachelor buddy a favor -- get him something nice with the winnings. He's gonna need it where he's going.