Where to Spend a Long Weekend in the Southeast This Spring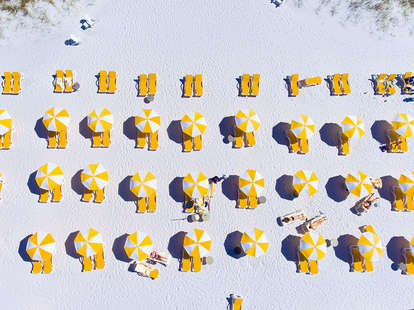 Visit St. Pete Clearwater
Fall may be a popular pick for best season in most parts of the country, but here in the southeastern US, we'd venture to say it's spring. (First, because the weather is perfect, and second, because all the snowbirds have returned up north, where they belong.) As temperatures once again heat up, maybe your body is starting to crave some fun in the sand and surf. Or perhaps you're looking for a more active getaway before the weather gets too humid to want to be outdoors. In either case, if you're plotting a long weekend away this spring, look no further than one of these coastal towns (plus one high-flying destination).
WHEN YOU CAN'T DECIDE BETWEEN CITY OR BEACH
St. Petersburg, Florida
This sleepy-town-turned-coastal hotspot has everything, including two cities in one. On one side, you have downtown St. Petersburg, where you'll find a bevy of art galleries, the Salvador Dali Museum & the Chihuly Collection at the Morean Arts Center, boutique shops, weekly farmers & indie markets, and a solid dining scene (don't miss The Avenue for burgers and local bands and Southern-Italian fusion at Noble Crust). The nightlife scene is also top-notch: The rooftop bar at The Birchwood hotel, The Canopy, is a popular spot to grab drinks as soon as the sun starts to go down, and if you're into craft beer, there's an entire St. Pete/Clearwater Craft Beer Trail including 14 breweries in town.
Head to the other side of the city to St. Pete Beach, and you're in another world, which is even more laid-back. Spend your weekend days tanning on the sand, paddle boarding, surfing, jet skiing, and hopping around the area's popular beach bar scene. Wander over to Clearwater Beach (45 minutes away) for the annual Pier 60 Sugar Sand Festival (through April 28), where sand artists bring 1,000 tons of sand to life in a 21,000-square-foot walk-through display surrounded by street performers, live music, and more.
Where to stay: If you want a home base near the sand, snag a bed at Treasure Bay Resort & Marina, just north of St. Pete Beach, where the rooms are big and run around $200 a night. If downtown St. Pete is more your style, The Birchwood (from $345 a night) has a throwback 1920s-style and houses Birch & Vine restaurant and its impressive 475-bottle wine collection.
HISTORIC CHARM AS PRETTY AS THE SEASON
Charleston, South Carolina
Step back in time in "The Holy City," where the first shots of the Civil War were fired and 18th-century cemeteries, cannons, and horse-drawn carriages are a regular sighting. Perfect for spring, charming Charleston is filled with pastel-colored buildings that match the hues of the season. And as laid-back as it is, life in the Low Country is rich with culture: A steeple-rich skyline, store-lined cobblestone streets, secret gardens, pre-Civil War plantations, James Beard Award-winning restaurants, elegant mansions, yachting & water activities (Charleston is on the coast, after all), rooftop bars, and magnolias blooming everywhere you turn.
It's a very pedestrian-friendly city, too, so do yourself a favor and explore it on foot. Spend your days shopping on King Street; seeing historic sites like Charleston City Market, The Battery, and Fort Sumter; and eating all the Southern-comfort food that's made Charleston a hugely popular destination. For the good stuff, get pancakes at Early Bird Diner, fried green tomatoes at Poogan's Porch, oysters at The Ordinary, upscale Southern cuisine at the award-winning FIG, and drinks at the Art Deco-inspired Élevé. During spring, don't miss one of Charleston's most popular annual events, the Piccolo Spoleto Festival (May 24 to June 9). An ode to the city's thriving arts community, the festival offers over two weeks of classical music, jazz, dance, and theater performances; art exhibits; poetry readings; film screenings; craft shows; and more.
Where to stay: Sleep just steps from King Street at the Charleston Marriott, with weekend rooms starting around $270 a night. Since hotels in Charleston can go for a premium price, don't forget to check Airbnb, too.
FOR A CHILL, WEST-COAST VIBE
Naples, Florida
West Coast Florida is truly something special. The water is calmer and more turquoise. The sunsets are more vibrant. The setting, from its downtown areas to its beaches, is decidedly more serene. And when you need a long weekend break from busy city living, there's no better escape than Naples, located just a two-hour drive from Miami between the Everglades and the Gulf of Mexico. Spend your days shopping on posh Fifth Avenue South, golfing, popping into art galleries, exploring the 44-acre Naples Zoo or 170-acre Naples Botanical Garden, tanning, or stand-up paddleboarding at the beach -- and at the end of the day, head to Naples Pier to watch the sunset. A swanky city like this wouldn't be complete without a solid restaurant scene, so grab breakfast at Blueberry's (it has 11 different kinds of pancakes), enjoy a toes-in-the-sand dinner at Baleen (at La Playa Beach & Golf Resort), get Italian eats at Campiello (notably open until 11pm on weekends), or feast on modern American classics at The Continental.
Where to stay: Unlike the $300/night hotels right in downtown Naples, The Cove Inn is a local gem. Within walking distance to popular Fifth Avenue South, rooms here start around $100 a night, and you can't leave without trying the famous pancakes at their no-frills breakfast joint, The Coffee Shoppe.
A POETICALLY SCENIC ISLAND RETREAT
St. Simons Island, Georgia
The Golden Isles are calling! In this relaxing vacation destination, sunny streets are lined with early 20th-century buildings that, over time, have turned into seafood restaurants, bars, antique shops, and art galleries; while outdoor activities like swimming, water sports, hiking, fishing, golfing, horseback riding, and biking keep adventurers entertained. The beach might be the main draw, but golfing is extremely popular on St. Simon's Island -- in fact, you'll find nearly 200 holes among St. Simons, the three neighboring islands, and the mainland town of Brunswick. If golfing isn't for you, try playing foot golf at Sea Palms Resort, which is much like actual golf but involves kicking a soccer ball into buckets instead of hitting golf balls with clubs. The food scene is extensive, too: Even though it's just 17 square miles in size, St. Simons Island is packed with more than 50 restaurants. To try some of the best, go to Southern Soul Barbeque for slow-cooked meats, The Crab Trap for fried shrimp and battered fries, and Echo for the good wine list and a post-drinks walk on the beach (it's the only oceanfront restaurant on the island).
To add a little education to your adventuring, tour some of St. Simons' historical sites. Learn about the cultural contributions of the former plantation island's African-American community on a history tour, seek out the island's "tree spirits" and the Marshes of Glynn (immortalized by poet Sidney Lanier), visit the Bloody Marsh Battle Site & Fort Frederica National Monument, and get the best view of the island atop the 1872-built St. Simons Lighthouse.
Where to stay: Snag a room at St. Simons Inn by the Lighthouse for less than $200 a night, which A) lets you bring your dog, and B) puts you steps away from the lighthouse, the beach, downtown, and the pier.
A FAMILY-FRIENDLY AERIAL ADVENTURE
Huntsville, Alabama
When most people think of Huntsville, they immediately think of the U.S. Space & Rocket Center -- which makes sense, as the city is pretty much the birthplace of our nation's space program. But this Southern destination 3.5 hours from Atlanta has so much more to offer than a glimpse into outer space. If you're a history buff, see where the state's constitution was written in 1819 at Alabama Constitution Hall Historic Park (expected to reopen June 1), walk through the Huntsville Historic Depot (which was used as a prison during the Civil War), or visit the beautiful Maple Hill Cemetery, where local governors, senators, and Confederate soldiers are all buried.

If you like spring scenery, Huntsville has plenty of picturesque spots to stroll through, like the Huntsville Botanical Garden, which contains the nation's largest open-air butterfly house. Or get active at the 500-acre Point Mallard Park in nearby Decatur, featuring a waterpark (opening for the season on May 25), a golf course, an ice complex with ice skating and curling, batting cages, a camp ground, an amphitheatre, biking and walking trails, and more. Continue the outdoor adventures at Monte Sano State Park, where there are 22 miles of hiking and biking trails, or shop for art by local makers at Lowe Mill ARTS & Entertainment. The 171,000-square-foot textile-mill-turned-arts-complex has 148 working studios, six fine art galleries, and all the vinyl you could want at Vertical House Records. All that sightseeing making you hungry? Stop by Taqueria El Cazador's taco truck on Governors Drive, serving authentic Mexican food out of -- wait for it -- a school bus.
Memorial Day Weekend is a particularly good time to plan a visit, when you can view the 42nd annual Alabama Jubilee Hot Air Balloon Classic. This free event (May 25-26) has food vendors, live music, an arts & crafts festival, activities for kids, an antique car & tractor show, and most importantly, races among 60 hot air balloons at Point Mallard Park. Though if you want to be there for the competition, you'll have to show up early -- the balloons start flying around 6am.
Where to stay:The Westin Huntsville, just a few miles from the Space Center, where a room that sleeps up to three guests runs around $180 per night.