A guide to the city's best digs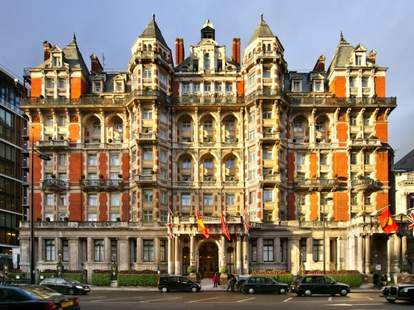 Knowing where to stay in the Capital before making your leap across the pond is probably a wise decision. Knowing where to stay in the Capital because you read our top nine hotel picks is definitely a wise decision. Show everyone how wise you are by checking out our picks below
The Zetter86-88 Clerkenwell Road; 0207 324 4444Neatly connecting East & Central London, Clerkenwell's award-magnet The Zetter has 59 individually curated rooms that orbit around both a lauded resto & a bar from a World's Best Bartender winner.Read the full review...
The Mandarin Oriental66 Knightsbridge; 0207 235 2000Slapped right in the heart of West London, and backing onto the vast Hyde park, Mandarin's palatial building houses 170+ rooms and over 25 suites. Oh, and two of the world's best restaurants. Read the full review...
Beautiful HouseboatTideway Walk; Email for reservationsThis pretty unique floating property is moored right in central London, across the bank from Victoria, making it walking/swimming distance to Big Ben, Houses of Parliament, the London Eye, and Buckingham Palace.Read the full review...
St John Hotel1 Leicester Street; 0203 301 8020What do you do if you run a pioneering, consistent "World's Top 50" resto in East London? Apparently, you open a second branch just off Leicester Square and put a hotel above it, that's what.Read the full review...
MyHotel Bloomsbury11-13 Bayley Street; 0203 004 6000Located on the south side of Bloomsbury, and therefore pretty much dead in the centre of London, MyHotel's reasonably priced minimalism is offset by the fact that it has a pair of also super-reasonable-yet-huge penthouse apartments. Read the full review...
The Sanderson50 Berners Street; 0207 300 1400Somehow managing to be right in the heart of central London yet also on a totally quiet street, Sanderson conceals its five stars behind a cool steel & glass frontage of '50s futurism, which is only the start of its eccentricities. Read the full review...
Rough Luxe1 Birkenhead Street; 0207 837 5338Nestled on a quiet corner of the Central London transportion hub known as Kings Cross (you can literally jump on a train and be in Soho in a couple of minutes, or Paris in a couple of hours), RL's boutique feels like you're staying in a film set where faded glamour meets slick modernity. Read the full review...
The Fox & Anchor 115 Charterhouse Street; 0207 250 1300A stone's from both Central & East London, Fox is a truly old-school inn (a pub + rooms = an inn), whose rooms are just as affordable -- and as awesome -- as their beer.Read the full review...
The Hoxton Hotel81 Great Eastern Street; 0207 550 1000Probably the cheapest hotel in central London, yet also cool as hell, Hoxton's smack in the middle of totally-happening Shoreditch, and sells its rooms from just £1 for two months every summer, and then for as little as < $80 thereafter.Read the full review...