A guide to the city's best digs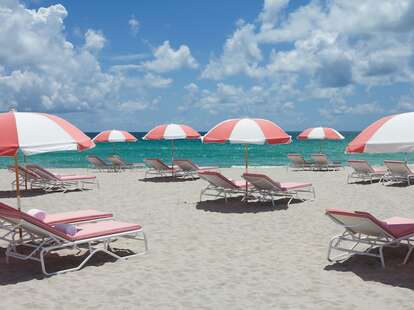 Because it's about time someone took back Miami from Kourtney and Khloé, head to the Sunshine State's most bustling city and enjoy activities such as, but not limited to: lounging on the beach, lounging by the pool, and lounging in your room while gazing out at the beach and the pool. As to that last one, be sure to do it in style by consulting this hand-selected list of the top hotels
Villa DelanoE San Marino Dr; Email for reservationsBecause every word of Will Smith's "Miami" video is entirely accurate, you need to round up a ton of friends and temporarily take up residence/blast that song in this gorgeous, 13000sqft waterfront mansion just minutes from South Beach.Read the full review...
The Angler's Boutique Resort660 Washington Ave; 305.534.9600The Angler's is a boutique resort that, along with being a former haunt of Ernest Hemingway's, pairs rustic accents like bamboo floors & sprawling gardens with marble bathrooms & private rooftop terraces sporting hot tubs.Read the full review...
Viceroy Miami485 Brickell Ave; 305.503.4400Literally positioned at the gateway to the bustling Brickell neighborhood -- and bordered by the historic Miami Circle -- Viceroy Miami definitely thinks bigger is better.Read the full review...
W South Beach2201 Collins Ave; 305.938.3000Since a W in front of hotel is pretty much the equivalent of Dr. in front of a name, it's not surprising that the W South Beach brings it with a mecca of ridiculous suites, eateries, and a whole lot more.Read the full review...
The James Royal Palm Hotel1545 Collins Ave; 305.604.5700Following a massive $42 million facelift that resulted in considerably glammed-up decor, The James, (located a stones throw away from Ocean Dr), still manages to maintain its original 1939 charm via a plethora of nostalgic relics.Read the full review...
The Gale South Beach1690 Collins Ave; 305.673.0199Bordered by attractions like Lincoln Rd, The Fillmore, and the New World Symphony building (not to mention one of the biggest Deco Bike stands!), The Gale provides easy access to Ocean Dr and Miami proper.Read the full review...
The Standard Miami Beach40 Island Ave; 305.673.1717Tucked just off the Venetian Causeway, and literally dead-ending into one of the best panoramic views of Miami, The Standard's relaxing effect is so strong, you'll almost forget about the fact that their activities include Drunk Bingo. Almost.Read the full review...
The Raleigh1775 Collins Ave; 305.534.6300One of the original hotels built during the crazy '40s "Boom Over Miami" period (3k hotel rooms in two years, son!), The Raleigh combines pre-war decor with a buttload of tropical foliage right on the beach.Read the full review...
SLS Hotel South Beach1701 Collins Ave; 305.674.1701Located smack dab in the heart of Collins Ave and boasting just about everything (Lenny Kravitz suites, multiple pools, etc...), SLS is a sexy oasis for those looking to be at the center of all the South Beach action. Read the full review...