A guide to the city's best digs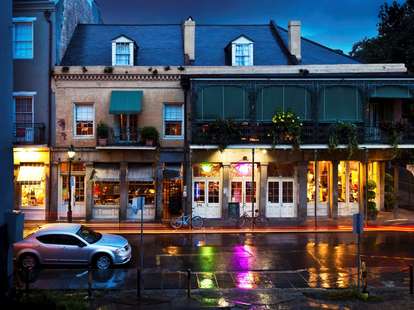 Because New Orleans has more hotels than to-go cups, we took the time to narrow your options down to the city's best. The result? Eight bars with upstairs bedrooms where it's perfectly acceptable to fall asleep before, during, and after last call.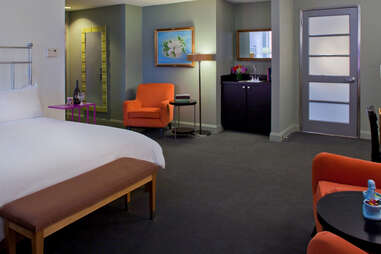 Hotel Modern
Just south of the French Quarter, the Hotel Modern's a 10-story makeover of the old Lee Circle YMCA stacked with everything young men associate with New Orleans, like complimentary check-in cocktails and 135 vintagely-appointed rooms all furnished with pillow-topped mattresses made for crashing after your crawl back across Canal St. You can also take the party downstairs at the farm-to-table Tivoli & Lee manned by an ex-Oak chef, and patio-ed boozery Bellocq, where pre-Prohibition cobblers and punch are slung by the guys behind NOLA's nationally acclaimed Cure bar.
Hotel Monteleone
The 50-suite Hotel Monteleone's a 19th-century Royal St landmark and current Tales of the Cocktail HQ occupies the French Quarter's only highrise. The suites are capped with a 24hr fitness center, spa, and heated rooftop pool, and night-capped by the haunted lobby's historic revolving Carousel Bar, itself once haunted by a then very-much-alive Ernest Hemingway.
W French Quarter
Even in the face of beads the W Hotels' French Quarter outpost keeps its, uh, charms hidden, tucking a courtyard lobby, contemporary creole eatery SoBou, and tree-shadowed pool all underneath beneath five stories of fully-renovated, jazz-themed rooms, including top-floor jacuzzi tub suites with private street-facing balconies in case you don't want to keep your own charms hidden.
International House
This century-old, 12-story Beaux Arts building served as the nation's first World Trade Center before receiving a bohemian makeover from a celebrity interior designer so effective, he might be responsible for Nicolas Cage being able to live with himself. If you want to save face, crash in one of the blacked-out Rock Star rooms, ideal for sleeping in after a late night at the voodoo-inspired Loa lobby bar.
Loft 523
Experience New York living behind a residential NOLA facade in one of Loft 523's 18, SoHo-style loft apartments equipped with window-lighted Italian spa tubs, glass ceiling fans, and Herman Miller desks. Need more privacy? Opt for one of two garden-terraced penthouse apartments. Need less? Call on your own personal concierge 24/7.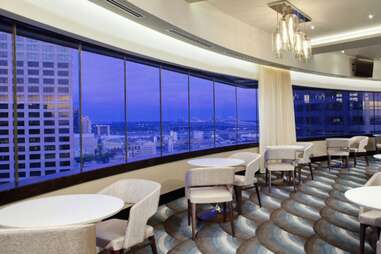 Hyatt Regency
Glimpse soaring views of the Superdome and Champions Square from the penthouse club floor of the Warehouse District's Hyatt Regency, or watch any of the 40+ flatscreens at downstairs Vitascope Hall, a raw & cocktail bar where all the entertainment can be dictated using a downloadable app.
The Roosevelt
Former Louisiana governor Huey P Long subsisted on the Sazerac Bar's Ramos Gin Fizz while living atop the block-wide Roosevelt, but escape one of the historic property's 125 luxury suites and you can also rule more modern amenities like the hotel's Guerlain spa, a dusk-lighted pool, and celebrity chef John Besh's Domenica pizzeria, known for dishing out the city's happiest hour in food form.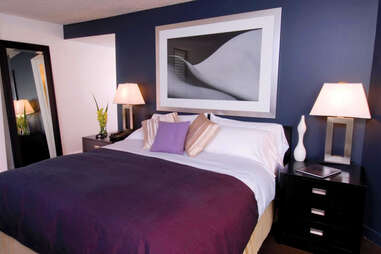 W New Orleans
Once the W French Quarter's straight-laced sister property, Downtown's W New Orleans now hosts an adults-only weekend pool party on its cabana-lined rooftop, where you're sure to be distracted from the French Quarter and Warehouse District views. And while 410 state-of-the-art rentables fill up 23 stories, it's Rande Gerber's Whiskey Blue lobby bar that'll be your most frequented room in the house.