A guide to the city's best digs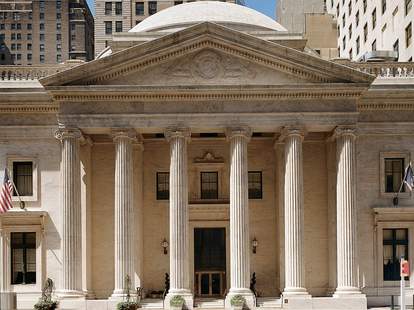 As the original home of cheesesteaks and the Fresh Prince, Philly has a lot to offer. And because gorging yourself on said cheesesteaks is likely to have your friends saying smell ya later, you're gonna need some place to crash. So check out our list of the city's top hotels, where the only Carlton is fronted by a Ritz
Coca-Cola House433 Spruce St; 305.310.0446A one-block walk from Independence Hall in Society Hill, Coca-Cola House's a brick-turreted, three-story rental that owes its existence to your dependence on not-Pepsi. Built for the owner of Coca-Cola, the house has soda-bubbled front windows which obscure an interior filled with modern amenities, a private English garden, and skywalks that'll keep you up naturally.Read the full review...
The Independent1234 Locust St; 215.772.1440Listed on the National Register of Historic Places, the boutique Independent book-ends Midtown Village's Restaurant Row, and's housed in a fully-restored Georgian Revival boasting 24 apartment-style rooms, though they're furnished more like Jerry's place.Read the full review...
Rittenhouse 17151715 Rittenhouse Square; 215.546.6500Disguised as a private residence on a tree-lined block off the square, Rittenhouse 1715's a 23-room Center City rowhouse that can be entirely taken over as a temporary residence, guaranteeing you'll have complimentary lavish morning breakfasts all to yourself.Read the full review...
Sofitel120 S 17th St; 215.569.8300Because sometimes you just want to crash in a place that surrounds you with French accents but isn't a hostel, check into Center City's Sofitel Philadelphia, where the restaurant's a brasserie, the cured meat's charcuterie, and the Evian's complimentary.Read the full review...
The Four Seasons1 Logan Square; 215.963.1500At the opposite end of Museum Mile's Rocky Steps, downtown Philly's Four Seasons will soak you in the old-school luxury of waterfall views, heated pools, and post-sauna spritzes, whether you just ran like the champ or pulled up in a complimentary town car like a real winner. Read the full review...
Hotel Monaco + Red Owl Tavern + Stratus Lounge433 Chestnut St; 215.925.2111From the same dudes behind Hotel Palomar in Center City, Hotel Monaco's an 11-story sleeper located near Independence Mall and sandwiched between two manly must-visits: a ground-floor, all-beef tavern from a James Beard-ed chef, and the city's largest rooftop lounge, which's either the perfect place to case the Liberty Bell, or the perfect place to drink 60 whiskeys in front of a 30ft fireplace, or the perfect place to drink 60 whiskeys in front of a 30ft fireplace and THEN case the Liberty Bell.Read the full review...
Le Meridien Philadelphia1421 Arch St; 215.422.8200Centrally located opposite City Hall and Love Park, Le Meridien Philadelphia's a former YMCA that now resembles a 10-story Georgian revival no one would ever mistake for a YMCA, thanks to a sky-lit atrium, a French bistro equipped with iPad menus, and a gym w/ individual flatscreens mounted on every machine.Read the full review...
Ritz-Carlton Philadelphia10 Avenue of the Arts; 215.523.8000Rising like an enormous Roman temple on Avenue of the Arts, this former bank building is now a prayer-answering Ritz-Carlton loaded with private-elevator-accessed suites, a day spa & 24hr fitness center, and a club floor where dedicated concierges can help you hail more than a late-night Caesar.Read the full review...
Hotel Palomar117 S 17th St; 215.563.5006Satisfying your need for sustainability and design, LEED-certified Hotel Palomar fleshed out 25 floors of the modern deco Architects' Building with a two-story international restaurant & bar, free happy hours, and bathrooms stocked with leopard robes and massive soaking tubs you'll want to hit up before heading around the corner to Federal Donuts.Read the full review...