The Artsy, Punk-Rock Appalachian Nook That Deserves a Road Trip
Whitesburg, Kentucky will surprise you.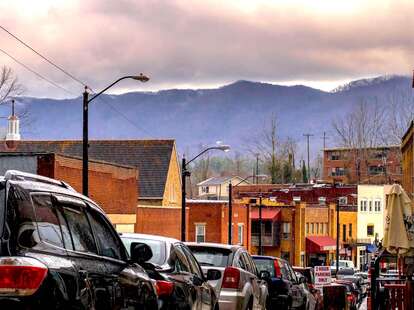 Fasten your seatbelt and adjust your mirrors—this is Rerouting, your one-stop-shop for mapping out the ultimate summer road trip, no matter what gets your engine going. Cruise over to the rest of our coverage for pit stops at offbeat roadside attractions, sweeping desert panoramas, epic mountaintop vistas, oceanfront oyster bars, dynamic public art, and so much more.
I first arrived in Whitesburg, Kentucky in the middle of a downpour. Flash storms are common in these parts, where a sunny day splits in half and blasts the town with sheets of rain. I stopped and ducked into the first store I saw open: Roundabout Music Company.
Inside, synth-flavored electronica oozed through the speakers. Arranged on three tables was a collection of vinyl and CDs to satisfy every want: NWA next to Johnny Cash next to Grimes next to Sturgill Simpson. In the corner stood a mixture of instruments -- your standard banjo, guitar, and fiddle, of course, alongside what looked like warped pumpkin-shaped lutes. I later learned they're called dulcimers, instruments indigenous to the Appalachian Mountains.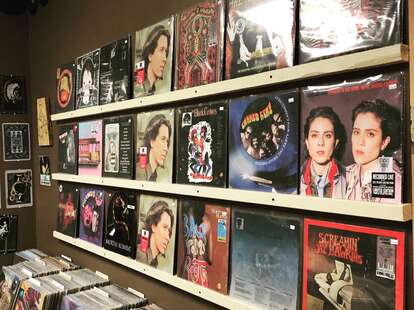 A record store as eclectic as Roundabout was the last thing I expected to find in Whitesburg, a town of just 2,215 souls on the eastern edge of Kentucky's coalfields. These coalfields stretch across the Appalachian Mountains, two hours' drive east from Lexington, through winding roads that dip and rise so dramatically your ears pop.
I came here for a month-long research trip. My preparations had filled my mind with stereotypes—well-meaning friends had warned me of a place reeking with hardship, simmering with hostile racial and political prejudices.
But these hoary clichés fell apart once I actually arrived and drove around eastern Kentucky for a few weeks. Appalachia absolutely has its quirks, but it will also blow up your stereotypes if you let it. A night of folk music can transform into a night sticking dollar bills into a drag queen's G-string. Hollowed-out mountains stand beside sweating forests thick with trees. People welcome you onto their porch to sip moonshine, and make other brands of homemade fun you're not likely to find unless you go.
An underground punk scene built into the mountains
At first, places like Whitesburg can feel like outliers—hipster hiccups from the belly of coal country, even three hours north of Asheville, North Carolina. But in fact much of east Kentucky's counter-culture comes from the mountains themselves, and from the need to make do in a place that, though hardly remote, remains deeply isolated.
Ben Spangler started Roundabout Music Company in 2014, when he and a group of friends decided it was about time they had a record store. Underground music was always a mainstay of the hills. "East Kentucky has always had a pretty strong punk scene," he said. "When we were kids, there was nothing to do. So we just did stuff ourselves."
Whitesburg is something of a gathering point for this kind of DIY attitude. In the coalfields it's known as the progressive arts-and-culture capital—a tiny bluegrass Berlin. This has much to do with Appalshop, the local media and arts center first developed in 1969 as part of Lyndon Johnson's War on Poverty. Walking through Appalshop's cavernous two-story wooden building even today feels like exploring a media start-up—it houses a radio station, a theatre space and production studio, and regularly hosts movie nights and live music shows.
"Younger people want to stay in the region and they're kind of looking for places with things going on and other young people," Mimi Pickering, director of Appalshop, told me. "In some ways Whitesburg's a bit of a magnet for that."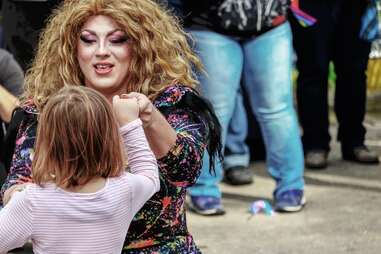 Country music and drag shows: A night made in Appalachia
The town makes good on this creative energy. Take my second night there. I made my way to Heritage Kitchen, a local food and drink joint down the road from the record store. Inside I found a scene from a Coen brothers film. The place was packed with people of all ages, and I had to squeeze through to find a table. Two men, all clipped beards and flannel shirts, took the stage with fiddles and washboards and played a beautiful set of the quintessential folk music Appalachia is known for. Dolly Parton featured three times.
As the music wound down, people clamored to the register to get fives and tens changed to $1 bills. The audience filed out of the building in unison, clustering to get into the next-door venue, Summit City Lounge. I asked one of the guys outside what was going on. He replied: "Oh, you should come. It's a drag show!" The space has reinvented itself in the time since; now it's a rock venue with sports on the side (and fried pickles).
But that night, I saw Luci, with a perfect cranberry pout, do a high-kick on stage. Sya twerked. And Priscilla, dressed as a cop, ripped off her vest to reveal creamy fake rubber breasts. All the while, we in the audience were slinging dollar bills as the performers as they paraded past. My favorite moment was when Luci, in her bustier and slinky tights, took the mic and with a thick Kentucky drawl welcomed us to "Waaaatsberrrg."
People here love the mountains. Even those that have disappeared.
As the mountains quarantine a bright star like Whitesburg, they also provide it with a remarkable backdrop. Snaking my tiny rental car between Appalachia's towns brought me face-to-face with the region's dizzying beauty. You really can't exaggerate it. Feathery clouds weave their way through hilltops. Green canopies sag toward narrow roads. And every so often the landscape opens up to a vaulted view of Appalachia's infinite roll of mountains.
Tim Belcher and Steve Ruth of Elkhorn City, an hour northeast of Whitesburg, see this natural bounty as eastern Kentucky's greatest attraction. There are ecotourism opportunities in the area, mostly to lure thrill-seekers to tour what they say are the best white waters in the eastern half of the United States. Amid these hills honeycombed by coal extraction, trying to build a business on preserving Kentucky's water systems feels like a radical venture.
Ruth, whose mom was a coal miner, knows the struggle of this pitch. "If what you've got to sell is nature, when your whole life, your whole job, everything depends on destroying nature, you're probably on the wrong side of things," he told me, erupting into wild laughter.
But Elkhorn City is lucky: It does have a pristine landscape to offer. Other towns can't say the same. Their mountains have been razed in a drastic coal mining practice called mountain top removal. At certain heights, you can see the grey pits of former mountains that have been decapitated and gutted for their minerals. The practice has all but ceased in eastern Kentucky, but the scars are severe.
If nothing else, these flat, dry surfaces of former mining sites are good for one thing: Razor driving. These four-wheeled vehicles look like a souped-up golf buggy, and at first I didn't understand why everyone insisted I get in one. That was before a local coal miner's son named Paul took me for a spin —we cut through the graveled surface of an abandoned mine with such a speed that the wind kicked up mud and stones high into the air. It was at once exhilarating, terrifying, and probably habit-forming.
Yes, people are struggling. But the locals know how to have fun.
Much has been said about poverty-stricken Appalachia, recently hit anew by the coal industry's decline. Even a quick drive through some towns can be unnerving; eerie abandoned shops and homes, all boarded-up and toothless, stare back at you, urging you to press down the gas just a bit harder. In Cumberland, a town in Kentucky's southeast, I saw a central building had collapsed in on itself like a jack-o'-lantern left on a porch till Thanksgiving.
But this doesn't mean life itself has ground to a halt. My local guide there, Kathy Hoiska, and I spent hours in her truck going bear-spotting. Equipped with a giant mango-and-pineapple flavored snow cone she bought from a local stall, Kathy explained that she and her friends would often spend the days like this—driving through the forests looking for bears.
At about 10pm one evening, when the sun had set and we crossed off any hopes of finding a bear, Kathy invited me to partake in an even more renowned local tradition: moonshining. She got out several mason jars filled with colorful liquid. The most potent of the lot looked as clear and colorless as water. I took a tiny sip that left me sputtering. "Warmed with a bit of honey and lemon, it's perfect for a cold," Kathy said. I think it would be better to run a lawnmower on.
So much of my experience here depended on the people I met—I can only assume your trip would likewise turn on little fated twists, the right conversation at the right moment, a tip from a warm stranger. But I suspect as well you'd leave with some of the impressions about the region as a whole. "The mountain air gets stuck in your bones," a woman who had recently returned to eastern Kentucky after several years working in Louisville. "After a while, you've just got to come back."
As I'm driving back to Lexington from Whitesburg, I'm met with another downpour—one that's so strong that I have to pull over. As I sit in my car waiting at a Family Dollar store parking lot, I look back across the looming Appalachians, now bearded in fog. Eastern Kentucky might be shrouded in myth and stereotypes, but it makes piercing through the veneer all the more satisfying.