Paid Content For
Bermuda Tourism
Why Bermuda Is the Best Place to Head on Summer Fridays
Paid Content For
Bermuda Tourism
Bermuda Tourism Authority
When it comes to long weekends, the Hamptons are fancy and Nantucket is nice -- but when East Coasters have the option of flying to balmy Bermuda in two hours or less, why spend valuable time stuck on Route 27? Beyond the fact that paradise really is that close, here are 10 more reasons you should bypass the asphalt and head straight to the pink sand.
1. Hit up this picturesque happy hour spot
The first leg of any Summer Friday weekend is happy hour. Instead of hitting the same old bar for the same old beers, start yours with a Dark 'n Stormy at The Reefs Lounge and Terrance. Nestled in this luxury resort overlooking the water, the Lounge features happy hours on Friday and Saturday evenings. You can also head down to The Reefs' gorgeous beach and check out the Sandbar nestled into the cliffs. Be sure to stick around for DJ Travis who starts his set every Friday at 7pm to hone your island moves.
2. Because you won't be judged for busting a move at Marina Nights
Marina Nights at the Hamilton Princess & Beach Club Hotel are one big dance party brimming with locals and visitors alike, fueled by food and custom cocktails created by the resort's 1609 Bar & Restaurant. If you don't really feel like shaking it to reggae, head there anyway to find your spot by the water with a Princess Rum Swizzle and watch the sunset. Maybe throw your work phone into the harbor for good measure.
3. Dine right on the beach at Mickey's
If you don't have dinner on the sand under the stars, is it even a summer Friday at all? At Mickey's Bar and Bistro, you won't have to ask for an ocean-front seat, because every table in the house has a close, personal view of the pink-sand shoreline of Elbow Beach. Share a grilled seafood platter with your vacation buddies, and try not to fight over the last of the octopus. Or if you do, at least fight fair.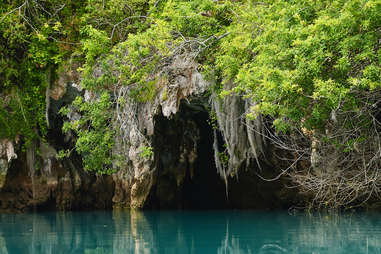 4. Hike through the jungle
Officially the Walsingham Nature Reserve, the locals refer to this privately owned, 12-acre nature reserve as Tom Moore's Jungle, in honor of the Irish Poet who supposedly wrote some of his best work under a calabash tree. Open to the public, this reserve is comprised of easily walkable nature trails (but maybe wear sneakers) that'll make you feel way out of the way, despite one of its entrances being located right next to the five-star restaurant Tom Moore's Tavern. While you could schedule an eco tour, you're welcome to walk the area on your own, and come upon the grottos with clear pools of water perfect for swimming, caves to explore, and mangroves to chill out in.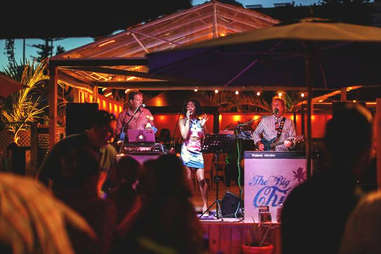 5. Check out The Big Chill band
So popular in Bermuda they literally won Best Music Venue in 2015 despite being a group of three human beings and not a venue at all, The Big Chill combines vocals, guitar, and DJ sounds for a soul-meets-house-music vibe. Catch them at various venues around the island.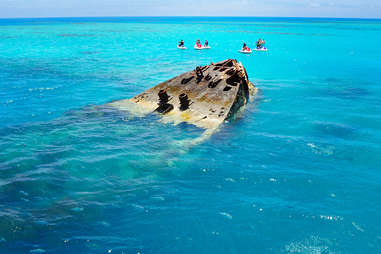 6. Explore the HMS Vixen shipwreck
There might not be sunken treasure on this wreck, but the HMS Vixen is a priceless hunk of metal in its own right. Built in England in 1864, this steel ship was so lunky and slow she was deliberately sunk off the coast of Bermuda in 1896 to help block a narrow channel from any possible torpedo attacks. Today, you can see the Vixen's bow above water, and though you'll need a permit to dive, you can float by it on a guided hydrobike tour, on a jet ski, or on a snorkeling trip.
7. Because Cup Match weekend is cricket + hilariously unseaworthy boats
All Summer Fridays are not created equal in Bermuda. The best of the best coincides with Cup Match, a two-day cricket tournament turned four-day festival in late July where the island just about shuts down. (Cricket is very serious.) The game takes place on Thursday and Friday, leaving the weekend for serious partying. Saturday, head to your favorite beach to relax for when the fun shifts on Sunday, when the party scene heads back to the sea for the Non Mariners Race at Mangrove Bay, where contestants attempt to "win" a boat race by losing in spectacular fashion with the most unseaworthy vessel (a floating bike is a sight to see on their Facebook page).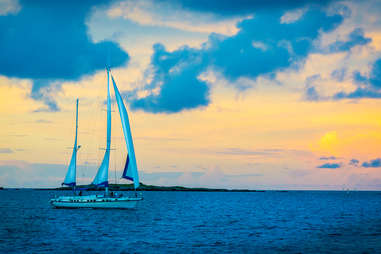 8. Try your hand at sailing
You really can't, in good conscience, leave without getting on the water and experiencing one of the country's favorite pastimes -- sailing. (And if you do, just lie, because you should be ashamed of yourself.) Not only was the whole island founded by shipwrecked sailors in 1609 heading to Jamestown, but the Bermuda rig, a type of mast and double-sail combination, was invented in -- shocker! -- Bermuda, and is still used in modern yachting today. So it's no surprise that the biggest event in international boat racing, America's Cup presented by Louis Vuitton in 2017, is taking place in Bermuda. The island has the sailing reputation to back up the decision to host the race there, but also has a pretty sweet setup in terms of backdrop (it's basically super pretty out there), wind (challenging for competing sailors), and climate (warm water if you fall out!).
9. Picnic at Jobson's Cove Beach
While the ordinary person might not be able to afford a private island or a private beach, get to Jobson's Cove at just the right time to revel in the person you could have been, and still might be if your app idea takes off! Even at peak hours, you won't find crowds on the shores of this secluded beach hideaway surrounded by limestone cliffs, so you can cozy up to the parrot fish in the clear, shallow waters without interruption. The cliffs themselves have built-in steps you can climb to the top, then break Instagram.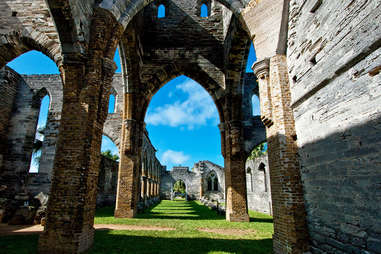 10. Because you can travel back in time at historic St. George's
St. George's, the very first permanent English settlement in Bermuda and oldest occupied English-settled town in the "New World", presents a living, breathing look at Bermuda's colonial past. English sailors on their way to Jamestown, Virginia were shipwrecked at St. George's; some remained behind while the others continued up the coast. Today, you can visit the oldest building in this UNESCO World Heritage Site, The Old State House, dating back to 1620, and the Gothic-styled Unfinished Church, begun in 1874 -- but, as the name implies -- never completed. Fort St. Catherine, built by the shipwrecked settlers against attack by the Spanish, still stands today as another reminder of Bermuda's history, and you should totally drop by for the sweet artillery display inside the museum. Because what's Summer Friday without breaching your enemy's fortifications?