25 Reasons Why Destination Weddings Are the Best Kind of Weddings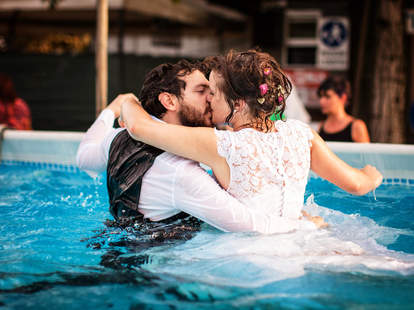 <a href="https://www.flickr.com/photos/strolicfurlan/15539534170/" rel="nofollow" target="_blank">Davide Gabino/Flickr</a>
People love to complain about the destination wedding. It's too expensive; it's too far to travel; it's asking too much of our delicate schedules and sensibilities. To these unadventurous naysayers, we say wah, wah, wake up and smell the bacon-wrapped fresh scallops, and open your eyes to the clear beach-scented fact that destination weddings are the BEST kind of weddings.
No need to make dinner reservations, figure out where to go, or make plans, it's all done for you, and paid for, fella. When else can you go on a vacation where someone else picks up the meals and drinks? Yeah, a country club wedding in Connecticut can be oh so (yawn) pleasant, but a beach wedding in the tropics is oh so awesome. Let us count the reasons why.
<a href="https://www.flickr.com/photos/lythienhoang/20376389984/" rel="nofollow" target="_blank">Ly Thien Hoang/Flickr</a>
1. It's the perfect push off your couch
It can be hard to find an excuse to turn off Netflix (how many times have you re-watched season 5 of Parks and Rec?) but when the happy union of your college roommate is backing your weekend getaway, it's that much easier to just say yes.
 
2. Do it for the free stuff
Someone else is literally sponsoring your weekend of partying. Plus, the in-room gift basket is going to be a whole lot better because a) you'll get an in-room gift-basket b) your friends will appreciate that you flew to be there with them on their special day c) they want you to party as hard as possible, so your hangover remedies, midnight snacks, and map of the island will all be wrapped up prettily for you in a nice little bow.  No need to hit the local convenience store for Combos and Advil at 3am in your party clothes.
 
3. Flying can be fun now!
While sitting on a plane is not quite as good as spreading out on your  couch, these days thanks to free wifi, cable, and the availability of those movies that you almost saw in the theater, but didn't, flying can be a nice little way to spend a couple of hours. Plus, mini booze bottles! Start the party early, no one will fault you, they'll probably just join you.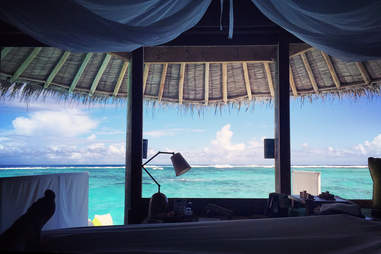 <a href="https://www.flickr.com/photos/chrisoakley/21717622262/" rel="nofollow" target="_blank">Chris Oakley/Flickr</a>
4. Villas are better than studio apartments
Hm, should you spend your weekend in your cramped jr. one-bedroom listening to your heater rattle and hiss? Or should you spend two nights in a villa listening to the soft ocean breeze? Seems like a no brainer.
 
5. You can definitely afford the flight
Hear us out on this one and follow these helpful hacks for cheap, cheap airline flights.
 
6. Walk of shame? Try refreshing swim of glory.
Turn that walk of shame into a refreshing dip in the ocean (or pool or waterfall, whatever body of water floats your boat). Not only will you feel no shame whatsoever, but you will feel glorious and ready to take on the next night's adventure. Pro tip: wear a bathing suit under your suit or dress.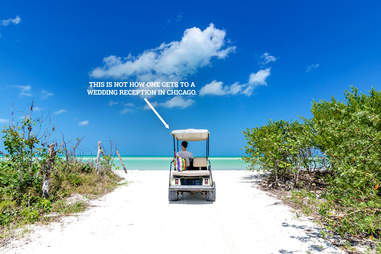 bodler/Shutterstock
7. You get to ride in a golf cart
You can't get from the ceremony to the reception in a golf cart in Chicago. You CAN'T!
 
8. You can scope out the wedding party in their swim gear
If the list was ranked, this one would definitely be up there. You get to creep without overtly being creepy, because people in vacation skivvies are one of the perks of partying somewhere tropical. And you can't get that with all the layers of an East Coast Wedding. As they say, the more you know….
 
9. Sand is easier on your fancy footwear than snow
It's just a fact -- rooted in science (possibly). Bonus: your fancy footwear at a tropical wedding will likely be flip-flops. Bonus, bonus: Barefoot perhaps. Try that in NYC. (Call us from the ER when you do.)
<a href="https://www.flickr.com/photos/spyk/8744025832/" rel="nofollow" target="_blank">Antoine Collet/Flickr</a>
10. Come back to work looking shiny and new
No pale, pasty, dead eyes for you -- you'll have a golden tan to mask any severe "I-just-spent-the-weekend-partying" side effects.
 
11. There's no guest-list hierarchy
There's no chance you'll suffer the indignity of being invited to the wedding and not the rehearsal dinner.
 
12. But really -- golf carts!
When have you ever not had fun kicking around in a golf cart -- with nary a golf ball in site.
<a href="https://www.flickr.com/photos/solong_mariana/5055197703/" rel="nofollow" target="_blank">solong_mariana/Flickr</a>
13. After-party on a beach > After-party at some terrible bar filled with people you went to high school with who didn't get invited to the wedding
No crashers at a destination wedding.
 
14. Your very presence is the bride and groom's real present
"I feel like a total jerk -- I still haven't gotten you guys a wedding present." "No worries! You came all the way to [insert tropical destination], that's all the present we need!"
 
15. You may make a new BFF…
You're basically forced to mingle with a small group of people for three to five days which is really all the time it takes to make a new solid friend/love interest.
<a href="https://www.flickr.com/photos/figure8designs/3499072994/" rel="nofollow" target="_blank">Kaleb Coleman/Flickr</a>
Maybe Obama will interrupt this wedding while he's working on his golf game like he did the last time. What kind of golf cart does HE drive?
 
17. You can explore a cool new place
You're already there, you might as well get on out and see what this destination has to offer. Maybe bring a local as your plus 1!
 
18. Because...what happens in...
Any and all wedding shenanigans are safeguarded by "what happens in x, stays in x," especially when you board a prop plane to get to said destination.
<a href="https://www.flickr.com/photos/kentwang/19237965985/" rel="nofollow" target="_blank">Kent Wang/Flickr</a>
19. Who looks good in a linen suit? This guy!
Doesn't everyone have a linen ensemble for occasions like this? It'll keep you cool while looking good, and you'll blend in with the theme of the wedding well enough for the bride to keep you around in the background of photos.
 
20. Your social media posts are going to be awesome
No filter needed in paradise!
 
21. You won't get stuck talking to the random guy who was in the groom's 8th grade science class
Only people who are actually really close friends will show up, so no randos.
<a href="https://www.flickr.com/photos/andrewjrsquires/11834224283/" rel="nofollow" target="_blank">Andy Squires/Flickr</a>
22. You won't have to do the cha-cha slide
There is definitely not going to be a hokey wedding DJ on the beach. Every. body. clap your hands.
 
23. It saves you a trip to the dry cleaners
Hello surf casual dress code.
 
24. Because the country club wedding can shove it
Destination weddings are often second-round weddings… and you know what that means. These people are READY. TO. THROW. DOWN. They did the sentimental stuff the first time around, so leave the kids at home and party like it's 2002 (whatever, 2002 was fun, wasn't it?)
 
25. No matter how long/boring the ceremony is, the beach has got you covered
Warm sand? Gentle breeze? A sunset that the hotel bartender wishes he could replicate with tequila? Checkity check check. You won't feel the urge to check your phone as the groom choke-cries through his written vows, just kick back and enjoy the beach.