Presented By

I Became a Florida Snowbird in My 30s—And Absolutely Loved It
Early-bird specials aren't the only perk of a cheap Florida workation.
Presented By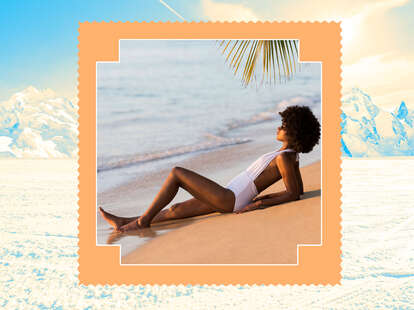 Image by Grace Han for Thrillist
Image by Grace Han for Thrillist
I don't own a pair of Bermuda shorts, and I certainly don't wear socks with sandals. I don't know how to play shuffleboard, and I'm under the age of 65, but that didn't stop me from relocating to the Sunshine State for three months last winter. Yep, I became a legit Florida snowbird, and it was fantastic.
Thanks to the rise of remote work and flexible housing, heading south for the winter is no longer just for seniors living out their golden years. While America's retiree capital might not be top of mind when you picture your dream workation scenario, Florida's cheap cost of living and affordable short-term housing options make it the ideal destination for a change of scenery.
I lived my best snowbird life in the small town of Palm Coast, in northeast Florida. Vacation rentals here start around $60-80 per night—cheaper than the average monthly rent in my hometown of Washington, DC. I took advantage of Monday night bingo, early-bird specials, and access to a ton of outdoor activities—not just golf and pickleball, but also kayaking, surfing, and bumming out on some of the most incredible beaches in the country.
I wasn't the only millennial getting in on the perks of retirement. I know several people who sublet out their place and went south for a snowbird residency, relocating their home office to a condo in Kissimmee, a modern apartment in Hollywood, or a split-level house with waterfront views in Fort Myers.
Intrigued? Here's how to become a Florida snowbird on the cheap.
Bring your own set of wheels
It was an 800-mile drive from DC to Florida, but the long-haul was well worth the savings otherwise spent on a pricey rental car and far too many Ubers. Plus, it allows you to pack all the essentials you'll need for a longer-term stay.
Day trips and weekend adventures are big draws for any extended workation. And when you're on a budget, the most affordable short-term rentals are typically found in smaller satellite communities within driving distance to more happening locales. Your own car lets you take full advantage of everything the area has to offer.
Save big in Florida's retiree communities
You know you're in a snowbird city if you walk around the local Publix and everyone in there is 70+. Alternatively, you can scan Zillow and Redfin to see what the houses look like and sell for; snowbird cities have a ton of tract housing sold at a super affordable price. They may not be glamorous, it's not uncommon to find short-term rentals in cities like these for $60-100 per night.
Of course, there are snowbird cities like this all over Florida; you're not going to find value-driven stays in ritzy retirement communities such as Palm Beach, Naples, or Boca Raton. Instead, look for deals in destinations like Melbourne, Crystal River, or DeLand.
We let go of a lot of norms in 2020: like shaking hands, wearing pants, and (most importantly) working in an office. You're no longer tied to a commute — so why should you be tied to one place? Enter: Landing, the startup that's reinventing apartment living. Thanks to its network of fully furnished (and unfurnished) apartments across the country, you can have the freedom to live (and work) practically anywhere. With perks like a 24/7 online member support, fast and easy lease transfers, and waived security deposits, you'll have more flexibility than ever before, too.
I chose to settle down in Palm Coast. Within an hour's drive of Orlando and Jacksonville, it sits adjacent to St. Augustine, a top-notch food city, and twenty minutes from Flagler Beach, a laid-back surfer town. It was also bike accessible and had off-street parking.
Did I bring the average age of my neighborhood down by a few decades? You betcha. But I also got into the simple pleasures of retirement living. It was buy-one, get-one beers and a $20 surf-and-turf dinner platter at the Green Lion Cafe, a Cheers-esque pub at the public golf course where everyone does in fact know your name. I also befriended the 70-year-old couple next door, who let me borrow their kayaks. And I spent many a day puzzling or birdwatching from the screened-in-porch—or the lanai, as they call it here.
Book direct for the lowest possible rate
You can use Airbnb to crowdsource housing options, but pay attention to who is listing the property. If it's a property manager listing, you're likely to find a better rate if you book directly through their website. For example this house in Sanford, just outside Orlando, is listed by the property manager for $105 per night—lower than the third-party rate listed on Airbnb, at $128 per night.
In Florida, there are several different short-term management sites like Florida Snowbird, Turnkey, Vacasa, and Sonder. These companies offer multi-week discounts and fewer administrative fees; plus, they provide some convenient amenities for longer-term rentals, such as kitchen and laundry supplies, reliable cable and Wi-Fi, and bikes to get around during your snowbird stay.
The perks of snowbird life aren't limited to early-bird specials. During my stay, I took advantage of ResortPass, which grants discounted access to some of the swankiest resorts in Florida, including The Four Seasons, The Ritz-Carlton, and Kimpton Epic hotels. For a fraction of the cost of what you might pay at check-in, guests can access resort amenities like pools, bars, restaurants, gyms, and spas for prices that range from about $25-50 per person.
Take advantage of Florida's tax breaks, if you can
You can save a crapload in taxes if you're willing to fully commit to the snowbird lifestyle and live in Florida for at least six months out of the year—what's commonly known as the 183-rule for residency. The tax savings are huge, but establishing Florida residency isn't always easy. You'll need proof to back it up, like a driver's license and mailing address.
Even if you can't get past Uncle Sam, you might still be able to save some money at the House of Mouse. Disney World gives ticket discounts to Florida residents; you qualify if you can show a bill listing your Florida mailing address.
Tim Ebner is a travel writer in Washington, DC. Follow him on Twitter for more road trip tips @TimEbner.